Christmas is approaching with great strides – and as every year, you can still find great gift ideas. Especially if they are useful or necessary tools, which are also very attractive in price. And you do not necessarily have to give away the useful things, but can also think of yourself.
Price-conscious sport shooters, hunters, reloaders and outdoor fans have known and appreciated the rich offer of the dealer and importer STROBL.CZ for many years. For a reasonable price, customers of the reliable supplier headed by Michal Štrobl Sr. get everything they need in terms of accessories for hobby and profession – delivered on time from the Czech Republic and accompanied by good service. Many of the products are imported by STROBL.CZ directly from the USA: likewise, reloading equipment from Lee Precision, Lyman, Nosler, Sierra, Starline and many other brands are part of the offer of the accessories and reloading specialist.
Why is it worth ordering from STROBL.CZ in the Czech Republic? 
Because you save money and buy absolutely risk-free with a 24 months warranty and EU legislation. Shipping is also inexpensive: e.g., shipping via GLS to Germany a parcel weighing up to 28 kilograms costs only an inexpensive 9.20 euros. Simply select, order online, done.
From the rich offer of STROBL.CZ we have already presented to you, among others, accessories for sport and recreational shooters such as magazine pouches, hearing protectors and mobile targets, or with target cameras, a wind meter and a case catcher, we have shown you products that make your time on the shooting range comfortable.
This time, we are focusing on accessories that will provide you with the best services for gun maintenance: high-quality gun cleaning sets for long and short guns from Tipton, as well as the complete Delta Series Armorer's Professional Kit from Wheeler for the AR platform. But reloaders will also get their money's worth with Lee Loader Sets for different calibers, while nature boys and girls with an axe-saw combination from Schrade.
Surely you can discover one or another accessory product that could be a gift for a dear person or yourself.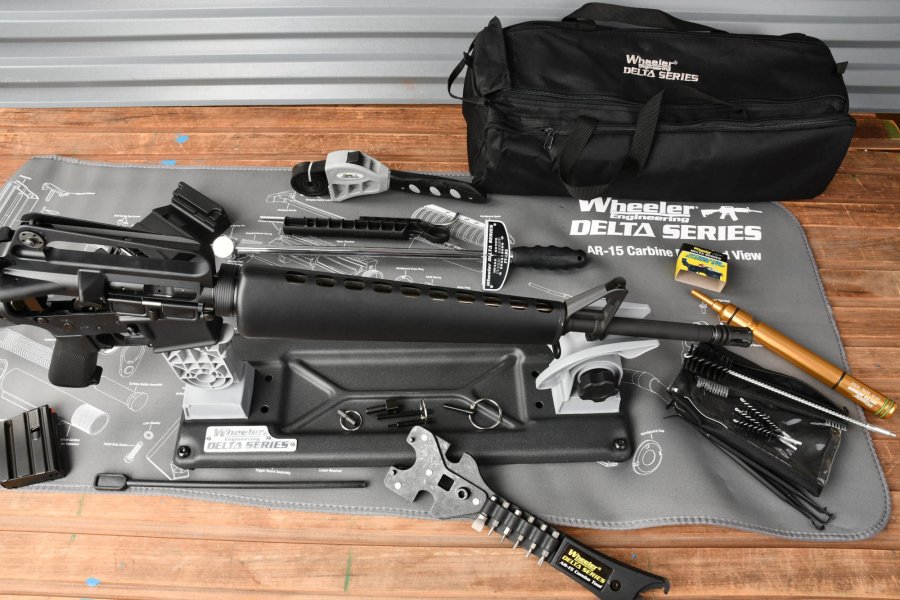 Tipton cleaning sets: best care for long and short guns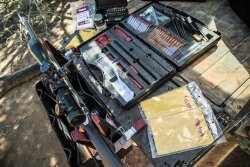 A gun is only as good as its care. With high-quality accessories, cleaning and maintenance can be done even faster and more thoroughly – making this not always popular activity even easier to perform. With the Tipton cleaning sets, you always have everything within reach – and thanks to the practical and clear stowage of all tools in a small case or pouch, you can take them with you wherever you go.
Tipton Ultra Cleaning Kit for long guns
For long gun shooters from .22 caliber, the comprehensive Ultra Cleaning Kit from Tipton comes up with extensive cleaning accessories. The centerpiece of the kit is a three-piece premium stainless steel cleaning rod with a non-slip grip. With a diameter of 5 millimeters and a useful length of one meter, the stick is made of 17-4 PH stainless steel. Unlike many other multi-piece cleaning sticks, the material and construction here prevent bending. Bolt carrier and action brushes in the kit are especially intended for the AR platform.
In addition, the set offers two 13-piece cleaning kits ("Ultra Jag" and "Best Bore Brush") with brushes in their own cases and the practical "Rapid" deluxe bore guide from Tipton for the safest, fastest and most effective cleaning possible. Rounding out the set are various cleaning brushes and picks to keep your gun in perfect shape. Stowed in the supplied case, all tools always remain handy, tidy and mobile.
The set for long guns includes:
High quality and durable cleaning kit
3-piece cleaning rod constructed of high strength 17-4 PH stainless steel
"Rapid" deluxe bore guide
13-piece Ultra Jag cleaning set with case
13-piece Best Bore Brush cleaning set with case
Two general purpose brushes, one nylon, one bronze
AR-15 bolt carrier and action brushes
4 polymer cleaning picks
The comprehensive Tipton Ultra Cleaning Kit for long guns is available at STROBL.CZ for 225,80 euro.
Tripton Compact Pistol Cleaning Kit for handguns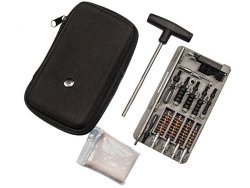 Tripton also supplies handgun shooters: the Compact Pistol Cleaning Kit is suitable for all pistol and revolver calibers from .22 to .45 ACP. This kit also comes in a handy carrying case with zipper, which ensures the best order and easy trasportation. Whether on the shooting range or ready to hand on the workbench at home, nothing stands in the way of cleaning your handgun.
The cleaning rod made of stainless steel with a usable rod length of 23 centimeters after screwing together is also suitable for longer barrels. All bronze and nylon cleaning brushes suitable for the calibers are included in the kit, as are cleaning cloths and additional cleaning attachments.
Contents of the set for handguns:
Stainless steel cleaning rod with T-handle
Cleaning pick
Nylon cleaning brush
Ten cotton cleaning patched
Bronze bore brushes and nylon jugs for .22, 9mm Luger, .357 Magnum, .38, .40 S&W and .45 ACP calibers.
Two nylon slotted tips 
At STROBL.CZ the Tipton Compact Pistol Cleaning Kit for handguns is currently available for only 39,53 euro.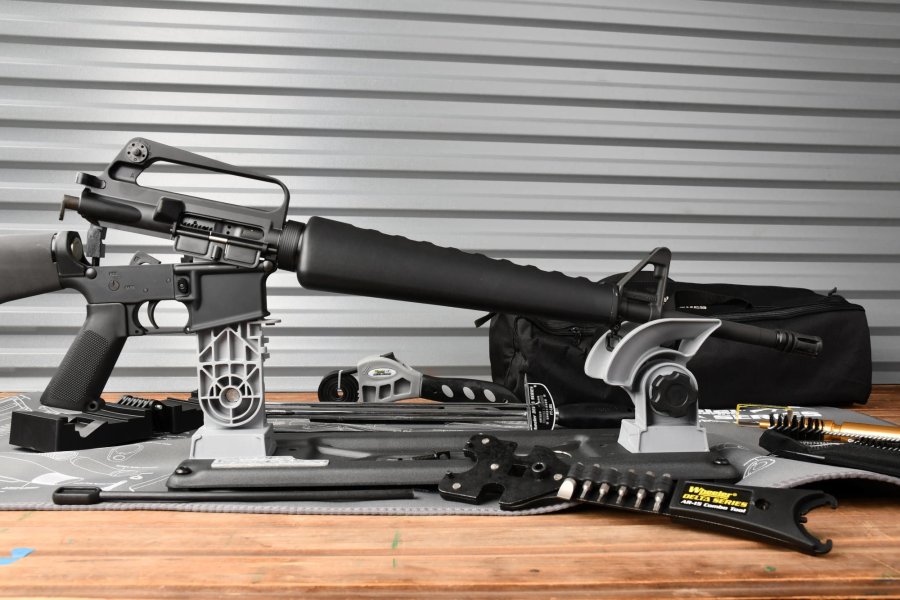 Wheeler Delta Series AR Armorer's Professional Kit
Due to its design, the AR platform places special demands on the shooter in terms of cleaning and maintenance. Thanks to the standardized design of the weapon type, however, specially adapted maintenance kits are available that contain all the tools that ensure all-round care of the AR. Although standard accessories such as a cleaning rod, cloth and oil can help, they soon reach their limits when it comes to complete maintenance.
The Wheeler Delta Series AR Armorer's Professional Kit remedies this and saves you from having to buy the appropriate equipment individually. The kit comes in a Cordura carrying case, which seems relatively small compared to the contents. Because inside you find:
Armorer vise designed for ARs
AR-15 combo tool
Torque wrench
Upper Vise Block Clamp w/ Gas Tube Alignment Tool
Maintenance Mat with Exploded View AR-15
Pivot Pin and Roll Pin Installation Tool
AR Front Sight Tool
Delta Ring Tool
Strap Wrench
AR-15 Bore Guide
AR -15 Adjustable Receiver Link
Bore Brush, .22 Cal
Bolt Carrier Brush
Chamber Brush
Magazine/Upper Receiver Brush
Nylon Brush Handle
Double-ended General Cleaning Brush
Cleaning Pick Set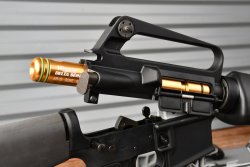 Production quality of the parts is in the upper midfield. It must be clear to the buyer that such a kit cannot be absolutely professional equipment. Nevertheless, the quality of the kit is convincing to the extent that even diligent AR hobbyists will enjoy it for many years. We could already appreciate ourselves the quality of the kit on all4shooters.com. In addition, we are talking about a price at STROBL.CZ of 385.60 euros. The individual purchase of the parts would be – if at all possible  – significantly more expensive. 
Lee Loader: pocket-sized reloading tool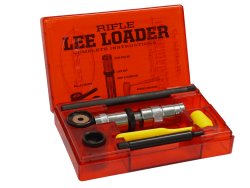 The motto of the approximately 60-year-old manufacturer Lee Precision could be something like this: amazingly simple, often unconventionally designed reloading tools which, despite the predominantly plastic and aluminum construction, have a high claim to functionality. Reloading presses from Lee such as the App Deluxe single-station press are also available at STROBL.CZ.

The Lee Loader is now basically a pocket-sized, single-stage press that can make cartridges with amazing precision and consistency. Of course, this is a lot slower than with a large, permanently installed device in the workshop, but the simplicity and flexibility offered by the Lee Loader in its slim little box is quite amazing.
From priming to powder filling and bullet seating, the reloading process can be completed with the Lee Loader – completely without a workbench. This also saves you quite a bit of money: both through reloading itself, and through the inexpensive Lee Loader, which costs 58.68 euros at STROBL.CZ (make sure you select the right one for your caliber).
Of course, it is strongly recommended to use a calibrated digital scale with the Lee Loader to check the powder charge. STROBL.CZ has the DS-750 powder scale from Frankford Arsenal for 58,92 euro on offer.
Schrade combined axe with folding saw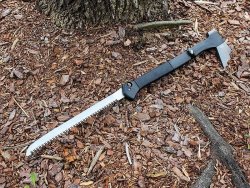 You might think that this gift idea is now particularly suitable for Christmas: the axe-saw combio from Schrade can be used both in the procurement and disposal of the Christmas tree or when making firewood for the fireplace. Throughout the year, however, the combio tool is suitable for all other woodworking tasks. Hunters and outdoor enthusiasts alike have a practical and compact two-in-one tool at their fingertips that will serve them well on the road, in the forest and in survival situations.
The Schrade axe and folding saw combo is made of lightweight materials, from the titanium-coated 3Cr13 stainless steel head with pronounced pommel on the back side to drive stake to the glass fiber-filled polymer handle. Including the saw, it weighs a total of 940 grams. The length of the saw is 31.7 centimeters, and when folded, the axe comes to a total length of 45.8 centimeters. Here, of course, the leverage is somewhat limited, but this combo is all about compactness and high mobility.
A locking mechanism holds the saw in the handle, which is released by pressing a button on the handle. The saw can be locked into two positions when unfolded, giving the user flexibility in positioning himself while sawing. With the Schrade Axe-Saw Combo, you'll be ready for any woodworking situation – from Christmas to Christmas! The Schrade axe with saw costs 72.24 euros at STROBL.CZ.
By the way, STOBL.CZ offers further savings to all fans of the STROBL Facebook page, because there you will find regular discount promotions. 
---
Here you can browse for other accessories for hunters, sport shooters and outdoor fans in STROBL.CZ online store.