Run by Michal Štrobl Sr, the Czech company STROBL.CZ has managed to build an excellent reputation in the hunting community through its commitment to quality and customer service. Direct import of many products from the USA includes high quality reloading equipment from brands such as Lee Precision, Lyman, Nosler, Sierra and Starline.
But why do more and more hunters choose to shop online at STROBL.CZ? One of the main reasons is the excellent price-performance ratio. Thanks to to direct import and low administrative effort, the products can be offered at very competitive prices.

Why it is worth to order online at STROBL.CZ
Ordering from STROBL.CZ in the Czech Republic offers many advantages: in addition to the great cost savings, there is a 24-month warranty in accordance with EU law, which offers buyers additional security. The shipping costs are also attractive: for example, a package of up to 28 kilograms can be shipped to most European countries through GLS for just 9.20 euros. Simply select your desired products, order online and the goods are on their way to you.
From the extensive offer of STROBL.CZ we have already presented useful accessories for gun care and, among other things, outdoor equipment, which also make life easier for the hunter in wind and bad weather.
This time we delve deeper into the search for practical gear for the avid hunter and take a closer look at Tipton's Universal Bore Guide Kit, American Hunter ECON Digital Feeder Kit, HME Field Dressing Kit, a wild boar decoy, an Odeon Optics hunting bag, and the Blaser Heat Pad seat cushion with power bank.
Tipton Universal Bore Guide Kit for gentle gun care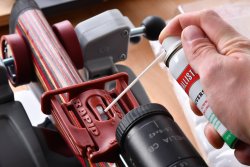 The Universal Bore Guide Kit from Tipton is an essential tool for anyone who values proper care of their hunting rifle. This kit is specifically designed to protect the rifle chamber and bore from possible damage during the cleaning process. The correct alignment of the cleaning rod is ensured by the guide, which not only simplifies cleaning but also reduces the risk of damage.
After the safety check, the bolt is removed from the firearm and the appropriate chamber tip cover is selected from the three included options. The Bore Guide Kit is then inserted into the gun as a "false bolt". With the help of the adjustable cleaning rod handle, the guide is securely fixed in place. The special feature is that he rear guide of the kit consists of two separate parts. A patch can be inserted and secured perfectly centered in these. A special opening in the upper section allows this patch to be wetted with cleaning agents or oils. When the cleaning rod is pushed through, the patch is exactly in the center, making the often tedious handling of slipping patches a thing of the past. The Tipton Kit makes gun cleaning not only more effective, but also much more comfortable.
It is designed to fit most bolt-action rifles as well as AR-15s and is securely inserted in place of the bolt. The kit comes with three interchangeable tips to fit a variety of calibers from .17 to .460. It is a must-have for any responsible hunter as a smart cleaning alternative.

American Hunter ECON Digital Feeder Kit Automatic Feeder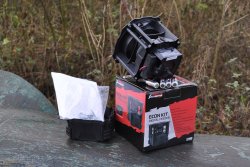 In the past, you had to personally drive to the spots to spread the game food, but today technology can take over this task. The American Hunter ECON Digital Feeder Kit is an innovative device that makes the job of hunters in the field much easier. With an attractive price-performance ratio, it stands out from other products. It can be effortlessly mounted on various feeding devices and scores points for its user-friendliness. With only three buttons, the device can be easily programmed.
Once in place, an integrated hopper ensures that the game food slides onto a rotating plate when the American Hunter ECON Digital Feeder Kit is activated. Made of durable plastic, the automatic feeder is powered by four AA batteries. With daily use, one battery charge will last about three months. However, it is important to find out about the local legal requirements for the use of such devices, as they may vary.
HME Field Dressing Kit for field dressing and game processing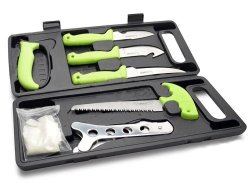 The HME Field Dressing Kit is a comprehensive kit that provides hunters with many of the tools they need to process their game. The kit contains a total of three specialized knives, a saw, a rib spreader, a blade sharpener and a pair of nitrile gloves. All the tools are designed to cover the entire process of field dressing.
Particularly noteworthy are the knives in the kit, all of which have stainless steel blades and rubberized handles. The small caping knife has an overall length of 21.5 centimeters and weighs 84 grams, the "Gut Hook Skinner" knife with a classic ripping hook measures 22 centimeters in overall length and weighs 88 grams; the boning knife,  comes to a full length of 25 centimeters and a weight of 86 grams. In addition, the set includes a bone saw with a length of 23 centimeters and a weight of 124 grams. It also has a rubberized handle for a better grip. The rib spreader, made entirely of stainless steel, has a total length of 26.5 centimeters when open and weighs 185 grams.
To care for the knives, the kit also includes a blade sharpener with a carbide "V" sharpening tool and a plastic handle. To transport everything safely and conveniently, the kit comes in a sturdy plastic case. The HME Field Dressing Kit is thus an indispensable tool for anyone who processes their own game.
Wild boar decoy for hunting – available at STROBL.CZ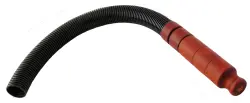 The STROBL.CZ Wild Boar Decoy is a clever hunting tool that perfectly imitates the sounds of wild boar foraging for food. It is specially designed to attract wild boars from dense vegetation areas to more open terrain. To produce the desired sound, the hunter blows into the wooden mouthpiece and simultaneously modulates the plastic part with his palm.
It is important to know that wild boars have exceptionally good hearing and can precisely localize sounds at short distances. Therefore, when using the decoy, care should be taken to always play the sounds in the direction of the ground to get as close as possible to their natural place of origin. Understanding the complex social behavior and diverse "vocabulary" of wild boar can help the hunter gain the animals' trust and successfully attract them. In practice, wild boar decoy hunting is more reminiscent of that for corvids than for foxes or roe deer, as it is not just a matter of sounds around mating or prey, but intelligence and social communication of the animals must be cleverly exploited.
Spacious and durable carrying bag for hunting at STOBL.CZ

The Odeon Optics hunting bag is a spacious and weatherproof bag designed specifically for hunting trips. It offers ample storage space for spare clothing and has a separate shoe compartment in the bottom. The shoulder strap is equipped with sturdy metal carabiners and soft outer edges not only protect the contents, but also prevent damage, for example, to the car when pulling the bag out of the trunk.
Three exterior zippered pockets provide additional storage space and are protected from moisture by flaps fastened with buckles. Visually appealing and practical, the bag has overall dimensions of 38x50x36 cm and a main compartment of 27x50x30 cm, while the shoe compartment measures 11x50x30 cm. This way you can safely fit all your equipment.
Blaser Heat Pad Seat Cushion with power bank from STROBL.CZ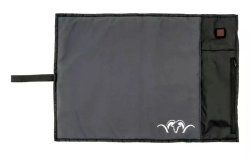 The cold days will soon be approaching again. For the coming hunts, the Blaser Heat Pad is a comfortable seat cushion with integrated heating function for longer stays outdoors. It offers three adjustable heat settings that are powered by a 10,000 mAh power bank included in the package. The water-repellent material on the underside reliably repels moisture.
With a size of 35x40 centimeters, there is enough space even when wearing bulky winter clothing. The power bank can be safely stored in a special side pocket, with an operating time of up to seven hours depending on the heating setting. Visually, the black pad impresses with a white Argali print and indicates its function with a green LED indicator in the Blaser Argali design. After use, it can be easily rolled up together with the battery and stored in a carrying bag (included).