For many years, the Czech retailer STROBL.CZ has been reliably supplying price-conscious hunters, sport shooters and outdoor enthusiasts with everything they need for their hobby or profession. The company, run by Michal Štrobl Sr, is known for its on-time delivery and excellent service, in addition to its low prices. The online store imports many of the goods directly from the USA, including reloading equipment from well-known brands such as Lee Precision, Lyman, Nosler, Sierra, Starline and many others. 
Why it is worth to order online at STROBL.CZ. 
There are many reasons to order from STROBL.CZ in the Czech Republic: you save cash and take absolutely no risk thanks to a 24-month guarantee in accordance with EU legislation. Shipping costs remain low: a parcel delivery of up to 28 kilograms to Germany with GLS, for example, only costs 9.20 euros. Simply select, order online and the goods are on their way to you.
From the extensive range of STROBL.CZ we already presented you, among other things, accessories for sport and recreational shooters such as magazine pouches, ear protectors and mobile targets, or with target cameras, a wind meter and a case catcher, we showed you products that make your time at the shooting range comfortable.
However, we also focused on weapon care and outdoor equipment in the past. This time, we're following up on that by focusing on an outdoor tool set from UST, Boresnake cleaning ropes for barrel cleaning from Odeon Optics, the SCHF36 Bushcraft knife from Schrade, and an IPSC range bag from G.P.S. Tactical.
Surely you can discover one or another product available at STROBL.CZ, which is suitable for yourself or as a gift for Easter.
UST Woodlands Tool Kit: multifunctional set with axe, knives and fire steel for outdoor use – available at STROBL.CZ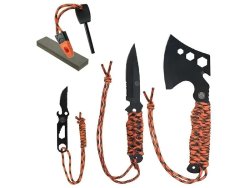 We start with a set of compact tools that are suitable for year-round hunting and outdoor use. Hunters and outdoor enthusiasts get practical and space-saving tools at hand with the Woodlands Tool Kit from UST, which will provide best services on the road, in the forest and when used in survival situations.
The tool set includes a compact axe, two knives, a sharpening stone and a firesteel. All components of the set are designed for maximum practicality and offer other possible applications in addition to the main purpose. For example, the head of the robust ParaHatchet PRO axe, which is made of stainless steel, has three hexagonal holes (hex wrenches) in various sizes. In addition, the axe offers a quick-action cutter for cutting cords and ropes.
The larger of the two knives included, the ParaKnife 4.0 PRO, features a ten-centimeter-long blade also made of stainless steel and a sawtooth area on the cutting edge. As a full multi-function tool, the ParaKnife 2.0 PRO comes with a 38 millimeter long stainless steel blade and a sawtooth blade on the back of the knife, as well as a ruler, hex wrenches and a bottle opener. The set is rounded off with a whetstone, which thanks to coarse and fine texture brings axe and knife blades to the optimum sharpness, as well as a fire steel for quickly igniting suitable material. There is even a signal whistle on the fire starter. The hatchet and knife are wrapped with the ParaTinder Utility Cord on the handle, which unrolls when needed. Inside the ParaTinder cord is a tinder cord that can be effortlessly ignited with the included flint. Additionally, the inner strands of the ParaTinder Utility Cord can be used as sewing thread or fishing line, for example.
Schrade Frontier Knife SCHF36 for outdoor and bushcraft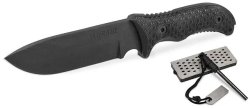 The Schrade Frontier SCHF36 is a rugged survival knife that has been tried and tested for years. It is made of 1095 high carbon steel and has a 128-millimeter drop point blade with a 6-millimeter thickness. The 350-gram knife is perfectly balanced with an overall length of 265 millimeters and can be used very flexibly.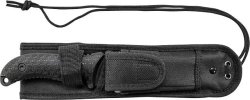 Thanks to the jimping and ring texturing of the TPE handle, the knife fits very securely in the hand even when wet. With a choil on the underside of the blade just before the hand guard, force transmission can additionally be changed depending on the application. Precise carving movements are possible with the Schrade Frontier SCHF36 knife just as easily as bushcrafting and making small wood when no axe is at hand.
With the knife also comes a polyester belt sheath, which in addition to the belt can also be strapped to your thigh, a diamond sharpener, a Ferro Rod and striker. With the fixed-blade Schrade Frontier SCHF36 you get a fully fledged survival knife, which is available at STROBL.CZ at a very attractive price of 46.24 euros.

Cleaning ropes from Odeon Optics: flexible care for long and short guns – available online at STROBL.CZ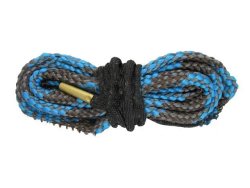 The care of a gun is crucial for its performance and longevity. Clever accessories make cleaning and maintenance quicker and more flexible, which also makes this often unloved task easier. The barrel cleaning ropes from Odeon Optics, which are modeled after the original Hoppe's BoreSnake, are also particularly flexible. Bronze brushes and patches are sewn into the rope, which gently remove dirt from the gun's barrel when pulled through and maintain it with applied gun oil.
After use, the cleaning rope can be rolled up again to save space and washed in the washing machine if necessary. This allows you to clean your gun in a mobile and uncomplicated way. When buying, be sure to pay attention to the caliber you need. Cleaning ropes from Odeon Optics in the style of Hoppe's Boresnakes are available at STROBL.CZ for shotgun, rifle, pistol and revolver calibers at a price of only 7.40 euros each.
Rolling Handgunner IPSC Backpack: a versatile range bag from G.P.S. Tactical for up to four handguns. Now available at STROBL.CZ!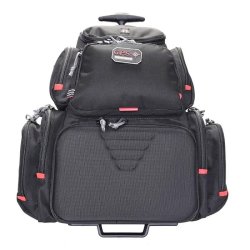 Everyone who owns several handguns knows the following situation: in one hand a heavy bag with guns and accessories, in the other hand an even heavier bag with ammunition. The distances from the parking lot to check-in, then to gun control and finally to the shooting range are often not exactly short. G.P.S. Tactical is known for special transport systems for guns and ammunition that make life much easier for the shooter. These are not simply modified hand luggage, but are tailored to the shooter thanks to practical compartments and full exploitation of space requirements.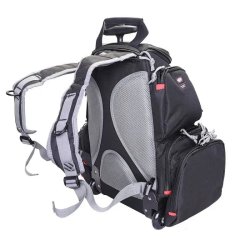 A practical transport solution for handguns and ammunition comes from G.P.S. Tactical in the form of a range bag that can be used both as a backpack and as a rolling case: the Rolling Handgunner IPSC Backpack. The center of the bag accommodates up to four handguns, which are safely protected by a padded foam insert during transport. This is simply folded out on the stand and the guns can be removed. Two roomy side pockets also hold up to 12 additional magazines.
Four additional pockets in the upper area of the range bag can be used to store all other accessories such as ear protectors and goggles. All areas of the Rolling Handgunner IPSC Backpack are securely closed with sturdy zippers. Depending on the number of firearms, weight and personal preference, you can quickly put the range bag on your back or drag it comfortably behind you thanks to the telescopic handle.
We have already tested several products from G.P.S. Tactical in practice: the Rolling Handgunner IPSC Backpack was our clear favorite here, because it is particularly well divided and flexibly allows all types of transport of guns and accessories.