For many years, the Czech retailer STROBL.CZ has been reliably supplying price-conscious hunters, sport shooters and outdoor enthusiasts with everything they need for their passion. The company, which is managed by Michal Štrobl Sr., is known not only for its low prices but also for its punctuality and excellent service. The online store imports many of the goods directly from the USA, including reloading equipment from well-known brands such as Lee Precision, Lyman, Nosler, Sierra, Starline and many others.
Why are more and more sport shooters choosing to shop online at STROBL.CZ? One of the main reasons is the excellent price-performance ratio: thanks to direct import and the low administrative effort, the products can be offered at very competitive prices.
Why it's worth ordering online at STROBL.CZ
There are many reasons to order from STROBL.CZ in the Czech Republic: you save money and take absolutely no risk thanks to a 24-month guarantee in accordance with EU legislation. The shipping costs remain low: a parcel delivery of up to 28 kilograms to Germany with GLS, for example, costs just 9.20 euros. Simply make your selection, order online and the goods are on their way to you.
From STROBL.CZ's extensive range, we have already introduced you to useful accessories for gun care and reloading, as well as equipment that makes training fun for sports shooters. Today, we will once again focus on some products that are very useful before, during and after a visit to the shooting range.
Caldwell Lead Sled DFT 2 and FCX: shooting long guns accurately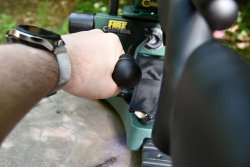 We are starting off with two Caldwell shooting rests, which are not only a sensible purchase for every reloader: both systems are ideal for shooting long guns. They also make it possible to test home-made ammunition directly with your own firearm and reliably collect data on its accuracy. In particular, you can independently check the effects of a silencer on the point of impact without having to take the gun to a gunsmith.
Caldwell's "Dual Frame Technology" (DFT) is what gives the Caldwell Lead Sled DFT 2 shooting rest its name and is characterized by a dual frame on which the front cradle back and forth along the Dual Frame for optimal length adjustment. The rest is height-adjustable and can be adjusted laterally and in inclination using knobs and a rear foot. The buttstock lies in an L-shaped cradle with a soft rubber pad to minimize recoil. In addition, the Lead Sled DFT 2 can be loaded with weights of up to 45 kilograms to further reduce recoil. The shooting rest is available from STROBL.CZ for 353.42 euros, is stable and easy to assemble.
The Lead Sled FCX reduces felt recoil by a full 95 percent, supported by its own weight and an additional wright bag. With an elevation adjustment of up to 10 centimeters and locking option, everything remains fixed. There are two sandbag rests for firearms of different widths. The special feature of the Lead Sled FCX (Fire Control Xtreme) is a joystick for fine adjustment, which enables fast yet precise 360° alignment. The Caldwell Lead Sled FCX is manufactured to a high standard, is adjustable in length and can be disassembled for transportation. It is available from STROBL.CZ for 650.42 euros.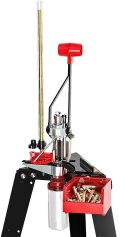 Lee Deluxe APP – An innovative single-station reloading press kit at STROBL.CZ
The mission of Lee Precision, a company that is around 60 years old, could be described as follows: amazingly simple and often innovatively designed reloading tools that offer high functionality despite the predominant use of polymer and aluminum. STROBL.CZ sells the Deluxe kit of the Lee Automatic Processing Press with APP Automation Kit, the three most common X-Press shell holders and a shell holder adapter.
The Lee Automatic Processing Press works with a die carrier, supported by two centerless columns, which unusually move the die towards the cartridge. Its stroke of about 75 millimeters can handle short and certain long rifle calibers such as .308 Winchester. The shell holders fit many cartridge types, although longer cases limit the bullet selection. The APP Deluxe can be used universally as a single station loading press, for bullet sizing, case preparation and the efficient removal and seating of primers.
Caldwell Wind Wizard II anemometer – Available at STROBL.CZ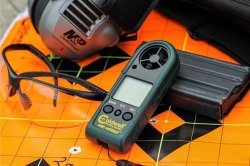 The preparation is right, everything is set up correctly on the shooting range. But what about the invisible wind factor? The Caldwell Wind Wizard II is a reliable, compact and cost-effective tool for measuring wind speed, useful for adjusting shot hits in varying wind conditions. It offers versatile display settings for speed measurements, including kilometers per hour, meters per second, miles per hour, feet per minute and knots.
It also displays the temperature in Celsius and Fahrenheit as well as the wind chill temperature for the perceived cold. The LCD display of the device can also be illuminated, which is very practical when it gets a little late again. The scope of delivery at STROBL.CZ for 57.13 euros includes a carrying strap and a CR2032 battery. Now the fun can begin!
Cleaning ropes from Odeon Optics: flexible care for long and short firearms – Available online at STROBL.CZ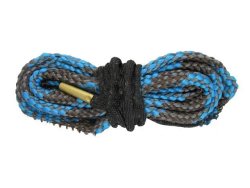 For better or worse, however, after time on the shooting range, the gun has to be cleaned. Clever accessories make cleaning and maintenance quicker and more flexible, which also makes this often unpopular task easier. The barrel cleaning ropes from Odeon Optics, which are based on the original Hoppe's BoreSnake, are particularly flexible. Bronze brushes and patches are incorporated into the rope, which gently remove dirt from the gun bore when pulled through and maintain it with the applied gun oil.
After use, the cleaning cord can be rolled up again to save space and washed in the washing machine if necessary. This allows you to clean your firearm in a mobile and uncomplicated manner. When purchasing, be sure to pay attention to the caliber you require. Cleaning ropes from Odeon Optics in the style of Hoppe's Boresnakes are available at STROBL.CZ for shotgun, rifle, pistol and revolver calibers at prices starting at 5.96 euros. So the firearm performance and thus the  shooter's pleasure are guaranteed for a long time!