The gun manufacturer HMS Präzisionstechnik GmbH is located in Eugendorf near Salzburg, in Austria. It's managed by the engineers Mathias and Herbert Strasser. This may not mean anything to many people at first, but when it comes to excellent hunting rifles, then this is the place to be. As passionate hunters, the two gentlemen know exactly what matters when hunting game or shooting targets: safety and reliability. Of course, this company pays extraordinary attention to excellent craftsmanship, not least in order to achieve complete customer satisfaction, even when special requests are made. These values, coupled with the extremely friendly and competent passing on of experience, tips and tricks, makes a buyer of a gun from the Austrian manufacture go home with the feeling of having become a part of the Strasser family.

Our test rifle – RS 14 Evolution Tahr Thumbhole Stock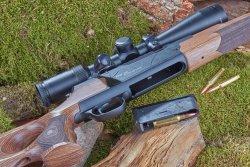 This is the RS14 Evolution Tahr Thumbhole Stock model in 6.5 Creedmoor. The caliber is currently on everyone's lips and is especially hot among long range shooters. The intention was primarily to produce a factory loaded cartridge for sports competitions up to 1000 yards (914 m). In the meantime, however, more and more hunters have become enthusiastic about the effectiveness and performance of this caliber and are increasingly using it. 
The barrel length is 22"/ 56 cm, the overall length 42.5"/ 108 cm. The rifle has a total weight of 7 lb 4.4 oz  / 3.3 kg. The fluted barrel (with 14x1 thread) is black plasma coated; bolt assembly, bolt head and bolt handle are black plasma nitrogen hardened. There is a wide range of calibers to choose from, from mini to magnum ones. The detachable metal magazine holds 3 cartridges. As an option, there are driven hunt magazines with a capacity of 6+1 cartridges.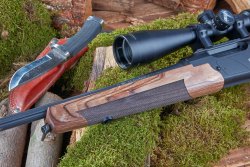 The butt stock as well as the fore-end are laminated wood and feature an unusual chestnut color. The butt stock ends with a rubber pad. In the rear lower third is the QD socket for a sling swivel. The cheekpiece height and cast can be adjusted using an Allen key. The buttstock is actually dominated by a hole. This hole is used for inserting the thumb through to better grasp the pistol grip and of course to pull the gun into the shoulder. The pistol grip stands almost straight and looks very massive. To improve the feel, the pistol grip has finger grooves. Furthermore, there is a checkering on this part. It feels hard and scratchy at first, but offers advantages when grasping it.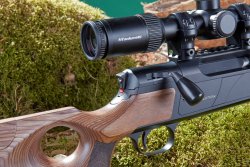 When the rifle is cocked, you can see and feel it clearly by the popping up of a small red pin on the top rear of the bolt shroud. If a red tab appears below the small safety slide, this also indicates that the gun is ready to fire. To to put the rifle on safe, simply push it down with your thumb. If you want to do this silently, simply press the small push button. The rifle locks directly into the barrel thanks to a full steel 4-component RS radial locking system. It positively engages over the entire locking surface with receiving slots in the barrel and only allows a shot to be fired when fully locked. The bolt handle has a very short path to set the bolt in motion for repeating. Strasser also installed an additional bronze guide in the receiver. This ensures that no matter from which position pressure is exerted to open or close it, the bolt can always be operated quickly and smoothly.
Strasser RS 14 Evolution Thar technical data
| | |
| --- | --- |
| Model: | Strasser RS 14 Evolution Thar Thumbhole Stock |
| Price: | 3475 euro (price may vary in your country due to VAT and import duties) |
| Caliber: | 6.5 Creedmoor |
| Magazine capacity: | 3+1 cartridges |
| Length: | 42.5"/ 1080 mm |
| Barrel length: | 22"/ 560 mm |
| Action: | straight-pull bolt-action |
| Twist rate: | 1/8 inch |
| Weight: | 7 lb 4.4 oz  / 3.300 g |
| Version: | right-hand version |
| Notes: | straight-pull bolt-action rifle with thumbhole stock, fluted barrel, 14x1 threaded muzzle, hand cocking system, chestnut color laminated wood stock |
With the Strasser RS 14 Evolution Thar on the shooting range
What the RS 14 Evolution Thar can actually do should be found out on the shooting range. The following ammo was fired for this purpose: Norma HPBT, 130 grams; RWS Target Elite Plus Match, 130 grams and Hornady Precision Hunter ELD-X, 143 grams.
Velocity was measured 2 m in front of the muzzle with a LabRadar. The ammo selection was unfortunately suboptimal in this case, as they were light match cartridges. Not easy to digest for the 1/8" twist of the 6.5 Creedmoor. In order to test whether the precision is better with heavier bullets, a type of hunting ammunition was purchased. Everything ran flawlessly and trouble-free. Expectations for accuracy were very high. Looking at the results, you can only say that they were fully met.
RS 14 Evolution Thar with thumbhole stock: test wrap-up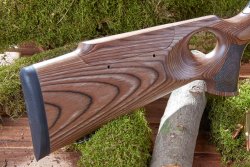 The Strasser RS14 Evolution Tahr with thumbhole stock satisfies all along the line. It lived up to the slogan "Safe. Fast. Precise. Modular. Elegant" –  which the manufacturer has taken as its motto –  in all situations. The take-down system is as unique as is the silky smooth action. Due to its own weight and the materials used, the gun makes a particularly valuable impression in purely visual terms. The striking chestnut-colored laminated wood stock is an absolute eye-catcher everywhere. Strasser is happy to accept and, if possible, fulfill special requests. The sharp-edged checkering on the pistol grip and fore-end offers advantages in bad weather conditions.

The RS14 Evolution Tahr in the thumbhole stock version costs from 3475 euro. If you are interested in this rifle, you should definitely talk to the Strasser company. Seldom is it possible to receive such uncomplicated and unobtrusive advice and information about the advantages of a gun. Especially friendly attitude, professional competence and the very own Austrian, factual and helpful charm, at the end of the day will leave you hardly any other choice than to buy one of these rifles