At the World Field Target Shooting Championship held in South Africa at the end of August, British manufacturer Daystate can consider itself more than satisfied, as U.S. shooter Lauren Parsons, who used a Daystate Red Wolf rifle in 4.5 mm caliber, won the gold medal.
Readers are reminded that the Daystate Red Wolf is a high-powered pre-charged pneumatic (PCP) air rifle chambered in .177 (4.5 mm), .22 (5.5 mm), .25 (6.35 mm) and .303 (7.62 mm) and with barrel lengths of 43 or 60 centimeters. Power is provided by carbon fiber air cylinders with a capacity of 400 or 480 cc.
Daystate Red Wolf Grand Prix rifle with aluminum stock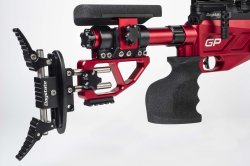 © WORLD COPYRIGHT: NIGEL E ALLEN 2023
At the South African World Cup, Lauren Parsons competed with a Red Wolf featuring a laminated wooden stock, which evidently performed very well, but one should never rest on one's laurels, and so the British company had already planned to bring to market a version with an aluminum stock that would ensure maximum adaptability and the possibility of mounting accessories of all kinds, from the simplest ones to those specifically designed for academic target shooting. The Red edition comes in a flashy red color – and it could not be otherwise. For those who prefer a lower profile, no problem:  in the catalog there is also a version with an anodized stock in an austere black color.
Since its launch in April this year, the unparalleled flexibility and refinement of the new Grand Prix version, combined with the legendary precision of Red Wolf's advanced electronic trigger, has earned an enviable reputation on the competitive circuit.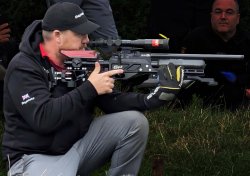 Despite taking his Red Wolf Grand Prix rifle out of the box only a few weeks ago and not having the opportunity to modify it, Neil Palmer secured second place at the recent Hunter Field Target World Championships, narrowly missing first place in a shoot off.
The new monolithic stock of the Daystate Red Wolf Grand Prix offers the shooter a rigid, durable construction with details specific for field target shooting, such as a height-adjustable handguard / forend with a wide vertical adjustment range and the ability to mount anatomical, custom pistol grips.
The Daystate Red Wolf Grand Prix rifle is available in calibers from .177 to .30 and powers from 7.5 to 108 joules (5.5 to 80 ft/lbs). In addition, the aluminum stock can be purchased separately by those who already own a Red Wolf rifle to be mounted on their existing firearm. The list price of the basic model is about 4,000 euros.
Daystate Red Wolf Grand Prix specs and price
| | |
| --- | --- |
| Model | Red Wolf GP - GP High Power |
| Country of production | U.K. |
| Type | air rifle |
| Calibers | 4,5 mm, 5,5 mm, 6,35 mm and 7,62 mm |
| Air Supply | 480 cc cylinder |
| Operating Pressure | 250 bar |
| Magazine | rotary, 13-, 11-,10-, and 8-shot |
| Trigger | electronic, adjustable |
| Sights | none, Picatinny optics rail, M-Lok handguard |
| Barrel lenght | 430 or 600 mm (High Power) |
| Stock | aluminum with red or black finish |
| Weight | 4.35 kg / 3.55 Kg (HP) |
| Price | From 4,000 euro (approx) |
To learn more please visit the Daystate website.