Vaccination numbers are rising, incidences are falling and the German state government of North Rhine-Westphalia is allowing trade fairs to resume from September 1, 2021. This means that planning for the HUBANA hunting trade fair can now also enter the hot phase. From this point of view, the postponement of the original date in May to the period from 10 to 12 September 2021 was perfectly planned.
The exhibitors at HUBANA

The fact that the hunting industry – firearms, optics, ammunition, equipment – has already been waiting for this chance to get back in touch with end customers is shown by the large list of prominent exhibitors. The following exhibitors have already confirmed their participation at HUBANA 2021:

    Manfred Alberts
    Hausken
    Leader Trading
    Sellmark
    Waimex
A complete exhibitor list can be downloaded here.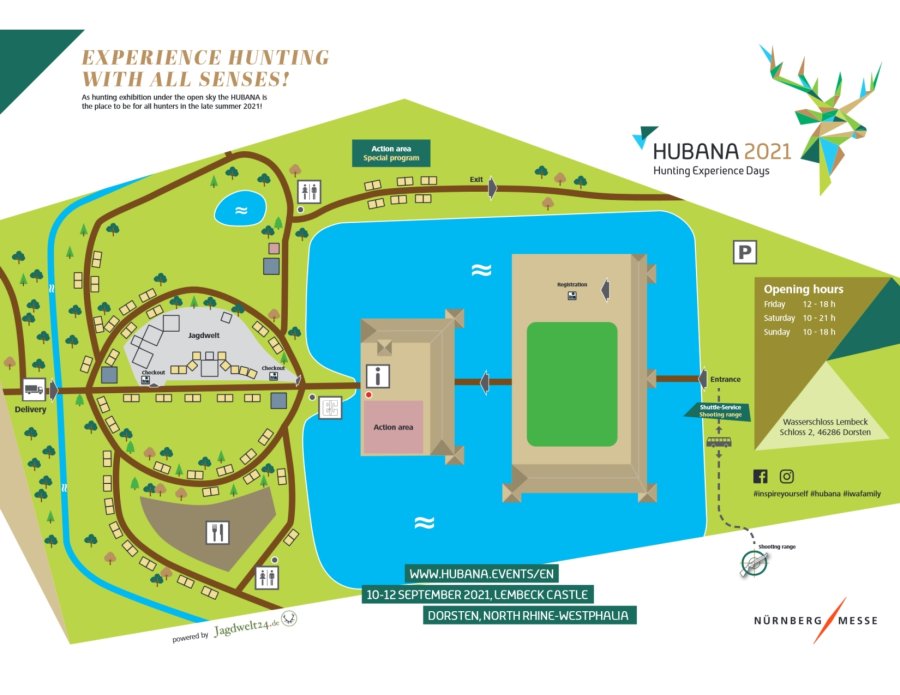 Here's what the organizer has to say about the go-ahead for HUBANA 2021

"We are extremely pleased by the decision taken by the NRW state government on a potential restart of the trade fair business in time for HUBANA in September. This is precisely the signal we exhibitors have been waiting for. Finally, the road is clear to hold exhibitions again. The increasing number of registrations is proof that the entire sector is longing to see and talk to one another again at aphysicalevent. We are pleased to be able to create the first open-air event in 2021in the form of HUBANA, which allows us to accommodate the wishes of exhibitors and visitors,"  says Anna-Catharina Heller, Event Manager of HUBANA Hunting Experience Days, NürnbergMesse.

The concept of HUBANA 2021: Hunting Experience Days and no halls

The "HUBANA - Hunting Experience Days" will take place in late summer 2021 in North Rhine-Westphalia, Germany, as an open-air event and is aimed at consumers. European flair close to the border paired with open-air product tests are to provide an experience of a special kind. This is where tradition and customs meet trends and innovation. HUBANA also acts as the launchpad for a series of events, as partner events within Germany and in other European countries will follow.

HUBANA impresses visitors with real highlights and stands for a special kind of trade fair experience. This is also ensured by the selection of hand-picked exhibitors, who contribute to the high quality standards of the event with top products and demonstrations. Elegant pagoda-style marquees will turn the park on three days into a classy hunting event. With the integration of the nearby shooting ranges, product testing is a top priority. In addition, there will also be on-site opportunities to conduct a variety of tests under realistic conditions.

Comment from all4hunters.com on the new HUBANA hunting exhibition 

Chapeau to the organizers – for both their stamina and the vigor. While the Jagd & Hund  "indoor trade show" in Dortmund moves to February 2022 as its next and new date skipping 2021, the organizers of IWA are trying to do everything they can to put an exclamation mark on the autumn of 2021 with the HUBANA "hunting experience trade show". No, it is not about a competition to Dortmund – not in the least. The claim is small, but fine and rather in the direction of a premium event. What does "premium" mean? Quite simply, it's about providing visitors with an experience. The special flair of a moated castle in a nature park is a perfect basis for the goal of making products tangible. Touching, testing, comparing, talking about technology, preparing or securing purchasing decisions – this is win-win for exhibitors and visitors. Fan days at the IWA have been discussed for many years - without result. But how is that supposed to work? The IWA is a trade show. Products are shown there that will not be available for sale for 3, 6 or even more months. How are the exhibitors supposed to deal with that? In our opinion, the idea was never thought through to the end...
All the better that there is now this new, promising outdoor concept of HUBANA. It fits well into the Corona year 2021 –  it is not a concession to the pandemic situation, but a new approach that we very much welcome. The Blaser Group – a group that had already withdrawn from IWA – will also be exhibiting at HUBANA . Of course, this is a more German, local approach for now and not a classic international one. Sure, fans from the border regions will be attracted and that is a nice enrichment. But it should go on – the HUBANA is only the starting shot of a whole series of events. Fan and visitors should be happy about that. Proximity to the market, relevance, emotions – all of this often suffers from the "spick-and-span" hall atmosphere. To make a long story short: we are also looking forward to HUBANA 2021 and will be there with a team to report to you from there. For all of you who are close enough to where the trade show is taking place, we of course recommend visiting us on site. Dates and opening hours can be found below. We keep our fingers crossed for the organizers and exhibitors and hope for good weather. 
Address and opening hours of HUBANA 2021

Wasserschloss Lembeck, Schloss 2, 46286 Dorsten, Germany.

Friday, September 10, 2021, 12:00 p.m. - 6:00 p.m.
Saturday, September 11, 2021, 10:00 a.m. - 9:00 p.m.
Sunday, 12 September 2021, 10:00 a.m. - 6:00 p.m.


Do you also would like to become an exhibitor?
NürnbergMesse GmbH
HUBANA Event Team
Messezentrum
90471 Nuremberg, Germany
Anna-Catharina Heller
Phone +49 911 86 06-88 99
lembeck@hubana.events

For more info please visit the official HUBANA trade show website: https://www.hubana.events/en