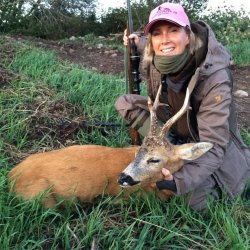 Ulrika Karlsson Arne is a professional when it comes to hunting. Considering that the 45-year-old lady is hunting 3 days a week, of course this is only possible with a lot of passion and a perfect time management. If you do not know the US Extreme Huntress award yet, you will find everything worth knowing here.
Ulrika Karlson Arne is a professional hunter and worldwide brand ambassador for well-known brands such as Norma, Fjällräven Hunting, Elia Game Fair and Sauer. No wonder that this year she made a trip to Dortmund for the Jagd & Hund exhibition.
Europe's largest hunting fair once again attracted thousands of guests this year. If you wanted, Ulrika could also be met in Hall 5 at the Alljagd booth and at the knife sharpening specialist Tormek's one. There she talked to the audience and answered to everything that has to do with her hunting passion. But Ulrika also has a private life: she is the mother of two children. Her great passion is nature, especially the forest, which has a very different importance in northern Europe than in the rest of the continent.
Sustainability is the most important aspect of hunting for Ulrika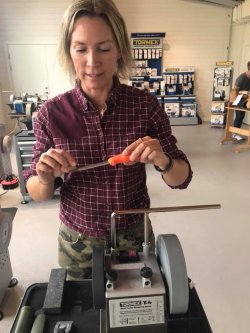 Knowing where, when and how a piece of game has lived is essential to Ulrika and she knows that game has always been a cornerstone of the human food chain. It may sound hackneyed, but even in Sweden they say: "There is nothing more organic than game meat".
At the Dortmund trade fair, Ulrika also visited the RUAG Ammotec booth, where she conducted an interview with the ammunition and suppressor expert Gunnar Petrikat on the new RWS short rifle ammunition. Having so much experience, she asks interesting questions.
Here you can see our video interview by Ulrika Karlsson Arne on the RWS Short Rifle Ammo.
In addition, Ulrika also visited the Norma booth and exchanged views with colleagues and fans. The culmination of her visit to the fair was the demonstration of a mobile hunting blind by the German manufacturer Udo Röck. The Extreme Huntress 2019 had not seen such a blind yet seen and so she naturally took the opportunity to take a closer look at the blind itself.