I accompanied a group of American shooters who were on a week long hunting break in Scotland. After a brief spell in Edinburgh and St Andrews, we headed North to stalk deer.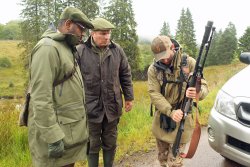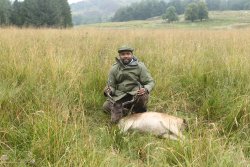 At dawn, deer stalkers took the hunters out, high up in the hills of the Reimore Estate, Perthshire, we saw sika, and distant roe, both more accustomed to the terrain than us. We watched as they effortlessly leapt away, and out of rifle range.
After a late breakfast, a few hours clay shooting at County Clays in Dunkeld, and a distillery tour, we were back out stalking. In Less than ten minutes into the evening stalk, a sika stag was spotted.
Stalker Geordie Broad helped David Steward into position. Lying prone under the cover of trees, David calmly takes the shot, at 180 yards, with the Ruger .243 fitted with a Swarovski 8 x 42 scope, and the stag drops.  A text book shot!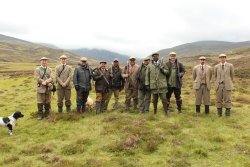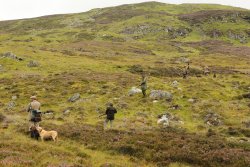 The following day, we drive to the Invercauld Estate, Braemar, and are greeted by the head-keeper and his under-keepers. 
We set off in the 4X4s into the hills for a day of walked-up grouse. The group made a line up the side of the glen, with shotguns at the ready. The grouse were flushed by dogs, and the first bird was shot by Andres (Dre) Bonifacio, a keen bow hunter in the USA.

Dre said, "This was such a fantastic way to start our week of hunting. The picturesque hillside and loch were so inspiring. We had many memorable experiences while in Scotland. I would love for this to be an annual trip, and the MacNab is on my list!" 

The group went on to stalk deer the next day, followed by driven grouse in the Scottish Borders, before flying home. The entire trip was organised by River & Green, a company with an impressive network of sporting estates.
Alex from River & Green, said, "We arrange everything including providing rifles and shotguns (or organise visitor firearms permits if you bring your own), accommodation, transport, instruction, loaders, insurance etc. Every detail is taken care of, ensuring that all our clients enjoy Scotland's world class shooting and stalking."

Scotland is open all year, and welcomes hunters!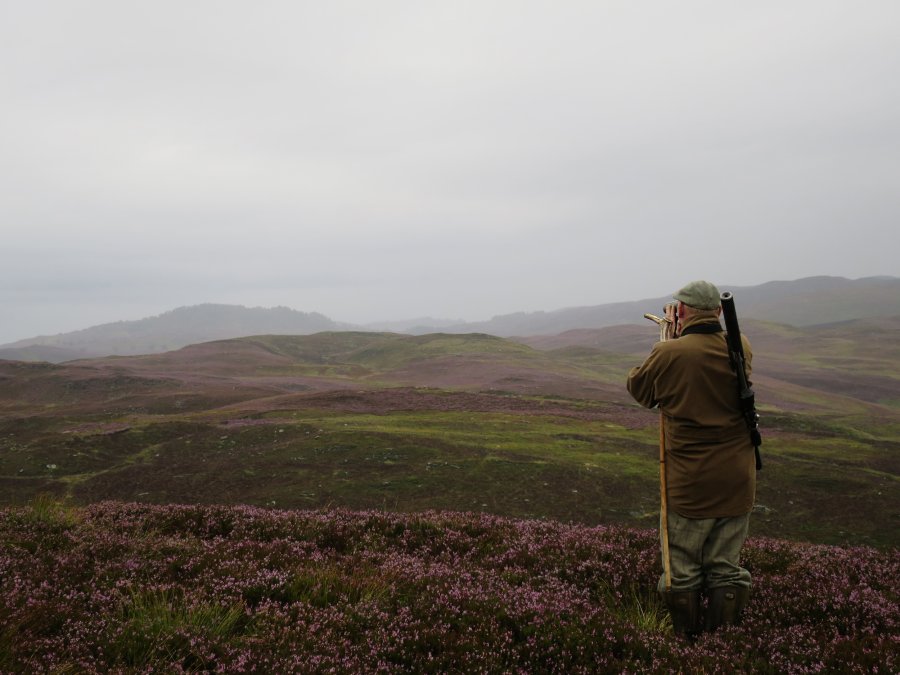 Who is Linda Mellor?
Linda Mellor is one of Scotland's foremost shooting, fishing and hunting female writers and photographers. She is the product Ambassador for Venator Pro, a premier hunting company and stockist of the European brand Hillman. With a lifetime of countryside experience, Linda's passion, enthusiasm and respect for the outdoors and hunting is explored and shared across her writing and photography. 
For more information on Linda Mellor, please visit Linda Mellor's website, Twitter (LindaMellor) and instagram (linda_mellor).