2017 roe buck season has been a busy one for Emma, it's her 'best one yet' because she stalked on her own for the first time, and shot a Roe Buck.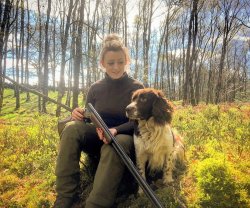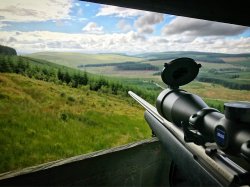 Emma had spent two mornings sitting in a high seat, using her Zeiss Victory RF 10X56 binoculars spying over the ground of an Estate in east Yorkshire. 
"There was a lot of wildlife around, I watched pheasants, peacocks, badgers, a heron and a buck with two does. The ground was quite flat, so getting in close was a challenge due to the lack of cover".

The following day, she returned to the same place, checked the wind direction, and stalked along a forest track and, then out into a field, but had seen nothing so she headed to the high seat to give herself a better vantage point.
"I had made so much noise getting myself and my gear into the high seat for more of a view. I casually looked over to my left, and I saw a buck, I couldn't believe it!" 

Emma took a perfect broadside shot, with her Sako A7 .243 rifle, fitted with Zeiss Conquest V6 2.5-15X56 with ASV, then clambered down a banking to gralloch the beast. "The next challenge I faced was getting the buck 100 yards back up the very steep banking. I'm only 5ft 1' but decided it's mind over matter so, I told myself I was going to do it, and I dragged the buck up the banking."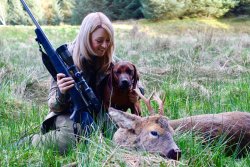 "I not only found it very rewarding to come back with my quarry, but I proved to myself, with all the years of learning behind me, I can do it on my own! 
I hope it shows other women they can also do it, and encourages them to take up the sport."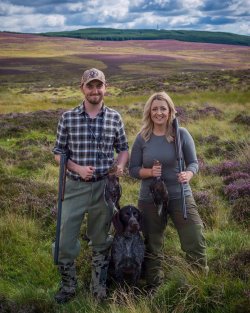 Emma's fiancé, Brent Norbury, is a professional stalking guide for Strahanna Stalking, based in the Galloway hills. 
Emma and Brent stalk and shoot together as often as they can, and have formed 'Brema Hunting Adventures'. 

Emma said, "I experienced shooting my first grouse in August, it was great to see Luna, Brent's Pointer, at work on the moor. We've got lots on, and looking forward to shooting geese around Christmas and New Year, and stalking hinds on Arran in January 2018".
Here you can find a 'Brema Hunting Adventures' video featuring Emma shooting her first Scottish Roe Buck with Brent: 
This video has been hidden because of an external service (YouTube) that could potentially collect personal data.Allow video services for the duration of the visitAllow video servicesStop allowing video services
Who is Linda Mellor?
Linda Mellor is one of Scotland's foremost shooting, fishing and hunting female writers and photographers. She is the product Ambassador for Venator Pro, a premier hunting company and stockist of the European brand Hillman. With a lifetime of countryside experience, Linda's passion, enthusiasm and respect for the outdoors and hunting is explored and shared across her writing and photography. 
For more information on Linda Mellor, please visit Linda Mellor's website, Twitter (LindaMellor) and instagram (linda_mellor).