F.A.I.R.'s Racing line includes five different over-and-under of which the Prestige model, recognizable by the elegance of its long folders, represents the most refined version that we had a chance to try at the shooting lines at the Valle Duppo range in Lodrino, Italy.

We were not alone, because with us there was Rebecca Rizzini to show us the main features of the gun that she herself uses in Sporting, pointing out the versatility of a gun that can be successfully employed by both male and female shooters thanks to its balance and some features that make swinging easy and precise even and especially for newcomers to shooting. 
Details and features of the F.A.I.R. Racing Sporting Prestige over-and-under

The shared features of the Racing over-and-under shotgun range are the mechanical parts machined entirely from solid steel billet; the receiver with raised profile, side reinforcements and 40 mm thickness for maximum strength and stability, the trigger guard and monoblocks. Available in 12- and 20-gauge it includes scaled receivers.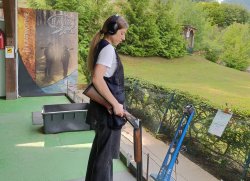 The gold trigger is single selective and adjustable thanks to the X-Trigger system. The cartridge case ejection is automatic and operated by long-strike selective ejectors. F.A.I.R. barrels made of tri-alloyed deep-drilled steel bars feature the special X-cones geometry that provides a smooth and long forcing cone for better recoil absorption even with narrow bores and tight patterns. This facilitates the shooter's concentration and accuracy in long shooting sessions causing less fatigue.

Another interesting technical detail for those about to start shooting is the knurled and wide 9 mm upper rib, featuring a center sighting groove to lead the shooter's to the fiber optic front sight quickly and accurately. The barrels of the F.A.I.R. Racing Sporting Prestige over-and-under are available with 3"/76 mm magnum chamber and three lengths of 71, 76 and 81 cm fitted with a set of Tecnichoke Sport XP 70 mm internal and interchangeable chokes. The FAIR over-and-under's stock is European walnut and oil-finished with fine-pitch laser-made checkering. The pistol grip stock has a wide, ergonomic grip and a ventilated rubber recoil pad. The overall weight of the shotgun with 71-cm barrels is 3.7 kg in 12-gauge and 3.5 kg in the 20-gauge version. As mentioned in the opening, it is worth mentioning the excellent value for money of the Sporting Prestige over-and-under, which comees to the public at a suggested price of 2,677 euros including VAT. (As usual, check the price in your country since it may be different due to local taxes and import duties.)

For more information on the Racing Sporting Prestige over-and-under shotgun please visit the F.A.I.R. website.