F.A.I.R., with its manufacturing experience, dedicates the new Fossari over-and-under shotguns to shooters who are looking for high-standard guns both in the selection of raw materials used and craftsmanship. Available in different versions for the respective shooting disciplines, here we want to show you the Fossari over-and-under CRX9 BSR Sporting in 12 gauge.

Franco Palamaro, © F.PALAMARO
The receiver machined from a solid billet of steel is a common feature of the Fossari over-and-under shotguns, equipped with interchangeable hinge pins to guarantee a long life to the gun even in case of an exasperated professional use. 
The same principle of interchangeability and durability can be found in the forend iron, featuring an interchangeable serialized special steel insert, placed at the support point between the barrel tenon and the iron fore-end itself, allowing the shooter to easily tighten any excess plays that arise from high use even after thousands of shots fired. 
Like the receiver, the trigger plate, forend iron, monoblock and exractors of Fossari over-and-under shotguns are machined from forged solid billets.
The single or selective single trigger system is removable. The operation, which is easy to perform, is carried out without any tools, but simply by pressing the release button located at the top of the trigger group. This device simplifies the ordinary and extraordinary maintenance of the gun, always to the advantage of a regular and long-lasting use. Still about the trigger, on all Fossari versions the adjustable XR-Trigger can be requested as an option. The adjustment of the trigger length of pull is made easy by a button placed on the upper part of the trigger itself and for shooters it can represent a considerable advantage in the field.

Fossari CRX9 Sporting BSR, a combination of elegance and technology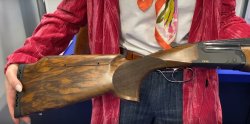 The Sporting BSR version of the CRX9 over-and-under is easily recognizable by its adjustable light alloy top rib that facilitates the rapid acquisition of clay pigeons – point of impact can also be adjusted. The shotgun features 76 cm or 81 cm barrels with 70 mm or 76 mm chamber. Like all Fossari over-and-under shotguns, the CRX9 BSR is equipped with the new Tecnichoke HPS chokes designed to offer 8 different choke parameters for the various shooting disciplines. 
With a length of 90 mm (70 mm internal) and thanks to a smooth angle of connection, these chokes improve the ballistic performance and allow the use of steel-shot.  The Montecarlo stock version, with adjustable XR-Stock system, is made of select superior grade European walnut and oil finished. The total weight of the gun is about 3.9 kg. The combination of elegance and technology seems to be perfectly successful in the new line of Fossari over-and-unders. We can't wait to test their performance at the shooting range. Stay tuned.