The lighting effects on the engraved nickel-plated surfaces of the receiver makes the Pathos XLight over-and-under a gun that undoubtedly stands out more than the same model with a blued solid steel receiver. 
Video: F.A.I.R. Pathos XLight, the field test
This video has been hidden because of an external service (YouTube) that could potentially collect personal data.Allow video services for the duration of the visitAllow video servicesStop allowing video services


Details of the XLight over-and-under
Manufactured by F.A.I.R. in all major gauges, it was delivered to us in 20 gauge with 71-cm barrels and interchangeable internal chokes. The barrels are also available in 68- and 76-cm lengths with 76-mm magnum chambers and internal anti-corrosion chrome lining. We took advantage of the time available for testing to go hunting several times in the fall period with pointer dogs in hilly environments looking mainly for pheasant and partridge. The main feature that emerged when hunting was the pleasant ease of carry and swing of the gun, which weighs no more than 2.5 kg. The advice that we never tire of repeating in order to fully enjoy the qualities of these light shotguns is to use standard-weight cartridges, which, thanks to the ballistic quality of the barrels, proved to be fully effective in shooting at medium and longer distances. We have in our case employed 28-g Baschieri cartridges and number 7 lead shot, achieving safe and precise shots, with perfectly intact recovered game.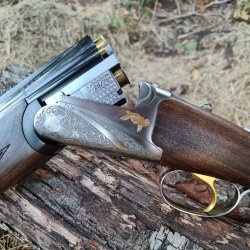 Firing these loads, despite its light weight  the Pathos XLight over-and-under proved soft on the shoulder and stable in aiming while firing and follow-up shooting. Grip and gun control are good thanks to the special deep, laser-made stock checkering. The stock of the over-and-under is English style while the forend is a classic Schnabel type. The wood used is select oil-finished  European walnut that matches well with the sleek gold-inlaid engravings on the stock.
Partridges in flight are depicted on both sides of the receiver while the name of the model can be seen on the receiver bottom. Overall, we can define the Pathos XLight as an over-and-under with classic lines that, thanks to the materials used, meets the current needs of hunters: enthusiasts who often find themselves making long and tiring walks for hoped-for encounters where a handy gun proves to be a fundamental ally. Shell ejection in the Pathos XLight over-and-under is automatic and the single trigger is selective. F.A.I.R. offers this over-and-under at a price of 2,547 euros, which is an adequate compromise with the quality offered.
---
For more information on the Pathos Light over-and-under please visit the F.A.I.R. website