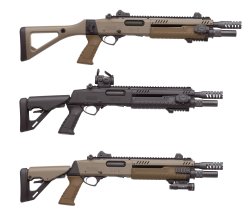 FABARM - Fabbrica Bresciana Armi S.p.A.
The 12-gauge, 3"/76mm STF-12  pump-action shotgun design has been the mainstay of the Professional products line from the Italian-based FABARM company ever since it was launched two years ago.
Available to both professional (MIL/LE) customers and to civilian shooters − and perfectly apt for a plethora of civilian uses such as sport shooting, home and property defense, and service issue within private security entities − the STF-12 is also the first Italian-made fully-modular pump-action shotgun design: the STF-12 is based on a common receiver, to which several types of stocks, barrels and magazine tubes can be installed to adapt the shotgun to the ever-changing needs of both civilian shooters and military or Police operators.

FABARM - Fabbrica Bresciana Armi S.p.A.
At the 2016 edition of the HIT Show in Vicenza (northern Italy), the FABARM company showcased two new versions of the STF-12 line of shotguns: a desert tan Cerakote-finished variant, offering superior resistance against wear, corrosion and other environmental threats; and a new collapsible stock model, designed and manufactured by FABARM itself out of Nylon and ERGAL-55 lightweight aluminum alloy.

The new FABARM stock can be adapted to any STF-12 shotgun variant, of any barrel length − ranging between 11" and 22" − and can be installed on all pre-existing STF-12 variants; it can be extended to six different positions, from 260mm to 360mm in length, and sports an adjustable cheek riser with five selectable positions.