Headquartered in the northern Province of Brescia, the Fabarm S.p.A. company is one of Italy's main manufacturers of tactical, defensive and Police shotguns − offered on the global market along with a broad line of hunting and sport shooting shotguns.
All4shooters.com's followers are no strangers to the Fabarm shotguns line, and as a matter of fact they're used and well-appreciated by hundreds of thousands of civilian gun owners and professional operators (military, law enforcement, private security personnel) all around the globe.
The Fabarm product line is by itself a solid demonstration of how tactical shotguns − particularly pump-action tactical shotguns − are by no means a monopoly of the U.S. industry when it comes to reliability. quality, and affordable price at the same time.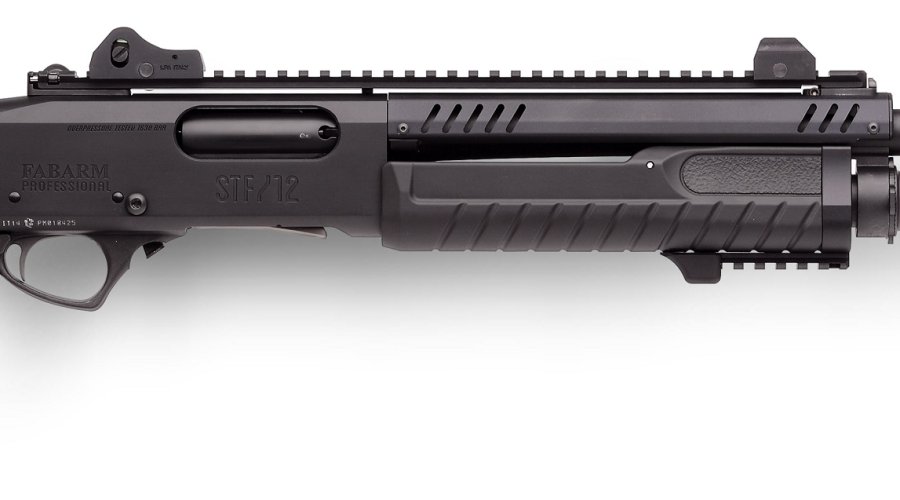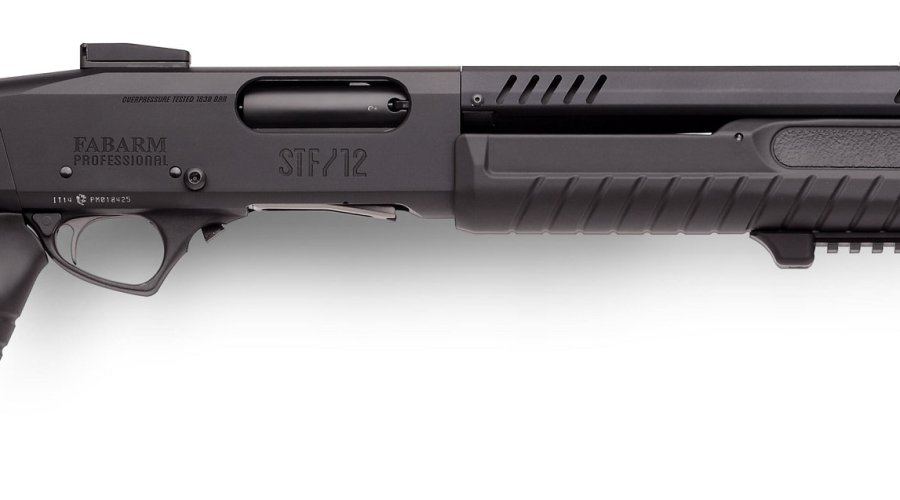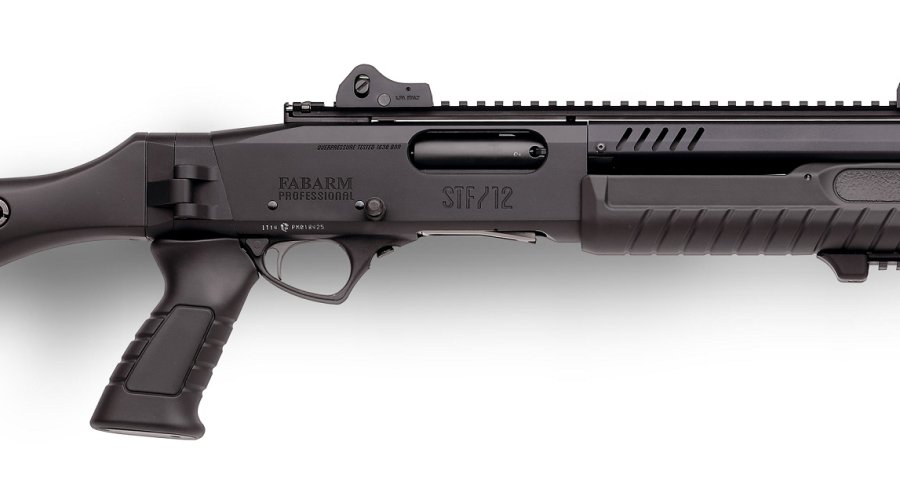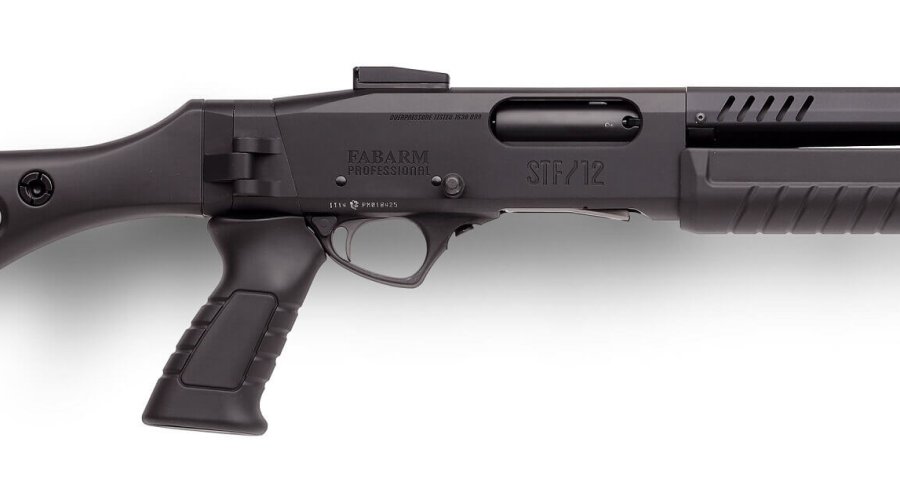 In the year 2014, the company launched the Fabarm Professional line − a specialized lineup of pump-action and autoloading shotguns conceived mainly for military, law enforcement and private security customers, although most of those models are also available to civilian customers at large.
And even since late 2014, the STF/12 pump-action shotgun system is the mainstay of the Fabarm Professional line.
The STF/12 is not a standard tactical pump-action shotgun: it's the first modular pump-action shotgun system to have been completely conceived, engineered and manufactured in Italy. It is offered in six different factory variants, all based on the same hard-anodized black, ERGAL 55 lightweight aircraft-grade aluminum alloy frame, to which all other components are installed and from which they're easily removed, either without instruments or with basic tools. This means that, given access to the right components, each variant of the STF/12 line can be converted to any other in a matter of minutes.

Generally speaking, the Fabarm STF/12 is a 12-gauge pump-action shotgun with a 76mm/3" Magnum chamber, featuring a ventilated sheet metal barrel shroud, a polymer pistol grip and MIL-STD-1913 "Picatinny" railed forend, and either a black fixed or side-folding polymer buttstock or a proprietary lightweight aluminum alloy collapsible buttstock − conceived by Fabarm and manufactured entirely in-house − fitted with a polymer adjustable cheek riser. Both the pistol grip and the polymer forend come with an outer Soft Touch slip-proof, gripping finish.
Among the other factory-issued or aftermarket accessories are a Breacher-style screw-on flash hider and a full-length top MIL-STD-1913 Picatinny rail for optical sighting systems or LPA "Ghost Ring" iron sights.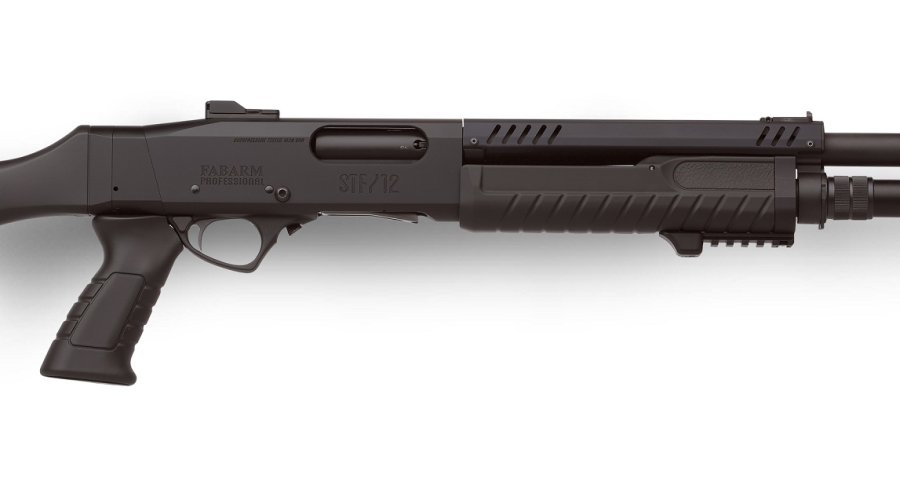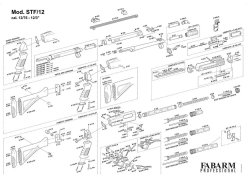 All the variants of the Fabarm STF/12 system come with a Racing-style trigger and a triangle-shaped, ambidextrous safety button. All STF/12 shotgun barrels sport a Lily-shaped proofing stamp, meaning that they've been test-proofed as suitable for the use of high-pressure ammunition (1630 Bar), which implies that they're safe and reliable to use with all types of lead-free shotgun loads.

Ever since early 2016, the Fabarm STF/12 line shotguns are also available in a full desert tan Cerakote finish variant. What tells every model apart is the overall and barrel length.
The STF/12 Short model is  24,4"/62cm. long overall, whle the similar STF/12 Short Initial variant is 21"/53cm. long; both come with an 11"/52cm. long barrel, a straight pistol grip, and offer an overall capacity of four shotshells in the feeding tube and one in the chamber.
The Fabarm STF/12 Compact and Compact Initial variants are pretty much the same model − overall and barrel length and tube capacity included − but features a polymer side-folding stock that brings the overall length to 29,5"/75cm. or  33"/84cm. when open.
Last, the Fabarm STF/12 Pistolgrip and Pistolgrip Initial pump-action shotguns feature a fixed stock and pistol grip, while their overall length and capacity may vary depending from the installed barrel and feeding tube.
More specifically, all configurations of the Fabarm STF/12 pump-action shotgun are compatible with an 11", 14", 18", 20" or 22" barrel. All STF/12 barrel are manufactured entirely in-house by Fabarm; the 20" and 22" barrels are built around the Company's own Tribore HP standard, and come factory-issued with an internal high-precision HP choke.
Capacity-wise, the shortest feeding tube available for the Fabarm STF/12 shotgun system holds up to five shotshells, plus one in chamber; other short feeding tubes offer a 5+1 or 6+1 shells capacity, while the longest version provides an overall capacity of eight shells − seven in the tube, plus one in chamber. An optional removable capacity reducer is available to limit the overall capacity to three shots, for those Countries where said limitation is mandatory by law for hunting purposes.
The Fabarm STF/12 pump-action shotgun system, in all its variants, represents the best alternative that the Italian gun industry currently has to offer in its segment, particularly when it comes to the needs of professional operators and competitive civilian shooters.
The Fabarm STF/12 line of pump-action shotguns is already in distribution in Europe, at a starting price of approximately €1400; for further information about availability and price in your Country, contact your national Fabarm distributor or the company itself.