The current boom of 9x19 pistol caliber carbines is based on several factors: there are many more shooting ranges where such guns can be used, there are varied dynamic shooting sport disciplines for pistol caliber carbines, and they are inexpensive in terms of use (ammunition costs) and maintenance. Finally, the entire logistics for the shooter are simplified by the fact that if you already own a 9 mm Luger pistol you can fire the same ammunition from two different types of guns.

However, the market segment of pistol caliber carbines is clearly dominated by AR-design products. Some people may be pleased that with the RAK 9 Sport from the Romanian manufacturer Nova Modul, there is now a pistol caliber carbine different from the "AR mainstream".

Nova Modul RAK 9 Sport converted by Magpul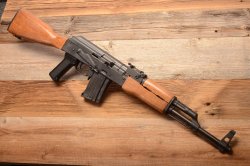 Michael Fischer, © caliber
The gun comes factory with a wood stock and handguard. We received our Nova Modul RAK 9 pistol carbine in 9x19 converted with high-quality, practical plastic furniture from the popular US manufacturer Magpul Industries Corp. directly from Waffen Schumacher, a German wholesale company. According to Waffen Schumacher, this Sport version is only available from third parties and in Germany you can buy it completely finished at MGBstrategic for a fair price of around 1350 euro – price may vary in your country, anyway. 
(The RAK 9 standard version with a classic AK wooden set costs around 949 euro and the Magpul tuning components cost a total of 327 euro).

Nova Modul RAK 9 Sport in 9 mm Luger – Specs
| | |
| --- | --- |
| Model: | Nova Modul RAK 9 Sport |
| Caliber: | 9mm Luger (9x19 mm) |
| Operation: | Blowback |
| Barrel: | 17.4"/442 mm long "Low Profile" barrel with 1-10" (1-254 mm) right-hand twist |
| Stock: | fixed Magpul MOE stock, free standing Tango Down Battle Grip pistol grip, modified Magpul Zhukov handguard with closed M-LOK side slots |
| Magazine: | 10-round box magazine |
| Trigger: | military single-stage trigger with a trigger pull weight of 139 oz/3950 g |
| Safety: | Two-position safety on the right side of the grip, acting on the trigger |
| Overall Length: | 34.6"/880 mm |
| Weight: | 137.5 oz/3900 g |
| Price: | 1350 euro (price may vary in your country) |
An AK outer shell with internal modifications for the Nova Modul RAK 9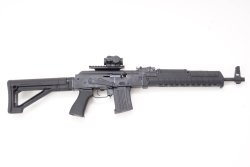 Michael Fischer, © caliber
The AK-based action of the RAK 9 has been redesigned for the reliable use of the 9mm Luger pistol cartridge. The gun uses a simple blowback system and doesn't feature the positive-locking "long-stroke" gas operated system with gas piston and 2-lug rotating bolt head. The modified main components (frame/receiver) with a filler piece in combination with the specially developed magazine ensure a shorter bolt travel when cycling as well as when feeding, and thus a perfect functioning. Due to the external compatibility with the original AK system, all typical add-on accessories of the AK platform can be used without any problems. The receiver is equipped on the left side with a mounting rail for target optics, so that we mounted a Falke S red dot sight with a UTG side mount.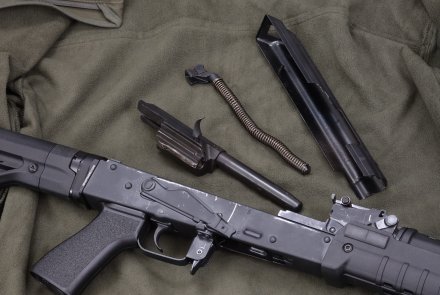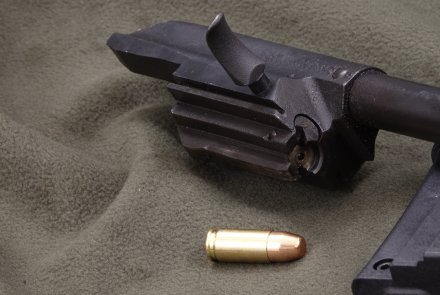 The Nova Modul RAK 9 Sport pistol cartridge carbine in practice
However, the high trigger weight of a whopping 139 oz/3900 g alone does not exactly make accurate "hole punching" easy. On the other hand, you don't necessarily need top accuracy for dynamic disciplines and the RAK 9 impressed with its AK-typical functional reliability. In addition, the carbine is much cheaper to buy than AR-based carbines. Apart from that, we had a lot of fun with this "exotic" pistol cartridge carbine.

---
We took a look at the latest AR-15 semi-automatic rifles from Schmeisser.