The 10X technology developed by the Spanish company Gamo is further refined with the presentation to the public of the new Swarm Fusion 10X Gen2 air rifle.
Gamo Swarm Fusion 10x Gen2: l'evoluzione del modello Replay 10 Maxxim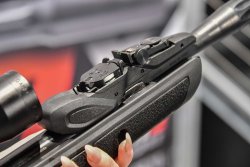 Franco Palamaro, © F.PALAMARO
The Gamo 10X system appeared for the first time on the Swarm Maxxim, the first break-barrel air rifle equipped with a 10-round rotary magazine. Opening and closing the barrel, the rotary magazine aligns a pellet with the breech. The main defect of the first generation 10X system was represented by the considerably enlarged breech, which made it necessary to mount very high optics with respect to the barrel axis, definitely a solution far from ideal.
With the second generation proposed on the Swarm Fusion 10X Gen2 model this defect has been eliminated with a very elegant solution. When the airgun is not pressurized, the magazine is in fact in a horizontal position, allowing to significantly reduce the thickness of the feeding group. When you break the barrel, a system of levers and springs puts the magazine upright and pushes the pellet into the breech. By closing the barrel the magazine goes back to a horizontal position.
The new Gamo Swarm Fusion 10X GEN2 is available both in caliber 4.5 (.177) and .22 with velocities at the very top level for a break barrel air rifle. The muzzle velocity in caliber 4.5 is 1300 fps (396 meters per second) while in .22 is 975 ps (298 meters per second).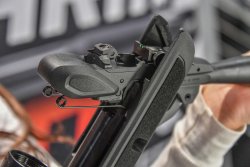 Franco Palamaro, © F.PALAMARO
The pellet is propelled by the IGS piston (Inert Gas Technology) operated by inert gas instead of the traditional spring. The piston action is smoother and fast, with reduced recoil and a beneficial effect on shooting comfort and accuracy. The thumbhole-type stock is high-quality glass-filled nylon and ensures a firm and secure grip. The steel barrel is completely polymer-jacketed, ending in a Wisper Fusion compensator/sound dampener that reduces noise when firing.
Loading the 10-round horizontal magazine is very simple and intuitive. Although the rifle is shipped complete with a 3-9x40 scope featuring the SWA anti-recoil system, iron sights consist of an adjustable back sight  and a ramped front sight with fiber optic insert. The adjustable trigger group is the CAT (Custom Action Trigger) that allows you to adjust the first and second stage of trigger travel independently.
The US price of the new Gamo Swarm Fusion is 269.99 USD.