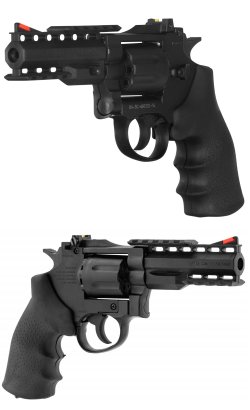 First introduced by the Spanish-based Gamo Outdoor company at the 2014 edition of the IWA OutdoorClassics expo in Nuremberg (Germany), the Gamo GR Stricker airgun was showcased at the 2016 edition of the HIT Show by the Italian distributor of Gamo products − the Adinolfi S.r.l. company.

Manufactured entirely in metal and polymer, in a full black color, the Gamo GR Stricker sports a fixed front sight with a bright red insert, an adjustable rear sight, and top and bottom MIL-STD-1913 "Picatinny" rails on the barrel, attached to the prominent barrel ribs. The Gamo GR Stricker is a "free" airgun, requiring no licensing or registration in Italy as well as in most of Europe, given its muzzle energy coefficient lower than 7.5J.
The Gamo GR Stricker sports many features akin to those of a real-life revolver: the trigger is a classic double-action, and the hammer can be hand-cocked for single-action shooting; and the cylinder swings open to the side, holding up to eight 4,5mm/.177 conic pellets. The black rubberized slip-proof grip hosts the seat for a standard 12g CO² canister, which provides propulsion for the pellets.