The Spanish company Gamo, one of the largest manufacturers of air rifles, has updated its Swarm Maxxim model, featuring a quick-shot horizontal alignment system. The operation of the rifle is made possible by the second generation 10x multi-shot rotary magazine which now has a lower profile, is lighter and more compact than the previous one and eliminates double feeding problems.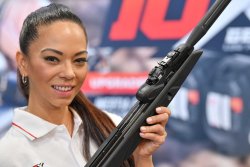 Franco Palamaro, © F.PALAMARO
The 10-shot magazine in fact allows users to shoot 10 shots as fast as they can break the barrel. With the second generation model the loading action is smoother and more reliable. The synthetic stock has also been slightly modified and now features a compartment inside pistol grip, where a spare magazine can be stored. 
Otherwise, technical characteristics are those of the previous model, with Whisper sound dampening system, Custom Action Trigger and synthetic rubber recoil pad with high recoil absorption. 
The Gamo Swarm Maxxim Gen2 is available in 4.5 and .22 calibers and in both cases it comes equipped with a Gamo 3-9x40 variable magnification scope with a mount designed to fit the 10X Gen2 magazine.
The new 10x Gen2 magazine is also available for the Gamo Swarm Magnum in .22 caliber, one of the most powerful air rifles ever produced by the Spanish company, ideally suitable for small game hunting and pest control (where permitted by law).