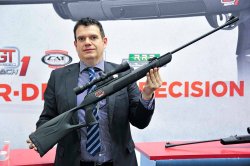 The GAMO Outdoor company – a world leader in sporting airguns – showcased three new models at the IWA expo in Nuremberg, adding to its already extensive product line.
The new GAMO Chacal .177/4,5mm air rifle, developed in collaboration with GAMO's partner BSA, sports a black polymer stock and a PCP (pre-compressed pneumatic) operation system, with a high capacity refillable air cylinder. Sporting BSA's signature bolt-action working system and detachable magazine, it develops less than 7,5 Joules of muzzle energy, which makes it legal to purchase and own in many European countries without a license.
The GAMO G-Magnum 1250 5,5mm/.22 air rifle is a total opposite to the Chacal – in both design, working system, and muzzle energy factor. Built around a break-open design and a thumbhole black synthetic stock with slip-proof inserts on the pistol grip and forend, it sports an IGT inert gas piston technology and develops an incredible 36 Joules muzzle energy level.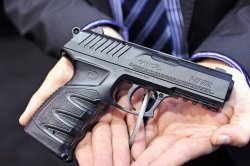 Last, but not least, the GAMO P27 Dual 4,5mm air pistol is a polymer-made, low-power design hosting up to eight pellets in the slide-mounted cylinder and a 12-grams CO² canister in the grip for propulsion. For the first time in GAMO's product line, the P27 Dual will work reliably with both BB and "Diabolo"-style pellets.