Compared to the previous version, the magazine of the Gamo Speedster air rifle is now horizontal to the barrel axis when the gun is not cocked. The improved system is lighter, more compact and less protruding relative to the rifle contour. Once there are no pellets left, the ten-shot rotary magazine can be replaced in no time, without interrupting your fun.
The compressed air that pushes the pellets is not provided by the usual spring, but by the more modern IGT (Inert Gas Technology) system: a inert gas-filled cylinder that is compressed at each reloading, guaranteeing less vibrations, more consistent power output and easier cocking.
Gamo Speedster 10X IGT Gen2 details

The modern and fully ambidextrous stock is made of fiberglass-reinforced polymer. The surface finish is rough, with a more marked non-slip texture on the grip and fore-end. The stock features an integrated cheek rest for easier sight acquisition, and the buttstock ends with the new SWA (Shock Wave Absorber), a recoil pad with three removable parts that allow you to adjust its hardness, providing 74% more recoil absorption than traditional pads. A cover under the grip hides the compartment for a spare magazine, for an even faster reloading.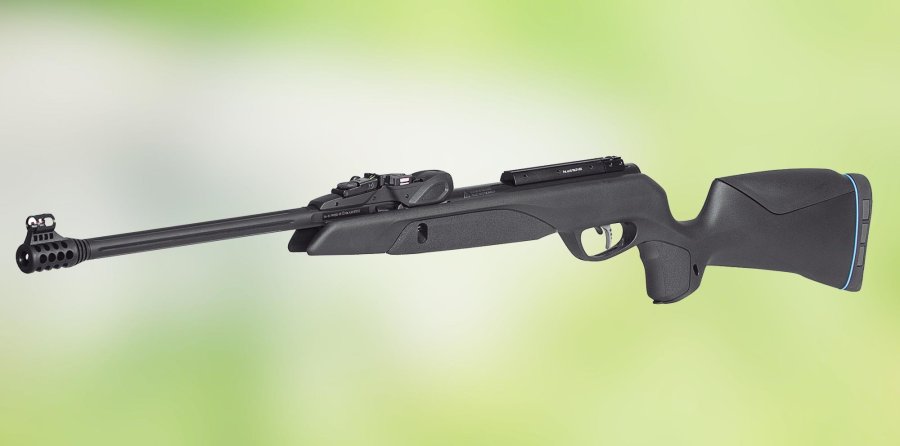 The steel barrel, internally rifled to stabilize pellets, is completely enveloped by a thick polymer shroud with "fluted" design, which not only protects it from shocks and oxidation, but also gives the whole carbine an even more attractive appearance. The muzzle features a brake that makes the look even more aggressive.
Thanks to the adjustable CAT (Custom Action Trigger) trigger, users can adjust the trigger according to their preferences, setting travel length and pull weight of first and second stages, operating on two independent screws. There are two safeties: one manual and the other automatic, which is inserted at each loading.
The Gamo Speedster comes with iron sights featuring fiber optic inserts: a front sight protected by a window hood, and a rear sight with separate rotating knobs for elevation and windage micrometric adjustment.
Being optics ready, the rifle is already fitted with the Gamo RRR (Recoil Reducing Rail), a raised scope mount composed of two pieces: the actual rail, and a rear cushioned part that can reduce the optic internals stress by almost 100%.
All this makes the new Gamo Speedster an exceptional tool for both recreational shooting – where it shines for its rate of fire – and for training, where it can express its remarkable intrinsic accuracy. The Gamo Speedster 10X IGT is available in .177 and .22 calibers  (4.5 & 5.5 mm).
Gamo Speedster 10X IGT specs and price
| | |
| --- | --- |
| Manufacturer:  | Gamo |
| Model: | Speedster 10X IGT Gen2 |
| Caliber: | .177 and .22  (4.5 and 5.5 mm) |
| Power: | <7,5j (170m/s) |
| Action: | Break barrel |
| Overall Length:  | 46"/1170 mm |
| Barrel Length:  | 19.7"/500 mm |
| Materials:  | Metal and polymer |
| Magazine Capacity: | 10 rounds |
| Trigger: | Two-stage adjustablea due tempi regolabile |
| Safety: | Manual |
| Sights: | Fiber optic |
| Optics Rail:  | 11 mm |
| Weight: | 6.8 lb/3.1 kg |
| Price:  | 285 euro approx (price may be different in your country) |