Gamo Outdoor company − a global leader in airgun technology and manufacturing, headquartered in Sant Boi de Llobregat, just outside of Barcelona (Spain) − has been offering a line of "tactical-style" air rifles and pistols for some time now, with appealing and functional designs that gathered the interest of youngsters and seasoned shooters alike.
Launched last January at the 2015 SHOT Show, the Gamo G-Force TAC air rifle is the latest entry in said line, and is currently available to civilian customers worldwide.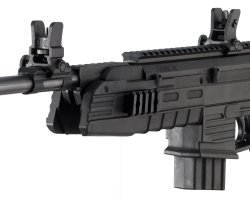 The Gamo G-Force TAC is a variant of the similarly tactical-style G-Force 15 model, launched merely one year ago. What tells the two models apart is the presence on the G-Force TAC of a factory-issue sights assembly − in that it features detachable, adjustable front and rear sights. The Gamo G-Force TAC air rifle is built around a polymer stock, and also sports an all-weather, adjustable buttstock, and a top MIL-STD-1913 "Picatinny" rail.
Other features include two shorter rails at the sides of the handguard, a faux magazine, an ergonomic pistol grip, and a manual safety located inside the trigger guard.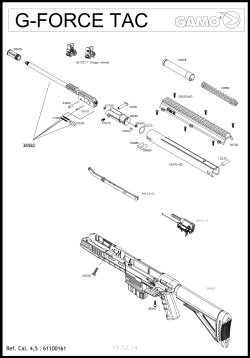 The Gamo G-Force TAC air rifle sports a 38,86cm/15.3" long break-open, matte black steel barrel with a fake muzzle device, and propels a 4,5mm/.177 munition − either BBs or "Diabolo" type pellets are compatible − at a muzzle velocity of 190 m/s (623 fps) and a muzzle energy level of 7.5 Joules, which makes legal to purchase and own to anybody over 18 years of age without licensing and registration in most European Countries.
The Gamo G-Force TAC air rifle is 95cm/37.4" long overall and weighs 2 kilograms (4,4 pounds). With an 8,6 kilograms (19 lbs) cocking effort and a 1,69 kilograms (3.74 lbs) trigger pull, it is also extremely easy and comfortable to handle and operate.
The G G-Force TAC air rifle is currently available in Europe at a retail price of just unoSRP of $139.95.
This video has been hidden because of an external service (YouTube) that could potentially collect personal data.Allow video services for the duration of the visitAllow video servicesStop allowing video services