Bergara's full sized B14 Rimfire has been a very successful target and precision rimfire, although quite large as it was scaled to share an exact fit with the B14 HMR centrefire which is itself Remington 700 compatible in terms of stocks and triggers.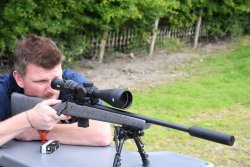 Bergara have now brought out this lighter weight, `Micro` version, lighter, more portable, and perfect for rimfire hunting. It is available in .22 LR (18") and .22 WMR (20"), both using a 1 in 16" twist rate barrel to stabilise the appropriate bullets. .17 HMR is also available with 20" barrel and faster 1 in 9" twist rate to suit the smaller projectiles.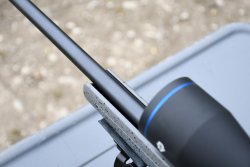 The action is topped with a 30 MOA Picatinny rail for straightforward scope mounting as well as offering the ability to shoot longer ranges too. 
Five and 10-round magazines are available, loaded in a single staggered column. An ambidextrous release lever sits at the front of the trigger guard for smooth reloads, the unit drops cleanly from the rifle's underside and the next mag clips into the well without hesitation.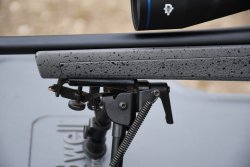 The action locks at the rear with a single lug, all controlled with a short stroke/long handle on the bolt with teardrop tip for tactile access, assuring lightning fast reloads. The action is smooth, fast, and well-proportioned to the lighter black/grey speckled finish polymer stock.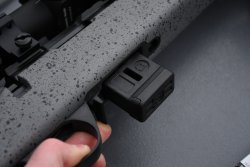 This shows stippling moulded in at the grip and forend for tactile assurance with cold, wet, or muddy hands. Moderate 340 mm length of pull enables fast handling, especially so if shooting from a vehicle yet still operable from either shoulder, prone, standing from quad sticks, a tripod or resting on the bonnet of a vehicle when tackling suitable quarry species. 
The last link in the chain is the ½"x28 TPI screwcut barrel enabling very quiet operation with subsonic ammunition whether it be for hunting, plinking, teaching, or targets!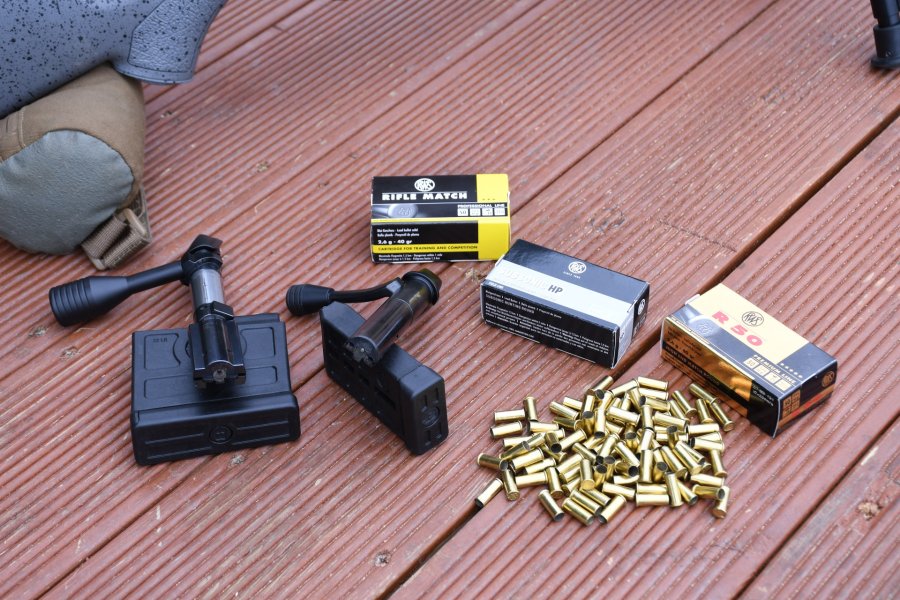 The rifle was fitted with a Meopta Optika6, 3-18x56 SFP BDC 2FP 4c riflescope (here on all4shooters.com/all4hunters.com we already introduced the Meopta Optika6 riflescope series). The scope is also available with first focal plane (FFP) reticles. FFP models have exposed locking elevation and capped windage, while second focal plane (SFP) models have capped windage and elevation. 
Choosing the right ammo from RWS for the Bergara BMR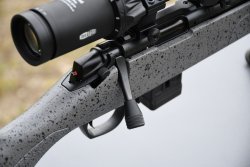 RWS Subsonic Hollow Point is a superb small game round and very quiet with a moderated rifle. impact noise as it meets and expands on quarry is notable and pass throughs are not an issue, the deep hollow point gives assured expansion for a clean kill.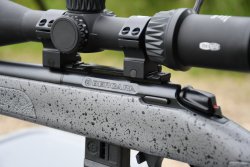 RWS Rifle Match is perhaps my new favourite, lubrication is light and doesn't stain your hands when loading magazines and the performance on paper at short and long ranges is reliable. It remains truly subsonic with no transonic flight problems so suited for the Bergara at longer ranges without unexplained flyers from the groups.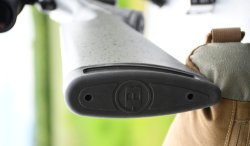 RWS R50 rises just above supersonic velocity and at shorter ranges, great for close in target work with match rifles but noticeably nosier for use in the otherwise modest rimfire which is so enjoyable to shoot quietly for extended time and range, away from a specific target shooting club or match environment where ear defenders become mandatory. 
It is very accurate, but more costly and appreciated by competition shooters.
RWS - Ammo specs (bullet weight / velocity / energy / groups)
| | | | | |
| --- | --- | --- | --- | --- |
| Ammunition | Bullet weight (gr) | Average velocity recorded (fps) | Muzzle energy ft-lbs | 50 metre 5 shot group mm/MOA |
| RWS Subsonic Hollow Point | 40 | 979 | 85.1 | 5.5/0.378 |
| RWS Rifle Match | 40 | 1083 | 104 | 10/0.697 |
| RWS R50 | 40 | 1104 | 108 | 14/0.619 |
Bergara BMR rifle: technical specifications
| | |
| --- | --- |
| Calibres Available: | .22 LR, .22 WMR (20"/510mm), .17 HMR (20"/510mm barrel/1 in 9" twist rate) |
| Barrel Length:  | 18"/ 458 mm (1 in 16" twist), fully free floating |
| Overall Length: | 36"/915 mm |
| Weight: | 5.5 lb/2.5 kg |
| Magazine Capacity:  | 5 or 10 rounds |
| Trigger: | Single stage, 873 g (31oz.) with two position safety catch |
| Muzzle Thread: | ½"x28 TPI |
| Stock: | Injection moulded grey/black speckled polymer |
| Length of Pull: | 13 3/8" ( 340 mm) |
Retail prices (UK) for Bergara BMR 22 rifle and Meopta Optika 6
Bergara BMR 22 Rimfire: £640
Meopta Optika6, 3-18x56 SFP BDC 2FP 4c riflescope: £739
RWS ammunition was also supplied by RUAG Ammotec UK
Please ask your local retailer for the prices in your country
Video and review: Chris Parkin