The stainless-steel folding action of the Bergara BA13 is broken open with a lever hinging under the grip which is effectively a trigger guard extension.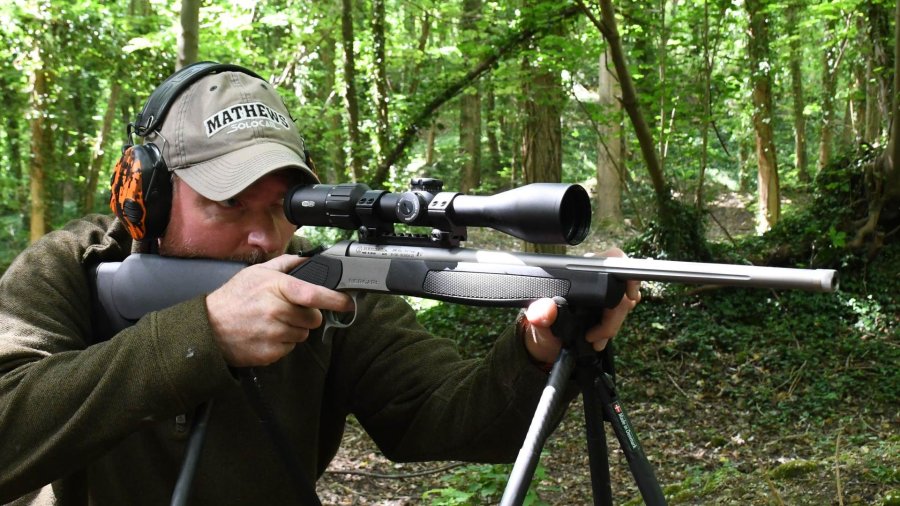 The stout steel extractor claw draws the spent rounds from the chamber sufficiently to allow fingers to grasp the case and I liked the that the extractor claw snaps over the rim with no doubt as to the cartridge's full insertion to avoid headspacing problems. The action has a full width hinge bar and the forend shows an underside lever to unlatch it – instructions are supplied to adjust the hinge/forend mechanism for a long life.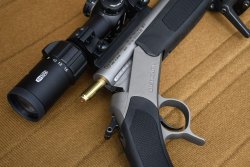 The action locks closed positively with a spring tensioned clunk. This a safe inert carry, it can't do anything without manually cocking the hammer which has an extension bar which can be swapped to either side on this otherwise almost perfectly ambidextrous gun with just a very slight right-hand cast on the stock.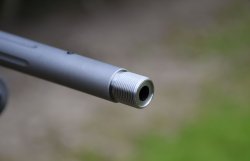 You can de-cock the action with thumb pressure on the hammer, allowing it to lower slowly whilst squeezing the trigger. 
The trigger's narrow black steel blade was crisp with 1,750 grams (62 oz) breaking weight and no detectable creep. Bergara's 510 mm (20") matt finish stainless barrel is 17 mm diameter at the muzzle with a 5/8"x24 TPI thread for sound moderator or brake under the cap. 
A Weaver/Picatinny rail bolts directly on top for simple scope mounting and although none were fitted, the barrel is threaded in preparation for open sights for which, like a 1-4 or 1-6x24 scope, suits the Monte-Carlo comb perfectly.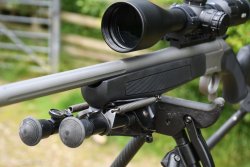 Bergara's 20 mm rubber recoil pad has a stippled surface to grip solidly in position on your shoulder and absorbed the recoil of 50 rounds shot in one day very well. The butt is injection moulded polymer like the forend, very slightly hollow resonating if bumped but tough and resistant to scratches.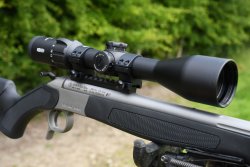 There's an additional forend stud for bipod/sling and another is moulded into the underside at the rear on this light, easily slung gun. Extensive chequering is moulded into both forend walls and slim open radius grip for an assured hold. 
Although looking small, this rifle offers generous 360 mm (14 1/8") length of pull so you don't physically overwhelm the gun which is beneficial as calibers go up, can maintain good eye relief, and enjoy linear recoil transit directed into your shoulder to maintain control.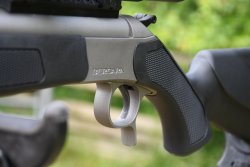 Folding a rifle's action to reload is fundamentally going to require slightly more positional shift than a bolt action or straight pull but because the length of pull and comb height suited me, I found re-acquiring position accurately quite intuitive.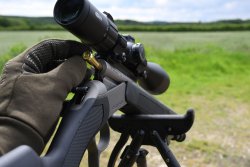 The smoothly hinging action is almost self-opening and rather than a top lever moving sideways, the underlever also creates a beneficial force on the gun to open it naturally. Shot from the bench over a chronograph, I was impressed with generated muzzle velocity compared to published data from this short barrel and although not a target rifle in any way, certainly maintained zero when hot, demonstrating Bergara's reputation for button rifling and annealing to work well from this light barrel. Withdrawing spent brass is easy with the wide gape offered although thicker gloves do slow things a little.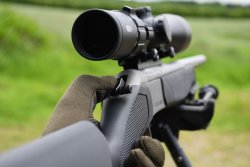 A bolt action may be faster and require less physical movement of the gun and shooter but once you have tried one of these break action rifles, don't totally dismiss the concept as being awkward, it's not! You quickly get used to the alternate system and it becomes subconsciously intuitive quite quickly, even at the bench.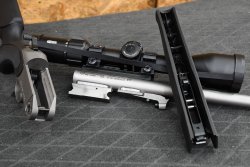 Standing up, it handles like non-extracting shotgun and in anything other than a rushed backup shot or deliberately fast fire situation, the unobstructed access to the chamber is easier than single loading a bolt-action rifle. which is a further appealing factor for the gun if used in the dark with night vision. I treated it quite roughly to see if any action slack would develop, it didn't! 
"Minute of angle" for three shots on target was reliable about 95% of the time and it was never worse than 1.3 MOA. The 1 in 12" twist rate was impressive with lighter 139 gr .30 cal. non-toxic ammo which are fundamentally long bullets, conventional lead bullets showed little specific preference in the barrel and given the gun's light weight, I'd probably always stay below 150 gr regardless as it's more comfortable and controllable.
Bergara BA13 Stainless Take Down in .308: wrapping-up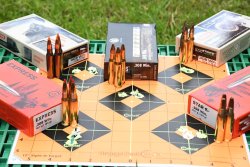 The BA13 is an unusual gun but a pleasure to shoot. There may be no safety catch but "Hammer Down" is an excellent safety factor and not really fundamentally any different to a de-cocker. It's light but even in .308 without a moderator and quite lively, not painful, or uncontrollable to shoot. 
All in all, great value for a versatile rifle to keep handy, it's ultra-compact and offers a crisp trigger helping achieve the best accuracy. In a smaller caliber, the scope rail makes it ideal as a spare rifle for Night Vision. 
The heavier rounds are certainly offer lively recoil, but fundamental rifle capability is assured with 139 gr Norma EvoStrike that proved exceptional in this short barrelled rifle.
Bergara BA13 Stainless Take Down technical specifications + prices
| | |
| --- | --- |
| Caliber (Test Gun):  | .308 Win. |
| Calibers Available:  | .222 Rem, .243 Win, 300 BLK, .308 Win, .30-06, 8 x 57JRS, 45-70 Gov  |
| Barrel:  | 20"/510 mm, 1 in 12" twist, button rifled |
| Overall Length:  | 35"/890 mm |
| Magazine Capacity:  | Single shot break action |
| Trigger: | Single stage  |
| Trigger Pull Weight:  | 62 oz/1750 g |
| Stock Material:  | Injection moulded polymer with soft touch finish and wood effect finish |
| Length of Pull:  | 360 mm/14 1/8" |
| Weight:  | 6.54 lb/3.0 kg |
| Prices (RRP in UK):  | Bergara BA13 Stainless Take Down in 308 Winchester £665; Meopta MeoSport R 3-15x50 2D 2FP 4C £419.00. Please check prices in your local market. |
Norma, RWA, GECO: ammo specs

| | | | | | |
| --- | --- | --- | --- | --- | --- |
| Ammunition | Bullet Weight (gr)  | Published Velocity (fps) | Average Velocity Recorded (fps) | Muzzle Energy (ft-lbs) | 100m 3 Shot Group (mm/in) |
| Norma TipStrike | 170 | 2,543 | 2,607 | 2,576 | 28/1.1 |
| Norma EvoStrike | 139 | 2,904 | 2,918 | 2,629 | 9.1/0.4 |
| RWS Kegelspitz | 150 | n/a | 2,671 | 2,377 | 25/1.1 |
| GECO Express | 165 | 2,707 | 2,547 | 2,377 | 19/0.8 |
| GECO Star | 165 | 2,570 | 2,547 | 2,377 | 27/1.1 |