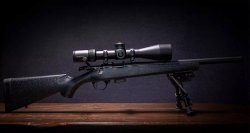 "You asked, we listened": Meeting the customers' demands, Bergara recently introduced the BMR, or Bergara Micro Rimfire, a new bolt-action rimfire rifle featuring a dedicated micro-receiver and designed "from the ground up with field and match performance in mind", according to the manufacturer's claim. Bergara's rimfire rifles already included two models, the bolt-action B-14R – chambered in .22 LR, .17 HMR and .22 WMR and available in steel or carbon fiber wrapped barrel versions – and the semi-automatic Micro Rimfire in .22 LR, with steel or carbon fiber wrapped barrel.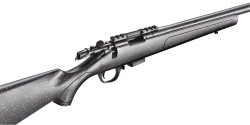 The new BMR is chambered in .22 LR, .17 HMR and .22 WMR and is available with steel or carbon fiber versions too. Its new BMR action micro version B-14 line is paired to an ultra-accurate match chamber for precision shooting, with the option of either a 5-round magazine for hunting or a 10-round magazine for competition stages.
Bergara BMR - model 2021 - for competition and varmint hunting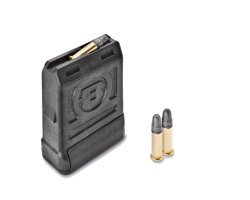 As mentioned, the new Bergara BMR is available with carbon fiber or 4140 steel mated blued barrel, 18"  (.22 LR) or 20" (.17 HMR and .22 WMR) long, with pre-threaded 1/2-28 muzzle. Twist is 1:16 for .22 LR and .22 WMR and 1:9 for the .17 HMR. The muzzle thread comes with a thread protector.

The receiver is topped by an integrated 30 MOA Picatinny rail for scope mounting, while the Bergara Performance Trigger is Remington 700 style. Together with its compact size (36" or 38" overall length), light weight is a virtue of the BMR rifle, especially for the carbon fiber barrel version, with a value of 5-5.4 lbs. depending on caliber.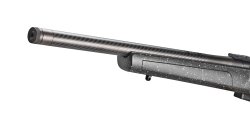 The more traditional steel barrel option is only marginally heavier, at 5.5-5.8 lbs. depending on caliber. The steel barrel and carbon fiver barrel models can also be distinguished from the stock color, the former featuring a tactical grey stock with black specks, and the latter a black stock with grey specks one.  In both cases, swivel slings mounts are in the molded buttstock.
Besides competition – the manufacturer guarantees world-class accuracy – the new Bergara rimfire gun is the ideal companion for Varmint hunting, being very handy and easy to carry in the field. Prices in the US are  $565 for the steel-barrelled BMR and $659 for the carbon fiber model.