The Czech optics manufacturer Meopta, which dedicated itself to optics for over 85 years, is represented at the SHOT Show by a new riflescope line. The name of the Optika6 series already indicates that these are rifle scopes have a 6x zoom.
The following models are available:

1-6x24
2.5-15x44
3-18x50
3-18x56
4.5-27x50
5-30x56

The different reticles that can be selected are also illuminated and are located in the first image plane. In the case of the hunting versions offered alongside the sports version, however, the more practical second focal plane option is available.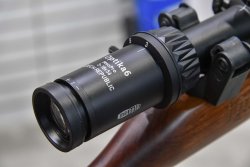 Franco Palamaro, © F.PALAMARO
"We have differentiated our Shooting and Hunting lines to make it easier for consumers to pick the scope that's right for them, but obviously some hunters will find the first-focal-plane Shooting models more versatile, just as many target shooters will take our second-focal-plane Hunting series to the range," explains Randy Garrison, director of Meopta USA Sport Optics.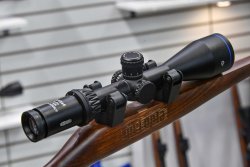 Franco Palamaro, © F.PALAMARO
The locking adjustment turrets are provided with zero-reset setting (for a quick return to zero) and rubber-armored for better usability. Adjustments are either MIL or MOA. All models rely on a 30mm main tube diameter, except the 5-30x56 model that relies on a 34mm main tube. All Meopta Optika6 riflescopes are made of aircraft-grade aluminum alloy and the MeoBright coating of  lenses ensures high light transmission and sharp images.
Randy Garrison says he wants to the new Optika6 series to set a European quality standard at an acceptable price in the USA. In fact retail prices start at 499 USD up to 899 USD. The new Optika6 line will also be available in Europe and we will not fail to check their quality / price ratio which, on paper at least, seems to be very interesting.