The Spanish company Bergara has just announced the release of the Bergara B-14 R .22 LR bolt action rifle. The new rifle  is designed as a rimfire trainer , adding to the popular and proven B-14 centerfire rifle series . It all started in 2016, when Bergara introduced the B-14 in order to offer the hunter a high quality rifle at an affordable price. Available in several versions and calibers, the B-14 rifles feature a proprietary design bolt with a tapered head with two locking lugs and floating, button-rifled barrel for excellent accuracy.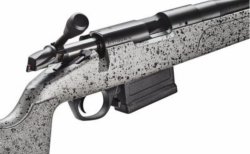 The Bergara B-14 R .22 LR is now the latest offering in the series: "Our team has been working on a very accurate full size .22 precision trainer for several years now with a goal to help set the bar with the .22 shooters.  With this gun we are confident that it will help long range .22 shooting grow for years to come," explains Ben Fleming VP of Sales for Bergara.
Dakota Russell, National Sales Manager for Bergara adds: " Our customers have been requesting a gun like this for some time, and with the growing NRL22 and PRS .22 competition matches the timing was right to introduce a rifle of this nature."
Bergara B-14 R .22 LR, ready for customization
Within the dimensions of a Remington 700 platform, the Bergara B-14 R .22 LR allows "shooters to have a similar size and feel to their centerfire rifle , or even set up as a clone to their centerfire to train with," according to the manufacturer.  It's worth adding that the Bergara also fits REM700 compatible stocks, bases, and triggers , so that owner can customize their rifle with all compatible accessories already on the market.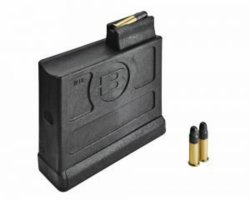 The fully free-floated barrel is 18" / 457 mm long with 1:16 twist and 1/2-28 threaded muzzle, while stock is a Bergara HMR molded type with mini-chassis, integrated QD flush cup sling mounts and swivel mounts, also featuring adjustable cheek piece and length-of-pull.
The 10-round detachable magazine is a single stack .22LR mag that is built within the same dimensions as a standard short action AICS mag.
Even if it allows shooters to practice their disciplines at a more affordable price, it should be clear at this point that the new Bergara "trainer" is definitely not a cheap .22 "plinker". Recommended price is in fact 1150 USD: not the lightest on the market, but quality comes at a cost.