Making a choice hasn't be that easy, and if we've kept some great new products off the list – such as the SIG Cross rifle and the Savage Renegauge shotgun series – it's only because we had already talked about them in depth elsewhere. So, here is our SHOT Show 2020 Top 5 rifles & shotguns. 
Ruger PC Carbine – an AR-15 based 9mm pistol carbine

The new 9mm pistol carbine based on an AR-compatible chassis not only looks good for our taste, but also impresses with its functionality and handling characteristics. The carbine features a Magpul MOE buttstock that can be adjusted in six positions and a free-standing pistol grip. The M-Lok aluminum handguard, which is connected to the upper part of the chassis and reaches almost to the muzzle, covers the 16.12" long cold-hammered barrel with muzzle thread for the attachment of muzzle devices. The magazine wells are interchangeable for use with Ruger or 17-round Glock magazines. The blowback action of this easy-to-strip carabine features a tungsten dead blow weight, which shortens bolt travel and reduces felt recoil and muzzle flip. The trigger is based on the proven Ruger 10/22 components. The charging handle and magazine release can be mounted on the right or left side of the gun as desired. The Ruger PC Carbine, weighing around 7.3 lb / 3000 grams and with a modern, versatile look, is offered in the USA at 799 USD (about 720 EUR).
Benelli Lupo bolt-action rifle – futuristic style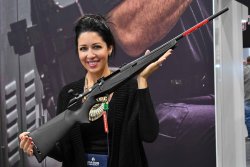 Franco Palamaro, © F.PALAMARO
The world-famous shotguns manufacturer Benelli shocked and delighted its fans at the same time unveiling its first-ever bolt-action rifle, the Lupo . Intended for hunting and chambered in 30-06, .270 Winchester and .300 Winchester Magnum calibers, the new gun is a concentrate of patented features and – why not? – a certain Italian elegance. 
A chassis-style construction, light alloy receiver, fully modular polymer stock and sub-MOA fully floating barrel are just some of the virtues of this innovative and futuristic looking rifle. Moreover, the Lupo's separate stock, receiver and forend allow the shooter to customize the Lupo to one of 36 drop and cast stock positions with the included shims. Price starts at 1699 USD.
Henry X Model – innovating the lever-action


The lever action X Model by Henry Repeating Arms is actually a whole new product line in five calibers that includes the "Big Boy" rifle model chambered in .44 Mag/.44 Spl, .357 Mag./.38 Spl, and .45 Colt, a lever action .410 shotgun, plus another rifle version chambered in .45-70 Government. Interestingly enough, all five models are available in the US with the same MSRP of 970 USD.
But price is not the only or most interesting feature they share: all five models sport durable and lightweight synthetic furniture with a solid rubber recoil pad on the pistol-gripped buttstock, Picatinny and M-Lok accessory slots on the forestock, and integrated sling swivel studs. Receivers are matte blued steel and utilize a side loading gate to keep the removable tube magazine loaded. They are also drilled and tapped to accept an optics mount. What really impresses about firearms such as the Henry X Model rifle/shotgun line is the capacity to innovate and enhance the versatility of the old albeit fascinating lever-action concept. Since the first lever-action rifles made their appearance in the 1840s, some 180 years have passed. Yet, they are still here in 2020, alive and kicking – or rather, shooting .
Mossberg 940 JM Pro – the competition-ready Miculek's shotgun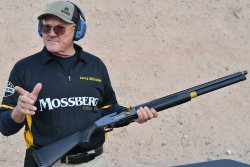 Franco Palamaro, © F.PALAMARO
The new Mossberg 940 JM Pro is an autoloading shotgun in 12/76 ga ready for dynamic shooting disciplines out-of-the-box. We had the honor to test fire in the desert the shotgun named after him with none other than the world famous IPSC/action shooter Jerry Miculek . According to his information, the further improved gas system with nickel boron-coated functional parts can withstand around 1500 shots without any cleaning. The large loading port allows for typical two or quad-loading, in which two to four cartridges are pushed into the magazine tube extremely quickly in one hand movement. The capacity is 9+1 cartridges. 
All oversized controls are ergonomically designed and positioned. The stock, which can be adapted to the shooter, the narrow, hand-friendly fore-end, as well as the 24"/61 cm barrel with interchangeable Briley extended chokes protruding at the muzzle and the bright HIVIZ front sight, are all features of a well thought-out competition shotgun. The Mossberg 940 JM Pro weighs about 7.75 lb / 3510 grams with a length of about 44.75"/ 114 cm and costs 1015 USD in the USA.

CZ 457 Varmint Precision Chassis in .22 LR – trendy and effective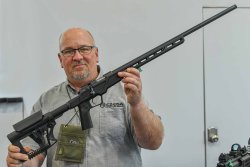 Franco Palamaro, © F.PALAMARO
The rimfire .22 Long Rifle cartridge is just as trendy as rifles with light alloy chassis, and CZ USA combines both booming market segments into the 457 Varmint Precision Chassis bolt-action rifle. Such rifles are ideally suited for low-cost training as well as for training young people for the booming PRS shooting sport in the USA. Here, multiple targets are shot at different distances of up to 1000 yards in multiple shooting positions under time pressure. In the USA, there are even rimfire competitions at up to 600 yards (548 metres), although special equipment (mounts, optics) is required due to the curved trajectory of the bullets.
The modern CZ 457 Varmint Precision Chassis is offered in barrel lengths of 16.5"/420 mm and 24"/610 mm, whereby the rifle weight (when empty without additional equipment) is 7 lb / 3175 grams and 7.5 lb / 3402 grams respectively. The chassis takes standard AR-15 buttstocks and is factory equipped with an adjustable Luth-AR stock. Thanks to its adjustable trigger, you get a rimfire bolt-action rifle which is suitable for competition. The CZ 457 Varmint Precision Chassis is fed by a removable box magazine with a capacity for five cartridges. An 11 mm dovetail is milled into the top of the receiver for the mounting of optics. The long M-Lok handguard allows for easy and quick attachment of additional equipment such as a bipod or hand stop. In addition, QD sling sockets are provided. Further features include a two-position safety and a muzzle thread for easy attachment of a suppressor or other muzzle devices. In the USA the rifle is offered in both barrel lengths at 999 USD.