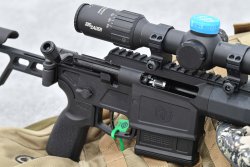 Franco Palamaro, © F.PALAMARO
We used to know SIG Sauer mostly for its pistol and semi-automatic rifles. Until now - SIG Sauer has just dropped its first precision bolt-action rifle since the 1990s, the Cross rifle, which is also SIG's first bolt-action rifle entirely manufactured in the USA. The next surprise: it's not just made for shootes, it's also a very good option for hunters. Not content with this novelty, SIG Sauer additionally introduces a new ammunition - the .277 cartridge SIG Fury - deleloped for the new model Cross.
Manufactured at the SIG Sauer US facilities in New Hampshire, the Cross was developed with the input of hunters, military snipers and elite long-range shooters to meet the demands of both precision long-range shooting and extreme backcountry hunting.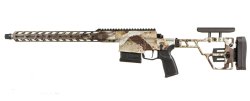 It's a lightweight and compact precision hunting rifle with a foldable SIG precision stock, a one-piece aluminum receiver that eliminates the need for bedding the action, and a stainless-steel rifled barrel with a free-float M-LOK handguard. Other features include 2-stage match-grade trigger externally adjustable from 2.5 – 4 lb, ambi-safety, a three-lug bolt design with a 60-degree throw and interchangeable bolt handle
SIG Sauer Cross, the "crossover" rifle - also made for hunters!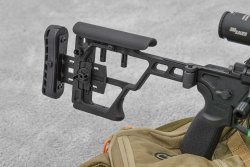 Franco Palamaro, © F.PALAMARO
Tom Taylor, Chief Marketing Officer and Executive Vice President, Commercial Sales, explains why they called it Cross: "Hunting rifles are typically focused on less weight, and accuracy is secondary. Precision rifles are designed for extreme accuracy, with no weight limitations. What was missing from the market was a true crossover. Our product management team and engineers took the best of both worlds and developed the Cross featuring the characteristics of a hunting rifle, with the accuracy of a precision rifle."
Available in 6.5 Creedmoor, .308 Win, and the soon-to-be-released .277 SIG Fury Hybrid Ammunition, the Cross comes with a black anodized or First Lite Cipher Armakote camo finish. The precision stock is spring-loaded for one-handed operation and can be fully adjusted for length of pull and comb height with no tools. Five-round polymer magazines are AICS compatible. A full-length replaceable Picatinny rail allows for optics mounting, 20 MOA, and 0 MOA. Weighing in under 6.5 lb / 2900 g, it's the lightest, most portable rifle in its class (up to 40% lighter).   MSRP for the Cross is 1.779 USD, which is an interesting price point.

The highly innovative .277 caliber SIG "Fury" hybrid ammunition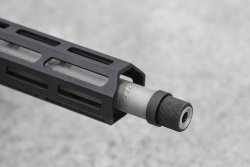 Franco Palamaro, © F.PALAMARO
With the Cross, also comes the new cartridge. Basically, the .277 is the same 6.8x51 mm ammunition developed for the US Army's Next Generation Squad Weapon program – a high pressure, hybrid-cased cartridge that couples a steel base with a brass case. The SIG Sauer 6.8mm hybrid ammunition is designed for increased penetration at greater distances, and according to SIG's claims, it can reach 3.000 fps velocity from a 16″ barrel.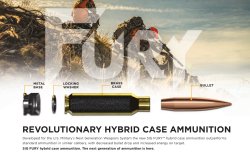 With the new bolt-action rifle and cartridge, both intended for the huge hunting market, SIG Sauer really proves to be a leading all-round firearms and accessories manufacturer. 
We have posted a video of the SIG Sauer Cross rifle on Facebook for you to watch. (Registration or user account not necessary!)

SIG Sauer Cross bolt-action rifle: technical specs

| | | |
| --- | --- | --- |
| | Cross Bolt-Action Rifle (6.5 Creedmoor) | Cross Bolt-Action Rifle (.308 Win / .277 Fury) |
| Overall length:  | 35.5"/ 902 mm | 36.5" / 927 mm |
| Folded length:  | 27"/ 686 mm | 25"/635 mm |
| Barrel length:  | 18"/ 457 mm | 16"/ 406 mm |
| Barrel twist:  | 1:8 | 1:10 / 1:8.5 |
| Weight (w/o magazine):  | 6.4 lb / 2.903 g | 6.2 lb / 2.812 g |