From Mossberg , the new 940 JM Pro is a fast-cycling 12-gauge autoloading shotgun platform that's the result of two years of development alongside world champion shooters, Jerry and Lena Miculek.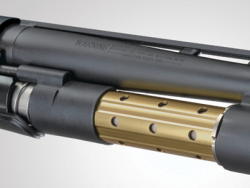 Offered as a "competition-ready shotgun", the 940 JM Pro is built around a new durable gas system that allows for up to 1500 rounds between cleanings. Internal parts are nickel boron-coated for smooth operation, with competition-level loading port, elevator, and follower. 
Stock is user-adjustable for length of pull (13 – 14.25 inches) and for drop at comb and cast using incremental stock shims. Both forend and stock feature Mossberg's signature texturing for a comfortable grip.
Mossberg 940 JM Pro - speed, accuracy and durability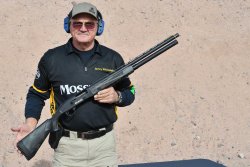 Franco Palamaro, © F.PALAMARO
In detail, the new gas system on the 940 will can reliably cycle any type of quality factory-made 2 3⁄4 or 3-inch ammunition. A stepped and vented-spacer component has also been incorporated that keeps the gas system running fast by shedding any moisture or carbon build-up every time it cycles. The 940's loading port has been designed to allow the user to efficiently quad-load the magazine tube straight out of the box without any need of modification to the receiver, while the elevator and shell catch have also been designed to eliminate common pinch-points. The receiver is anodized for durability and the controls (charging handle and bolt release button) are oversized.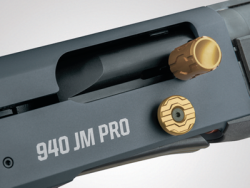 Mossberg engineers also worked to design  a new barrel-making process  for the 940 that will allow a user to maintain an accurate point-of-aim/point-of-impact when utilizing quality factory-made ammunition.
As for the sight system, the 940 JM Pro utilizes a fiber optic HIVIZ TriComp sight system that offers nine user-interchangeable LitePipes, in three colors and three shapes of varied height.
The Mossberg 940 JM Pro in video
This video has been hidden because of an external service (YouTube) that could potentially collect personal data.Allow video services for the duration of the visitAllow video servicesStop allowing video services
Mossberg 940 JM Pro: two versions available

Two versions are available, both featuring 24-inch / 61 cm barrel lengths, 10-round total capacity, and matte blue-finish on the barrels. Options include choice of black synthetic stock and forend with tungsten gray-anodized receiver and gold-anodized bolt handle, bolt release button, magazine extension nut, safety button, trigger, and cocking indicator. 

In the second option, the stock and forend feature a Black MultiCam pattern, while receiver and controls have a black anodized-finish. MSRP for both models is 1015 USD, complete with a set of Briley extended chokes (Cylinder, Improved Cylinder and Modified).