Here are my personal Top 5. Exceptional new releases in the pistol segment such as the GLOCK 44 and the Walther Q4 SF are not included here - we had already introduced both models and even test fired them. So, what were the real novelties in the Nevada desert on the day before the opening of the SHOT Show 2020 with regard to pistols and revolvers?
Springfield Armory XD-M Elite - 4 new pistol models based on the Croatian HS 2000 model by HS Produkt
What in the USA is known as the Springfield XD ("Extreme Duty") polymer pistol series originates from the Croatian company HS Produkt, and started in Europe with the original HS 2000 model. In the USA, Springfield Armory has been expanding this family with much marketing and great success. The highlight is now the Springfield Armory XD-M Elite series, consisting of four 9mm pistol models in different sizes and with 3.8" or 4.5"  barrels (Elite Tactical also with 4.5" barrel with threaded muzzle for suppressors), as well as 5.25" barrel. We especially liked the top model of the series, which we test fired in the desert today – the 5.25" barrel XD-M Elite Precision. The features of all Elite pistols, which have a very sleek design, are the META (Match Enhanced Trigger Assembly) trigger, the cold-hammered match barrel, interchangeable magazine funnels in short and standard version, ambidextrous slide stop lever, loaded chamber indicator, improved grip grooves as well as an increased magazine capacity of up to 22+1 cartridges.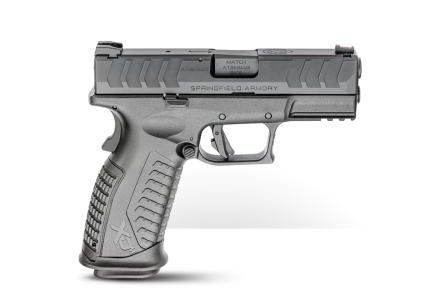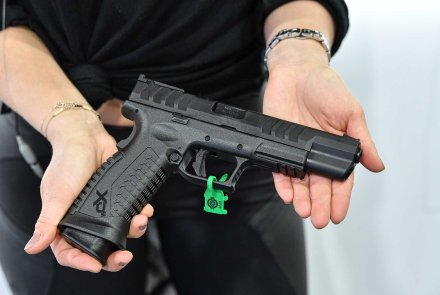 Colt Python Revolver in .357 Magnum – A reissued classic for 2020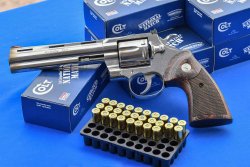 Franco Palamaro, © F.PALAMARO
The pleasing rebirth of a true classic in the world of firearms can be celebrated with the "new" Colt Python revolver in .357 Magnum. We remember: the Colt Python with large "I" frame, double action trigger and 6-round cylinder, as well as heavy barrel with ejector housing extending up to the muzzle and ventilated rib first saw the light of day in 1955 and was manufactured until 2005. 
Now the legend is returning after 15 years of market absence and is being offered in stainless steel with 4.25" and 6" barrels for the time being.

We tried the Python with 6" barrel at the Industry Day, even if only with .38 Special caliber cartridges (unfortunately, the .357 Magnums didn't arrive in time). However, trigger is excellent, very similar to vintage Pythons. Accuracy is very good and the finish, while not comparable to originals, is just as good. Surely it will be successful, not only among Colt fans, because it feels more sturdy and less prone to troubles, given the simplified construction with fewer pieces.
Ruger-57 pistol – New and super interesting gun & caliber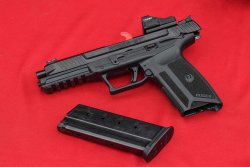 Franco Palamaro, © F.PALAMARO
The new Ruger-57 chambered in 5.27x28 has finally been presented at the SHOT Show. Calibers such as the 5.7x28 or 4.6x30 were primarily developed for law enforcement and military use in extremely compact, fully automatic "Personal Defense Weapon" (PDW) systems such as the FN P90 or Heckler & Koch MP7. We have had the pleasure of shooting these guns as well as the FN FiveseveN pistol in the past. They are characterized by a hardly perceptible recoil and thus maximum control, faster and longer bullet trajectory, and (depending on the bullet type) effective on-target performance. 
The brand new Ruger-57 is a internal hammer-fired, polymer-framed pistol with trigger safety and the same design features of the well-known Ruger American Pistol. The barrel length is almost 5", the magazine holds 20 cartridges. An ambidextrous manual safety, a MIL-STD-1913 mounting rail on the dust cover, as well as adjustable sights with fiber optic front sight successfully round off the Ruger-57. The small bottleneck cartridge is fast out of the pistol – muzzle velocities of 638 m/s with a 27 grains JHP bullet or 522 m/s with a 40 grains Hornady V-Max can be expected.

Here is our tester Franco's opinion just after firing it: "The Ruger-57 is big, much bigger than it looks. It features a really impressive double-stack magazine – it looks like a Desert Eagle's one in .44 Magnum caliber. Accuracy is just as impressive: at 100 meters we were able to hit a 30x40 cm metal target eight times out of 10. This thanks to the infinitesimal barrel time, the very straight trajectory and the very high intrinsic accuracy of the cartridge. This is a quite particular gun in all respects, certainly one of the most interesting at Industry Day at the Range. It has a commensurately high price, even if it has not been officially communicated."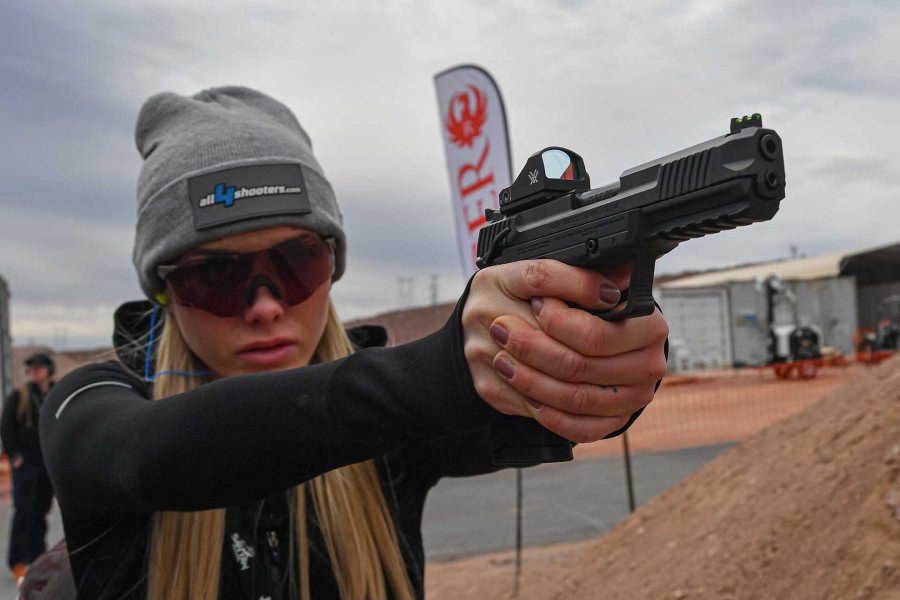 Franco Palamaro, © F.PALAMARO
FN 509 Compact MRD – From FN, a new optics-ready pistol with 3.7-in barrel
Franco Palamaro, © F.PALAMARO
In keeping with the current spirit of the times, the FN 509 Compact MRD polymer-framed, compact pistol in 9mm Luger with a magazine capacity of 12+1 rounds comes factory-ready for a miniature red dot sight. The corresponding milling on the slide rear is designed in such a way that most Mini Red Dot Sights (MRDS) available on the market can be mounted. The iron sights, entirely in black, are designed to co-witness with the MRDS reticle. This means that even if the electro-optical sight fails, the user can continue to use the gun without hindrance.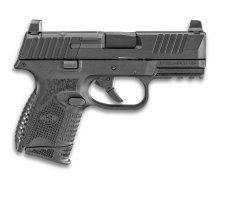 A rail on the dust cover for mounting compact gun lights, controls on both sides and a wide trigger blade with integrated safety as well as two additional interchangeable grip backs are further features of the FN 509 Compact MRD. 
The pistol with 3.7" barrel length is primarily designed for self-defense and concealed carrying. According to current fashion, it would probably be carried in an AIWB holster.
Kimber 1911 Rapide (Black Ice) – Affordable 1911-style all-steel pistols
John M. Browning would probably roll in his grave if he could see what current novelties based on his Colt Government of 1911-A1 look like today. A nice example of an affordable single action all-steel pistol with successful features is the Kimber 1911 Rapide in 9 mm Luger, .45 Auto and 10 mm Auto, in the classic style of the former US Army service pistol with 5"/127 mm barrel.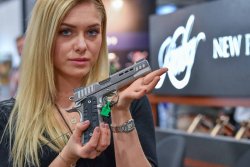 Franco Palamaro, © F.PALAMARO
The slim grip for single-stack 8 or 9-round magazines sports very grippy G-10 grips, whose surface design corresponds to the serrations on the slide. The latter, in turn, features three cut-outs on both sides which reduce weight and increase the slide speed during cycling. Recoil control is further enhanced by the "Kimber Stiplex" surface texture on the grip front. The skeletonized "V-Cut" aluminum trigger is factory set at a smooth pull weight of around 1800 to 2200 grams. There is of course room for improvement here (springs replacing, polishing, parts retrofitting). Nevertheless, it is still possible to put the trigger to good use – the iron Tru-Glo TFX Pro night sights with a large dot in the front sight are designed for fast shooting. In addition to the light stainless steel version with a black hardcoated barrel, there is also a version with a black surface finish and gold hardcoated barrel.