CZ -USA follows the most recent and popular trend in rifles introducing the CZ 457 Varmint Precision Chassis chambered in .22 LR, its very first chassis rifle. Described as "a competition ready-tack driver" and "ready for competition right out of the box", the CZ 457 Varmint Precision Chassis is built on an aluminum chassis is available in two different barrel lengths, with a 16.5 in / 419 mm and a 24-in / 600 mm version. Weight is 7 pounds / 3175 g. Competition, hunting, practice, and fun shooting are its intended uses.
The 6-position CZ 457 Luth-AR stock with adjustable cheekpiece ensures a good fit for any shooter. The trigger that can be adjusted for weight, creep and overtravel. Other features of the latest iteration of the 457 family include a 1/2×28 factory threaded barrel for use with a suppressor (where allowed by law), a two-position, intuitive push-to-fire safety system located just behind the bolt handle, and a detachable five-round magazine. 
Video: a quick glance at the CZ 457 Varmint Precision Chassis
This video has been hidden because of an external service (YouTube) that could potentially collect personal data.Allow video services for the duration of the visitAllow video servicesStop allowing video services
CZ 457 Varmint Precision Chassis, an "affordable rifle"
As you can expect, mechanically the CZ 457 Varmint Precision Chassis rifle is no different from the other models built on the same platform. To make scope fitment easier and for for easier cycling, bolt rotation is 60° instead of 90° . This way you can mount larger ocular bell diameters with lower ring heights. Besides the aluminum chassis coupled with an AR-style grip, however, what makes this rifle version particularly interesting is its  accessorizing capability. The forend on the CZ 457 Varmint Precision Chassis sports QD sling sockets and offers a series of M-LOK slots for mounting a wide variety of accessories.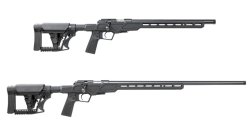 CZ 457 Varmint Precision Chassis has no iron sights, but the receiver features a milled 11 mm dovetail for optics and rails.
Last but not least, the price. The CZ 457 Varmint Precision Chassis rifle comes with a MSRP just under a thousand bucks, at 999 USD –  which makes it quite tempting. But you'll have to wait a little while: the new CZ rifle will hit the market in 2020.

CZ 457 Varmint Precision Chassis: specs
| | |
| --- | --- |
| Caliber: | .22 LR |
| Magazine capacity:  | 5 rounds |
| Magazine type:  | detachable |
| Stock: | aluminium chassis |
| Weight:  | 7 lb /  3175 g |
| Barrel length:   | 16.5 in / 419 mm or 24-in / 600 |
| Trigger: | fully adjustable |
| Sights: | none |
| Safety: | two-position, push-to-fire |
| Price: | 999 USD (price may vary in your country due to VAT and import duties) |
| Notes:  | available 2020 |