When new revolvers appear on the market, they are usually more or less specifically tailored to sporting disciplines. Massive barrel contours that bring more front load, revised triggers and Picatinny rails for the attachment of red dot sights are usually included. Although this certainly makes sense for the sporting field, it is nice to see proven classics appear in their unchanged form. This is true for the Manurhin MR73 introduced here, which had disappeared from the scene for many years, and which is now available again in the US. Connoisseurs know that it had good accuracy and, not least, an excellent trigger for a production gun. We wanted to know whether the French revolver, which is almost 50 years old in its basic design, can still hold its own today. 

The MR73: the test model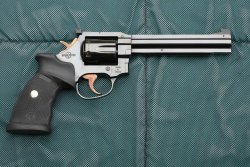 From the German importer Manfred Alberts we received an MR73 in .357 Magnum with 6"/152 mm barrel length. The sports versions are also available in 5.25"/133 mm and 4"/102 mm barrel lengths. The once existing 8"/203 mm long version has disappeared from the catalog in the meantime – but it was only a specialists' thing, anyway. This model, fitted with a 2.5x Bushnell scope and Harris bipod, was used – as were the shorter versions – by the French GIGN special forces unit (Groupe d'intervention de la Gendarmerie Nationale). At least as special was the MR73 Silhouette with 10.75"/273 mm barrel, which, according to its model designation, was used by shooters who used the handgun to fell heavy steel animal silhouettes at long distances. The match revolvers are available in .38 Special with a 5.25"/133 mm barrel and in .32 S&W with a 6"/152 mm barrel. Of the Gendarmerie models with 2.5"/63 mm, 3"/76 mm and 4"/102 mm in .357 Magnum caliber, at least the last two service revolvers remain. Unfortunately, the 9mm Luger interchangeable barrel is no longer available, although it might be interesting again today due to the lower 9x19 ammunition price compared to .357 Magnum/.38 Special. However, it is also known that the accuracy of revolvers in 9mm Luger is often rather modest due to the long bullet free flight path.
Nowadays, Manurhin revolvers are no longer manufactured by the company of the same name but by Chapuis Armes. The latter, which specializes primarily in hunting guns and is based in St Bonnet le Château, very close to the classic French gunsmithing region of St Étienne, can look back on a tradition of around 100 years as a manufacturer of parts, barrels and later complete firearms. At Chapuis Armes, the current Manurhin revolvers are made in a machine park with 5-axis CNC milling centers, pass through various inspection stations and are checked for accuracy on the in-house shooting range. 

Manurhin MR73 in detail – A handy and elegant revolver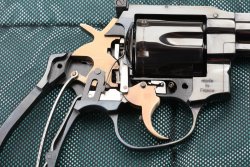 Anyone familiar with the MR73 knows that it is a very elegant, handy revolver. In frame size, it is comparable to a Smith & Wesson K-frame revolver model 19/66. Thus, the sporting revolver with 6"/152 mm barrel length also weighs only about 1083 grams. By comparison, a S&W L-Frame 586/686 revolver weighs about 200 grams more with an identical barrel length. This certainly has something to do with the history of the MR73, which was designed in the early 1970s and was intended as a service weapon and thus for continuous carry. Nevertheless, the frame of the MR73 seems to be sufficiently strong for magnum loads. If the international trade press is to be believed, the GIGN has already fired 90,000 rounds of .357 Magnum without damage with some MR73s.
Even though modern and maintenance-insensitive coatings certainly have their justification, it must be recognized that the immaculate, deep black bluing a certain appeal. Of course, a nice wooden grip would visually match that, but the polymer grip from Trausch with beavertail is far superior in terms of recoil dampening and grip. The barrel's 6-groove rifling wind through the barrel with a rather unusual twist of 1-400 millimeters. Timing was great, locking the cylinder well before the hammer engaged. Cylinder longitudinal play was minimal, and we measured the cylinder gap at 0.1 millimeters. All cylinder throats measured 9.11 millimeters. Unfortunately, the CIP prohibits tighter boring, which would certainly not be detrimental in terms of speed and accuracy. The front sight is undercut, and the micrometer rear sight has two white dots, which could have been safely dispensed with. If you feel the same way, just use a black, non-glossy felt-tip pen.
Manurhin MR73 specs and price

| | |
| --- | --- |
| Model: | Manurhin MR 73 |
| Caliber: | .357 Magnum |
| Cylinder Capacity:  | 6 rounds |
| Barrel Length/Profile:  | 152 mm, 6-groove rifling |
| Twist Rate/Lands and Grooves Diameter:  | 1-400 mm/8.79-9.05 mm |
| Cylinder Length/ Cylinder Diameter:  | 38 mm/40 mm |
| Cylinder Gap:  | 0.1 mm |
| Cylinder Throat:  | 9.11 mm |
| Rear Sight:  | 3.5 mm micrometer sight |
| Front Sight:  | 3.45 mm, undercut target |
| Sight Radius:  | 205 mm |
| Trigger Pull Weight* (in grams):  | DA 2778-2873, mean 2830, SA 1484-1512, mean 1500 |
| Total Weight: | 1083 grams |
| Dimensions (HxWxL):  | 292 x 38 x 140 mm |
| Extras:  | Hard case |
| Price: | 2400 euro (MSRP in Germany) |
De luxe double action: the trigger of the MR73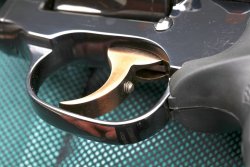 The MR73 is especially known for its smooth double-action. Not only the very low trigger weight of about 2800 grams but also the smooth characteristic are still first class. For something like this, gunsmiths have to invest several hours of work in American standard revolvers. Modern match revolvers can of course keep up, but in our opinion, the MR73 does not have to hide behind them. Many revolver shooters prefer a two-stage technique when shooting with a DA trigger. First, when the trigger is pulled, the hammer is moved to its rear end position and remains there, and in the second phase, with reduced trigger weight and minimal trigger travel, the shot is finally released. This technique is more difficult to execute on the Manurhin MR73 because one cannot perceive the mechanical transition from stage 1 to 2 as clearly. With the French revolver, you simply pull the smooth-action trigger through to release in a single, fluid motion without any noticeable stop. The shot is then fired unconsciously. This "modus operandi" is used above all with purebred DA revolvers. In the end, however, it is also a matter of taste and belief.
Smooth rolling: special design of the MR73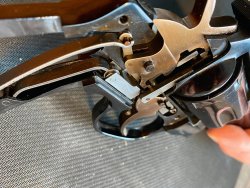 If you remove the side plate of the MR73, you can see a unique design feature that has always characterized the face of the classic. The rebound slide, which is fitted with two roller bearings, ensures less friction on the corresponding contact surface in the frame. Instead of the usual coil spring, a leaf spring is used here that always rests on the outside of the rearmost roller. This return spring, which returns the trigger to its forward starting position for the next shot release, can be adjusted via a screw at the bottom of the frame. Of course, this also affects the trigger weight up or down, so we measured a single-action trigger weight of 1500 grams on average, by the way. However, if you move the screw down outside of the factory setting, you run the risk that the trigger will then no longer be pushed forward, especially if your finger remains in constant contact with the trigger. Thus, a small plus can still be achieved here if a positive, easily felt reset of the trigger is preferred. The trigger blade features longitudinal grooves and an adjustable trigger stop. The hammer spring is also designed as a leaf spring and can be further regulated down or up with another screw in the frame. With the factory setting, however, all used loads were already fired positively. Those who reload should keep in mind that the cylinder length of about 40 mm is about 1.5 mm shorter than, for example, the dominant sports revolver in the form of the Smith & Wesson 686/586. When using factory cartridges, this is not a problem, but with handloads with 180-grain bullets, one can sometimes reach the limits here. In this case, bullets such as the H&N High Speed, which does not have a crimping groove, can be used for correct overall cartridge length.

With the French revolver on the shooting range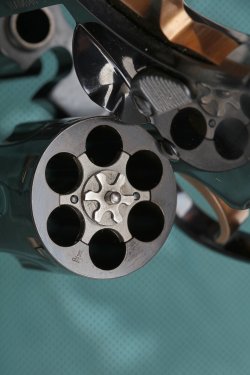 In our personal opinion, the Manurhin MR73 does not have to hide behind modern sports revolvers in terms of workmanship and action. Rumors keep circulating that the MR73 can deliver groupings of 0.78"/20 mm at 25 meters. Of course, these would be fabulous conditions, which we wanted to get to the bottom of. To do so, we selected ten loads, including four .38 Special and six .357 Magnum loads, with a wide bullet weight range from 110 to 180 grains. Among these, the 180-grain Federal JHP at 0.86"/22 mm produced the best result in typical 12 shots at 25 yards from the Ransom Rest. Overall, it shows that any grade of ammunition could have stayed in the 10 ring of the match target. Thus, the test gun can be said to have very good ammunition compatibility with a variety of different loadings. This is certainly respectable when you also consider the vibration amplitudes that the barrel, which is only just 0.67"/17 mm thick, has to endure. Finally, we shot the 50-meter distance. The best result this time was 2"/51 mm. The other results of around 2.75"/70 to 3.54"/90 mm did not really match the good results at the 25-meter range. Perhaps the somewhat unusual 1-400 mm twist also played its part in this. At least we were able to achieve better results with the shorter 1-300 mm twist at long range. Freehand, however, the light weight of the MR73 shows its unattractive side. Particularly the heavy .357 Magnum loads à la Remington are quite sharp in the hand when fired.

Therefore, our recommendation, if it has to be .357 Magnum at all, is to use the soft GECO 180-Grain Hexagon or a comparable handload. But it was the .38 Special loads we fired in some drills that were really fun with the fine double-action trigger.

all4shooters.com conclusion: what the Manurhin MR73 can do

The mirror-finished Manurhin MR73 in .357 Magnum is a revived classic that needs to shy away from no comparison in terms of workmanship, function and shooting performance. Only when firing hard .357 Magnum loads does its light weight stand out somewhat negatively. The French delicacy is not available for little money. Nevertheless, the price of 2400 euros is quite reasonable according to our experience.