In our current confused world we don't know what to expect from anybody anymore. But it not necessarily a bad thing, at least when one of the most famous names in the world of lever-action rifles starts manufacturing handguns. Which is what Henry decided to do with its new Big Boy Revolver – "A historic release that collectors will relish as an exceedingly rare opportunity to own the first bonafide handgun made by the long gun manufacturer and the perfect sidekick for owners of the Henry Big Boy rifle," in their own words. It's not a joke: Henry is really launching its first double-action/single-action revolver.
Henry Big Boy Revolver, classic with brio

Henry Big Boy Revolver is chambered in .357 Mag/.38 Spl. and comes in two different grip configurations, flared Gunfighter style or the more compact, rounded Birdshead style. The Gunfighter-style grips are conceived for maximum control, while the rounded and more compact Birdshead-style grips offer better concealment – just in case you actually want to consider this as a "carry gun".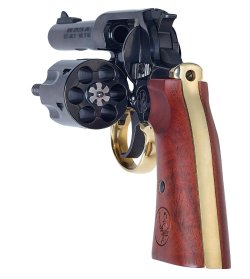 The medium-sized frame is polished blued steel, with old-style polished brass trigger guard that wraps all way around the grip to the top of the backstrap. The overall design clearly borrows design cues from its famous Big Boy rifle counterpart. Grips are genuine American walnut. A 6-round quick-release cylinder and 4"/102 mm barrel, fixed notch rear sight and interchangeable front blade sights with different heights (high, medium or low) to provide a traditional revolver sight picture, are some of the other features. All in all, Henry's Big Boy Revolver is a true classic-looking, "Wild West" wheel gun, but with some distinguishing touches such as the under-barrel cut for the ejector rod head.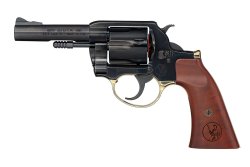 With highly polished blued steel throughout the medium-sized frame and mirror-like brass, the Big Boy Revolvers also boast a smooth pull and hammer drop in double action and a crisp break in single action. In terms of safety, a modern transfer bar keeps the firing pin from striking a loaded chamber unless the hammer is cocked back and the trigger is squeezed.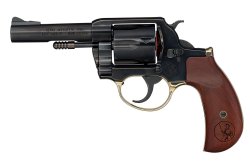 The .357 chambering allows you to fire both full-power .357 Magnum loads for hunting and light .38 Special target loads for easy plinking – together with defense, the two main intended uses of the Big Boy Revolver. 
MSRP in the U.S. for the Henry Big Boy Revolver is $928 – the price is the same for both the Gunfighter and Birdshead grip configurations.
Henry Big Boy Revolver specs and price
| | |
| --- | --- |
| Caliber: | .357 Magnum/.38 Spl. |
| Action Type:  | Double-Action/Single-Action |
| Cylinder Capacity:  | 6 rounds |
| Barrel Length:  | 4"/102 mm |
| Overall Length:  | 9"/229 mm |
| Overall Weight:  | 34 oz/964 g |
| Receiver Finish:  | Polished blued steel |
| Sights: | Fixed notch rear, screw-on post front |
| Grips: | American walnut |
| Safety:  | Transfer bar |
| Price (MSRP in the U.S.):  | $928 |