Diamondback Firearms drops the Sidekick, a 9-shot, single and double action rimfire revolver with interchangeable cylinders.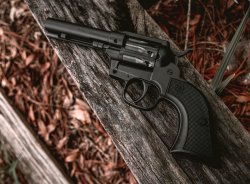 This is what the manufacturer has to say about the new gun: "While the Sidekick models an old school cowboy revolver keeping with that classic look and feel, Diamondback has added features like the cylinder release being incorporated to the old school ejection rod, a cool smooth black Cerakote finish, and checkered polymer grip panels."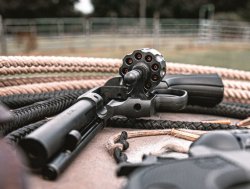 With a designed clearly inspired to the classic and much-loved Colt SAA revolver, the Sidekick is chambered in .22LR with a 9-shot cylinder and comes with an additional 9-shot cylinder chambered in .22Mag: this way the revolver can also be used for self-defense or hunting small game, pest control. 
"The Sidekick higher capacity allows for 3 more snakes, rabbits, or soda cans depending on what you're hunting," as they put it at  Diamondback Firearms.
Diamondback Firearms Sidekick: fast ejection and reloading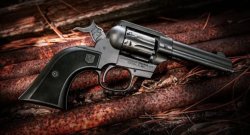 The Sidekick's 9-round cylinder in both calibers and both cylinders are on a quickly convertible swing out arm for fast interchangeability allowing the user to switch between standard and magnum power in just seconds and even faster ejection and reloading. 
The revolver comes with a rear integral and a fixed front blade sight. Frame and grip are made from zinc, and weight is 32.5 oz/921 for an an overall length of 9.875"/251 mm. 
The Sidekick will initially be offered with a 4.5"/114 mm barrel having 1:16RH twist, 6 groove rifling at an MSRP of $320. In interested, you'll have to wait a while however: Diamondback will officially launch the Sidekick in the US on November 22, 2021. At the time of writing it's not yet known if it will be distributed in Europe too.
Diamondback Firearms Sidekick revolver specs and price
| | |
| --- | --- |
| Caliber: | .22LR /.22Mag convertible |
| Action:  | Single action/double action |
| Grips: | Checkered glass filled nylon |
| Cylinder Capacity: | 9 rounds |
| Front Sight:  | Blade |
| Rear Sight:  | Integral |
| Barrel Length:  | 4.5"/114 mm  |
| Overall Length:  | 9.875"/251 mm |
| Frame & Handle Material:  | Zinc |
| Frame & Handle Finish:  | Black Cerakote |
| Weight: | 32.5 oz/921 g |
| Price:  | 320 USD |