When Old West legends and Pulitzer literature meet, the result will probably be a beautiful Walker revolver in .44. Inspired by Larry McMurtry's famous characters from his Pulitzer Prize winning novel, "Lonesome Dove" (1985), Cimarron Firearms introduces the Lonesome Dove Walker revolver in .44. 
Designed in the mid-1840s by Samuel Colt in collaboration with Capt. Samuel Walker of the Texas Rangers, the original six-shot Colt Walker single-action revolver was manufactured in just 1100 examples. Yet this powerful gun – actually, the most powerful handgun ever employed by the military – quickly became one of the most legendary guns of the Frontier.
Made with great attention to detail, the Cimarron Lonesome Dove Walker .44 features a 9-inch barrel in a charcoal blue finish. The white engraved cylinder makes for an interesting contrast with the case-color hardened finish on the frame and hammer. Faithful to the original, the trigger guard and grip frame are in brass, with a steel backstrap. The finely figured walnut grips sport a cartouche. 
Cimarron "Lonesome Dove" .44 Walker revolver, yesterday is not gone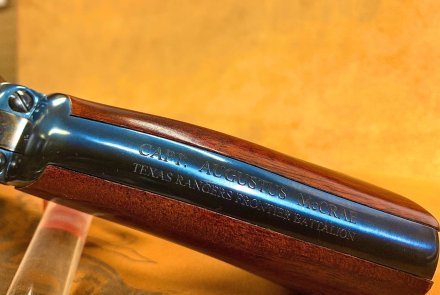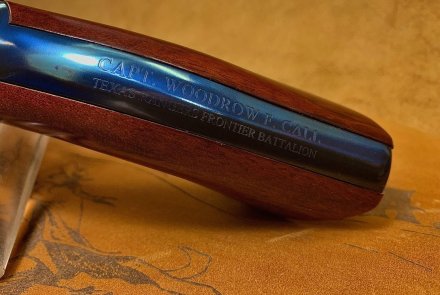 Set in the final glory years of the American frontier, McMurtry's "Lonesome Dove" novel actually developed in a tetralogy including a sequel ("Streets of Laredo") and two prequels ("Dead Man's Walk" and "Comanche Moon"), The main characters are two retired Texas Rangers, Captain Woodrow F. Call and Captain Augustus "Gus" McCrae, two brave men who live and work in the Texas border town of Lonesome Dove. The original novel won the 1986 Pulitzer Prize for Fiction and was also adapted as an acclaimed TV miniseries starring Tommy Lee Jones and Robert Duvall.
"Since it is our mission to create seriously authentic replicas, I decided to honor this novel with the actual types of guns a Texas Ranger would have been issued, and not necessarily what Hollywood could dig up in their stock room. Hence, our homage to the Lonesome Dove story is also an homage to the Texas Rangers, who carried the powerful Walker .44 revolver," Mike Harvey, founder and CEO of Cimarron Firearms said.
To honor the two characters, Cimarron's Lonesome Dove Walker revolver is available in two version, both authentically marked down the backstrap – one with "Capt. Augustus McCrae, Texas Rangers Frontier Battalion" and his Texas Ranger Division "E Company No. 120" on the left side of the frame and barrel, and the other with "Capt. Woodrow F. Call, Texas Rangers Frontier Battalion" and "E Company No. 119". Price is the same for both versions, that is $739.70.
"Yesterday's gone, and we can't get it back," says Augustus McCrae in the novel, Well, with its guns Cimarron Firearms is actually getting the legend back. Whether you are a fan of McMurtry's books or an Old West firearms enthusiast, the Lonesome Dove Walker .44 revolver is what you were looking for.