Theresa Marie Vail is a force to reckon with: current Miss Kansas and winner of the "America's Choice" award at the 2014 Miss America pageant, she is currently studying chemistry and Chinese at the University of Kansas, while serving as a section leader in the Medical Detachment of the Kansas Army National Guard, for which she plans to become a prosthodontist.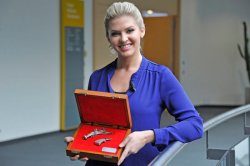 But this 23-years-old blonde with a Leavenworth High School diploma is much more than a beauty queen and a soldier: Theresa Vail is a brilliant, intelligent and shrewd person who enjoys hunting, archery, and marksmanship with handguns and rifles − all disciplines she campaigns for in the United States to encourage more and more women to embrace them, hence why the 2014 Plenary Session of the World Forum on Shooting Activities − held this year in Nuremberg (Germany) ahead of the 41st edition of the IWA & OutdoorClassics expo − presented her with the "Dr. Vito Genco" Shooting Ambassador Award.
We at ALL4SHOOTERS.COM had the pleasure to share some thoughts with her after the plenary, particularly about her views concerning the "issue" of gun rights.
"I benefited from it as a small child, just hunting with my dad, but as I grew up, I learned that it thaught me so much confidence and independence, and that's the feeling I wanted to give to other women."

This brief statement speaks alone for the whole of Theresa Vail's philosophy and for her dedication in the promotion of gun ownership and shooting between American women, whose general stance about the matter is extremely divided: more and more women in the United States own and use firearms for hunting (particularly to be sure of the quality and provenience of the meat they put on their family table!), for sports shooting and for personal, property and family protection; still a great number of American women, however, particularly those who never owned or fired a gun before, tend to believe the "all guns are bad" lies spread by the anti-gun front in its endless effort to strip law-abiding citizens of their gun rights citing the few coward acts committed by criminals and madmen with guns as an excuse.
"People are bad: guns are indifferent."
Quite a simple concept: people like us and like Theresa Vail have been trying to get it in the heads of a mass of persons, including decision-makers, who however most times seem to suffer from an odd selective blindness and deafness about − when they're not openly hostile.
But if a young woman like Theresa Vail has been able to master firearms and sports shooting without hurting herself or anybody else, why shouldn't global perspective change about the "women and guns" issue? Particularly, with the mass-media highlighting an alarmingly growing rate of acts of violence committed against women in Europe, north America and worldwide, why shouldn't women's right to own and carry firearms for self-defense be duly acknowledged? It looks like even those personalities and organizations fighting for "women's rights" still want to remain paternalistic under this point of view, denying women the right to self-defense and thus keeping them in a position of inferiority. Are we the only ones to find this all incredibly wrong?

Thank you, miss Vail: your work and commitment are an inspiration to us, and you can rest assured that ALL4SHOOTERS.COM will provide all the support you may need!

This video has been hidden because of an external service (YouTube) that could potentially collect personal data.Allow video services for the duration of the visitAllow video servicesStop allowing video services