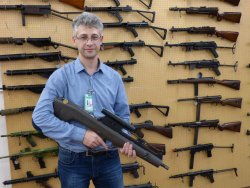 If the Internet is now the main source of information for gun enthusiasts and or simple curious looking for technical information concerning the newest or the more classic hunting, sporting, defensive or military firearms − so much that it prompted and accelerated the crisis that is almost leading many European, American and international gun magazines out of business! − it's not (just) because of the informative websites set up by gun manufacturers to illustrate their products, nor because of professional websites like all4shooters.com, nor thanks to the web-based versions of the above-mentioned standard paper magazines.
Amateur websites are to thank for; personal websites concerning firearms spread out like a wildfire ever since the Internet became a mass-access media − that meaning, ever since halfway through the 1990s.

Most of them were set up by gun enthusiasts, trying to provide an independent information source to other shooters in contrast with classic gun magazines, whose judgement − being these publications heavily dependent from gunmakers' advertising − was often perceived as "biased" when it came to the products offered by many important companies.
Nevertheless, these websites deserve credit for having being the first and most important source for gun-related information for the generation of first-time full-scale Internet users; now in their thirties, those Internet users are now gun owners and sports shooters themselves.
Today, most of these early gun-related websites are long gone and forgotten, but world.guns.ru − the "Enciclopedia of firearms and ammunition of the XX and XXI Centuries − is still alive and well established 15 years after its launch.
Founded and currently administered by Maxim Popenker − a Russian citizen and IT programmer from St.Petersburg, a graduate from the local State Technical University and formerly a Russian Army lieutenant in the Air Defense Forces − world.guns.ru is currently well known particularly by Russian gun enthusiasts, although it also enjoys a huge number of international users.
The website sports a stark and easy to use design and is divided by gun categories and by nationality; each firearm is illustrated with a technical specs table and one or more picture, and a more or less extensive description written in a simple and straightforward language that both professionals and enthusiasts alike will readily understand.
At the end, Maxim Popenker obtained more than he bargained for when he first launched the website in 1999... "almost by mistake", as he states himself.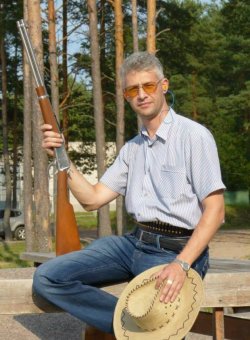 « In mid-1999, when Internet was still a fresh thing in Russia, I stumbled across a now-defunct and forgotten website that had section about firearms with many factual errors. I left a message in their guest book, noting these errors, and got a reply, asking me to write some gun-related stuff for them. I did it. After a while, i decided that I can make my own web-site as well, and some time in November, 1999 I started my own website. Until early 2000 it was in Russian only, and then I decided to make bilingual site. and so it started.
I was reading anything I could find about firearms well before 1999, so I used anything as a source − books, magazines, catalogs, other websites. As my site grew, I started to receive submissions from other people, and today these submissions (and personal contacts that evolved from them) made a very important part of my knowledge base.»
Today, Maxim Popenker is of course very happy of what he created − his website records over 12.000 daily contacts from all around the world and additional 8000 daily contacts from Russia alone − but that's not all: the notoriety of world.guns.ru landed him a respected position as a globally-established independent expert in the field.

And, once again, that came unexpectedly.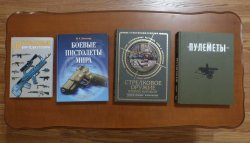 « My first publication − a magazine article − was printed in 2000 without my actual consent: one of now forgotten Russian gun magazines ripped a part of my website and printed it. I paid a visit to that magazine and was promptly compensated for the rip-off and offered a position of a staff writer and technical editor.

By 2003, when I decided to try and write a book, I already had written several dozens of articles in several Russian gun magazines, and I guess it grew on me. My first book on "Assault rifles" was published in Russia in 2004. Some time later I discussed various things with British writer and expert Tony Williams using forums and email. And, eventually, we came to the idea of collaborative writing. Tony was responsible for writing ammunition and technical parts, and also translating "my" English texts into the proper English language.

At the same time, I continued to write Russian books, which, despite similar topics, are quite different from English versions: in the case of my book about machineguns, the Russian version is actually more like a 2nd revision, greatly amended, expanded and with many new illustrations.»
Of course, like most personal websites around, world.guns.ru has its faults and defects:
« There's still a lot of things to do − there are many obsolete or incomplete articles, quite a few errors, and overall design leaves a lot to be desired. But this is an one person hobby project, so I think overall I'm doing all right. At least, 15 years after starting it I'm still enjoy running and updating it.»
And what does Maxim Popenker think about how his website grew up to be a global reference and benchmark for the shooters community and the world of gun enthusiasts?
« I know that a lot of professionals worldwide use my web site as a reference, but no professional should trust only one reference if more is available. Most of my authority, obviously, are gun enthusiasts or people simply curious about one gun or another. I hope that my web-site is interesting and useful for them all.»
Of course, we at all4shooters.com wish Maxim Popenker and world.guns.ru the best luck: may the website keep growing and getting better. When it comes to gun culture on the Internet, world.guns.ru is definitely a good example of how things can start and evolve for the best.