XM17/18 pistol: after the US Army, it's the turn of the US Marine Corps. Judging from the Corps' 2019 Fiscal Year Budget Estimates, it seems that the USMC is going to replace its M9s, M9A1s and M45A1 with 35,000 SIG Sauer's Modular Handgun System pistols.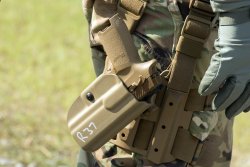 The procurement will cost 6.3 million USD . The Marines will also replace their M007 pistols, that is the recently acquired Glock 19M pistols which were adopted just some months ago. Since the 19Ms were meant for concealed carry (especially by the Criminal Investigative Division), these will probably be substituted with the compact XM18 version. 
Some more 4 million USD will be spent by the USMC to purchase accessories such as holsters and lights for the XM17/18 handguns.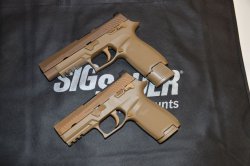 The XM17/18 pistols were selected by The US Army in 2017 to replace the M9 service pistol currently in use. They are based on the modular system of SIG Sauer P320 , a polymer striker-fired concept that has proven itself in both the United States and worldwide markets. The new handgun is the first "modular" pistol in the US Army, featuring interchangeable backstraps.
After the US Army and the US Marine Corps, which service will be the next to replace its sidearms? Estimates say that the US Air Force needs some 130,000 pistols and the Navy 61,000. At present there is no official information yet.