Other international satisfactions for the Italian knife industry, and in particular for FOX Knives of Maniago, Italy, thanks to their Radius model, which after collecting the "Knife of the Year" and "Imported Knife of the Year" awards at the 2019 Blade Show in Atlanta, now also wins the Red Dot Award for best design.
The Red Dot Award, whose origins date back to 1955, appraises the best products created every year at an international level. Manufacturers and designers can enter the competition with their innovations in 49 product categories. True to the motto "In search of good design and innovation", the jury evaluates the entries and only awards a Red Dot to products that win them over with their high design quality..

FOX Radius, a light and ingenious knife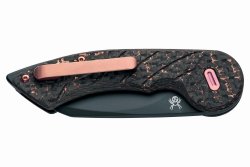 Designed by Denis Simonutti for FOX Knives, the Radius is an ingenious folding knife featuring an innovative opening and closing system that allows the blade to be opened and closed without even touching it. To open the blade you have to simply press the front button and slide it along a semicircular milling cut, and repeat the operation in reverse order to close it. It takes much longer to say it than to do it. Elegant lines and carefully selected materials, such as carbon fiber and titanium, give the product an attractive appearance and make it particularly compact and comfortable to use. The Radius is available with a titanium, G10 or carbon fiber (as in the opening photos) and copper handle. The 2.95"/75 mm long blade is made from M390 stainless steel hardened to HRC 59-61 with satin or PVD finish. Screws and opening button are anodized titanium. Overall length is 7.28"/185 mm for a weight of 3.53 oz/140 grams. Retail price ranges from about 160 euros for the G10 version to about 410 euros for the titanium one.
Three questions to Denis Simonutti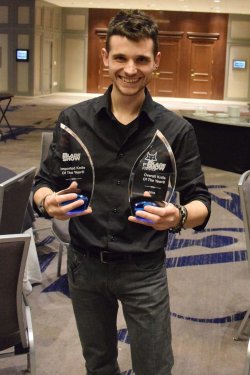 We asked Denis three quick questions about his design work and FOX Radius.
How long have you been designing knives? Have you worked exclusively for FOX?
I started working in the world of knives 10 years ago, first as a toolmaker and then as a designer for Euroknives (Fox group), where I still work today. I started designing knives for my own pleasure in 2015, and two years ago my first Black Fox branded project, the SKÅL, was produced.

What was the most challenging detail to design for the Radius?
The design of the knife was born from the operation. Certainly, the most challenging part was the management of internal spaces. Taking account of the need not to make it too "heavy" aesthetically, however, and make it as attractive as possible.

Let me ask you an obvious question: how does it feel to have won so many awards with just one project?
It was a unique experience, also because I had never been to Atlanta at the Blade Show and it couldn't have gone better than that. The Red Dot Award was even more unexpected. It's a great satisfaction!

Congratulations to FOX Knives and Denis Simonutti for this important achievement. We have always said that knives made in Maniago have nothing to envy to the best production in the world in terms of design or materials. One of the most prestigious international juries confirmed that.
---
For more information please visit Fox Knives website.