At the FOX Knives stand at the SHOT Show in Las Vegas, the whole range of MKM (Maniago Knife Makers) knives was exposed, of which the company with the fox symbol manufactures  two out of five models (the Arvenis liner lock and the Jouf with fixed blade ).
Fox Bushman, the "vintage" knife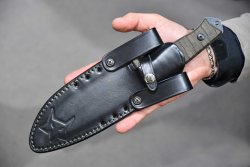 Franco Palamaro, © F.PALAMARO
Several innovations were introduced at the fair, starting from the Bushman (F-609 OD), a fixed blade knife representing the Italian version of the typical knife that has its roots in the nineteenth century European settlers in Africa and Australia. 
It is an extremely simple and sturdy knife, characterized by maximum efficiency, yet indulging in some vintage aesthetic niceties. The version proposed by FOX adheres to this philosophy, featuring a drop-point blade made from D2 stainless steel hardened to 59-61 HRC with a black stone-washed coating that leaves the cutting edge exposed. The blade is 16 mm long and 5 mm thick. The knife overall is 29 centimeters, for a weight of 13 oz / 370 grams. The knife is made from one piece of steel: the OD green micarta grips are fixed with Torx screws. The knob is shaped to act as a striker and houses a through hole for the safety strap. The Bushman FOX is shipped in a natural leather sheath with safety strap and double belt loop.
Fox TUR folding knife for everyday carrying
Turning to  lock knives, the TUR Folding continues the search for simple lines with no frills. Designed by Jesper Voxnaes and described as "ideal for daily use", the TUR has a utility profile blade in N690 Co stainless steel hardened to 58-60 HRC, 75 mm long and 3 mm thick. The handle is black or fluo orange G10, with stainless steel clips and spacer in colored G10 that can also serve as a loop for a strap. The weight is only 3.52 oz / 100 grams.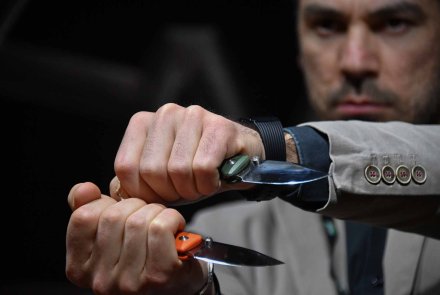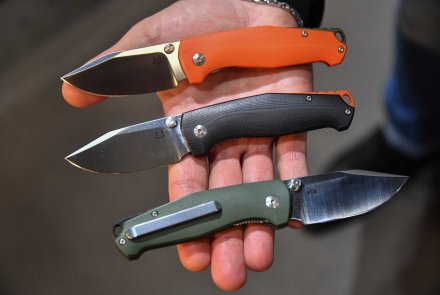 FOX Skål, the knife to bring in your pocket everywhere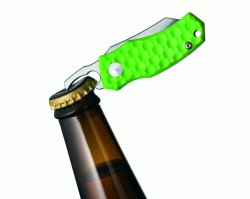 Gradually decreasing in size, we find the small Skål, which takes its name from the Swedish  toast before drinking. Designed by the Friulian designer Denis Sinonutti, it is a pocket folding knife with 440C steel hardened to 55-57 HRC with sheepfoot profile, 4 cm long and 3 mm thick. It stems from the idea of offering the public a knife that can be used as a key ring and that can be used even when closed. In fact, when the blade is folded inside the handle, it leaves an appendage that serves as a bottle opener, indispensable for enjoying a well-earned beer at the end of a walk in the countryside. The handle is black or green high-visibility G10, overall length when opened is 10.5 cm and the weight is only 1.41 oz / 40 grams.