The Parus by Fox Cutlery is an interesting fixed-blade survival knife, made of N690Co steel, with a total length of 30 centimeters and a thickness of 5 millimeters. The cutting edge profile is double, concave from the guard to about mid-length, then convex.
Fixed-blade survival knife Fox Parus and survival kit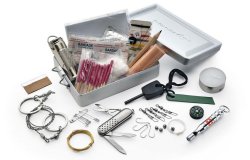 The grip is Forprene, a vulcanized plastic material with excellent thermal and electrical insulation properties.
Its semi-anatomic design allows a firm grip even with wet hands. The Fox Parus is completely black in color, with a Cerakote wear and corrosion resistant coating.

The Fox Parus is equipped with a very complete survival kit inside a nylon case with M.O.L.L.E. Attachments. The kit includes a multi-tool knife, windproof matches, a wire saw, a flint fire starter, patches, a compass, a whistle and many other small items that can be used in a hostile environment.

The knife is robust enough to handle heavy tasks and, if necessary, it can also be used as an extreme defense tool.
The holes through the blade and in the pommel allow it to be tied to a stick for use as a makeshift spear.
The Fox Parus comes with a robust Nylon sheath, also with M.O.L.L.E attachments. It costs about 175 Euros.