Formed in 1917 but officially established only the following year, the Italian Arditi were one of the first special forces of modern military history, playing a leading role during their brief existence in epic assaults and countless acts of heroism.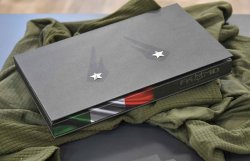 Trained to a much higher level  than that of average troops, highly motivated and courageous, the Arditi contributed in a major way to the breakthrough of the Piave line, an episode that marked the irreversible defeat of the Austrian army.

One of the most recognizable and iconic weapons among used by the Arditi is certainly the dagger. Used with icy efficiency, in the narrow trenches it turned out to be a formidable weapon in close combat.
To make up for the stringency caused by war, more than 250,000 daggers were realized at the Terni arsenal shortening the now obsolete bayonets for the 1870 Vetterli rifle that were stored in large quantities.
The original dagger therefore had a blade about 7 in / 180 mm long, a wooden handle and a scabbard made by shortening the original bayonet's one. Subsequently, some variants were built that are extremely rare today.
These can be distinguished for some differences in the guard and the handle. In any case, the Arditi dagger remains a symbol of a long-gone era, when the courage of individuals and their ability in hand-to-hand combat could be decisive in winning a battle.
FOX Arditi dagger from FOX Cutlery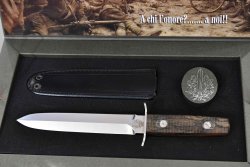 FOX Cutlery Arditi dagger replica was realized with the advice of Antonio Merendoni, a scholar and expert in Italian knife combat techniques who is also author of numerous publications on the subject.
The double-edged blade is 11.4 in / 29 cm long and is made of N690 stainless steel with a satin finish or a black coating.
The Arditi dagger is available in two versions: the first has G10 grips, a blade with a black finish and a Kydex sheath. The second version, richer and more scenographic, has Ziricote grips, a satin blade and is sold in a beautiful package, a real presentation case containing the dagger, the scabbard and an Arditi badge.

The price of the basic version with black blade and Kydex grips is 209 euro, while the presentation case version is 259 euro.

FOX Arditi dagger: technical data
| | |
| --- | --- |
| Type:  | dagger |
| Blade:  | N690 steel |
| Blade length: | 11.4 in / 290 mm |
| Finish: | satin or coated |
| Grips: | Ziricote or G10 |
| Sheat:  | leather / Kydex |
| Note: | case version available |