The Krieghoff manual combi-cocking device is installed in all of the company's rifles and also some shotguns. With it, you can go hunting completely safely with a loaded gun ready for action. Theoretically, neither an accident (drop or similar) nor a technical defect (ser failure, etc.) can trigger an unintentional discharge. The combi-cocking device is used like a safety slide: pushed forward the gun is cocked, pushed backward it is safe. Unlike other manual cocking systems, the Krieghoff mechanism is self-cocking, so advantageously, after a quick reload you can continue shooting immediately without having to cock again. The author is generally a fan of the manual cocking mechanism, although many professional hunters see it somewhat differently. Above all, the higher effort required for operating a forward cocking system is criticized and that this is not always possible in a stressful situation. 
As always, there are different opinions here – it is probably more a matter of mental attitude than technique. It is also clear that the topics of manual safety/cocking devices are only "interesting" in the European countries. In the largest market, the USA, no one is interested; there, people are usually satisfied with the simple, comparatively "unsafe" trigger safety. About 20 years after the market launch of the Krieghoff Classic, the double rifle has also been available since 2013 with optionally available ejectors for automatic case ejection. Contrary to the well-known Taylor statement (1948) that ejector noise betrays the shooter's location and thus puts him/her in danger, most hunters already wanted an automatic case ejector. If the cocking slide is forward on the Classic, the cases are ejected when the action is open. If the cocking slide is retracted, the ejectors are also disabled, and you can then simply pull the empty cartridges out manually. With the riled barrel of the drilling, this is not technically possible at this time. It might also be difficult to design, but as is well known, one always needs room for improvement. 
Krieghoff patented Universal Trigger System (UAS) and combi-cocking device
Krieghoff installs almost exclusively blitz locks in all break-action rifles and combination rifles. All components, such as the strikers and hammer springs, are located on the trigger plate. The advantage of this is that once the trigger plate has been unscrewed, the entire lock, including the trigger mechanism, can be removed from the rifle. This allows cost-effective production and installation. A special feature here is the Universal Trigger System (UAS) patented by Krieghoff and the combi-cocking device: bringing the bullet into the target quickly and intuitively, taking advantage of favorable situations during stalking or a driven hunt, this is usually only possible with an optimal, steady and smooth trigger.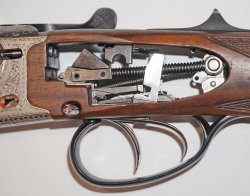 Too high a trigger weight, on the other hand, is at the expense of accuracy. An unintentional discharge, for example on a winter driven hunt due to a cold trigger finger with reduced feeling, poses again the great danger of a trigger weight that is too low. The UAS stands for this, with a crisp and accurate 1.0 to 1.5 kilograms pull weight without the risk of double shot. With most calibers, the use of a set trigger is also possible. A decocked rifle is a safe rifle. Any Krieghoff with manual comb-cocking is always uncocked and safe. Only immediately before firing is the ergonomically designed cocking device pushed forward slightly and almost silently. The rifle is now cocked and ready to fire. If the shot is not fired, the cocking slide is released again by briefly pushing it forward and letting it slide back. If the cocking slide is left in the forward position when the barrel bundle is tilted down – for example, when reloading quickly – the rifle is automatically re-cocked, as with a self-cocking system. You can continue firing immediately after closing the action.
Krieghoff: from light game cartridges to elephant stoppers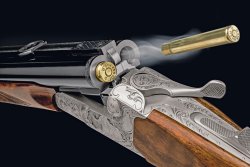 Krieghoff offers a wide range of calibers from the small .22 Hornet to the mighty .500 NE elephant stopper. There are also two very innovative variants that can be traced directly back to the company. First of all, there is the 6x70 R, which reached market maturity in the 2000s. This is a long, slim cartridge that fits into narrow receivers, has sufficient power for Central European roe deer, and very mild recoil. German ammunition expert Wolfgang Romey developed the 6x70R, necked down to 6mm, in the late 1990s based on the 6.5x70 R brass. CIP approval followed, and Norma secured final ammunition production with a 90-grain (5.8 g) Nosler Ballistic Tip bullet. With this, the cartridge from the first test gun, a Hubertus break-action rifle, achieved a grouping around 3 cm, with 750 m/s and 1,650 joules of muzzle energy. At 100 meters, the energy was 1,200 joules, and at 200 meters it was still 990 joules. Although the development of the cartridge had taken into account the issue of "game protection" from the very beginning, initial field tests showed that hematoma formation occurred in deer, as was common with the "feared" high-speed calibers of the time. Romey then produced a series of cartridges with the 80-grain Sierra-Game King bullet, which is somewhat harder in construction. This variant was then also mass produced by Norma. But in the end, it was not a success, and even Krieghoff no longer carries the caliber in its catalog. In retrospect, it would have been better to revive the 6.5x70 R, but they wanted their own cartridge, which turned out to be an aberration for other gun manufacturers as well. The second caliber that goes directly back to Krieghoff is the .500/.416 3 1/4 Nitro Express. It is the newest Nitro Express cartridge and has a long history. Several publications describe that over 100 years ago Rigby was already experimenting with a rimmed version of the well-known .416 Rigby cartridge, but abandoned this project because of the turmoil of World War I and later did not pursue it. Around 1990, Chapuis and A-Square revisited the idea. Art Alphin (around 1989):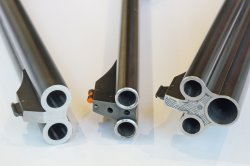 "Many gunsmiths wanted a redesigned Nitro Express cartridge. A child of the modern era. Based on the familiar Rigby cartridge, but with a rim for use in break-action rifles. Among other things, it must be neutrally stamped so different manufacturers can use it." The resulting .416 Rimmed is still too slow, however, so the subsequent cartridge with a longer case and enlarged powder chamber bears the heroic name .416 Gerlach. Named after the German physicist Walter Gerlach, who was active in military research. But this project quickly flopped as well. Walter Brass, who recently passed away and worked for Krieghoff for more than 60 years, had climbed the entire career ladder. He was also managing director from 1989 to 2002 and then moved the project forward independently and quickly, again with the help of Wolfgang Romey: 1.27 mm shorter than the .416 Rimmed, but with improved characteristics and a coherent overall concept – the .500/.416 N.E. was born. In 1991, the first prototypes were presented to the trade press, and since 1993, the .500/.416 N.E. has had the status of a mass-produced factory cartridge. Other manufacturers have also been producing rifles in this caliber since the 2000s, and a fan community has slowly but surely formed, especially in the USA. Compared to other cartridges in this caliber group, it achieves a ten percent more elongated trajectory and more favorable features. For example, Norma's African PH achieves an initial velocity of 710 m/s and still 670 m/s at 50 meters. In contrast, the .470 N.E. has a muzzle velocity of 635 m/s, which at 50 meters is only 595 m/s. 

On the shooting range with various Krieghoff guns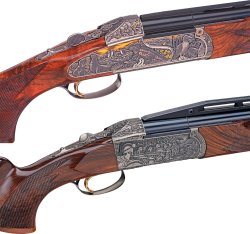 During our visit to the factory, which lasted several days, we naturally also test fired various Krieghoff rifles at the company's own range and at the Müller Shooting Center (MSZU). We started with the technically unusual Semprio in-line repeater in .30-06. Unlike classic pump-action shotguns such as the Mossberg 500 or Remington 870, the repeating system works exactly the other way around: first to the front, then to the rear. In this way, the rifle is pulled back into the shoulder during the final movement and is not pushed away from the upper body. For those who have shot a lot with pump-action shotguns, the changeover is difficult when first making contact. But after a short familiarization phase, the handling sequences fit, as evidenced by the steadily improving groupings in fast strings. We now switched to a Classic double rifle in the company's own .500/.416 N.E. caliber, whose V rear sight was a boon to aiming compared to the graduated Express rear sight, which is of course an individual preference of the shooter. Two shots in quick succession, two hits in the ten at 20 meters are a decent result for such a "quick test", whereby the respect-inspiring caliber can certainly be mastered.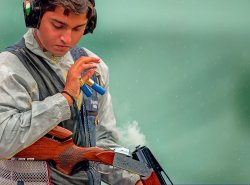 © ©2017'YakAgency'/'N.'Zangirolami'
As part of the research for this series, we also tested veteran Krieghoff long guns such as a Teck in 7x65 R and 12/70 with a barrel length of 63.5 cm and a sporting K-80 shotgun in 12/70, built in 1982 (i.e. two years after market launch). The hardly used model Teck from first ownership with root burl wood stock, engravings appropriate for the period, interchangeable shotgun barrel and leather case suggests a wealthy owner. Mounted is a Zeiss Diavari 1.5-6x42. Shot with the SAX KJG ammo at 100 meters, it achieved a 4.1-cm group, which can be considered good. Our K-80 accompanied a well-known German competition shooter well into the 1990s and has at least 200,000 rounds under its belt. By all accounts, there are also K-80s that have fired over a million rounds. In the case of our K-80 test gun, there is no longer any question of bluing or wood finish. But that is not the point. It has been overhauled twice in its life by a specialist and still shows no play. On the stand, in the hands of its owner, it still reliably knocks targets out of the sky during the sporting course. The ruggedly constructed sporting rifle is well-balanced in the grip. In an unusual shooting test (50 meters, supported) with five Rottweil Exact slugs – all shot from the upper barrel with a good one-minute cool-down period each – we achieved a 6.4-cm group.
Wrapping up – 135 years of Krieghoff
Even after 135 years, Krieghoff from Ulm stands for exclusive craftsmanship as well as practically designed, high-quality long guns, which are offered in a lavish range of models, from reliable hunting companions for around 3,000 euros to representative luxury models for up to 100,000 euros.
---
Here you can find the first, second and third part of the Krieghoff history.

This series on the company history of Krieghoff hunting and sporting rifles will be continued here at all4shooters.com..

---
Photos: Dr. Frank B. Metzner and archive