In the first part, we took a look at the eventful history of the Krieghoff family business. The company cultivates the tradition of lived passion, so that all Krieghoff owners were and are also active hunters. They also went on hunting trips to all corners of the world, but always kept their passion for hunting down to earth in their home country. There are many anecdotes about these adventures.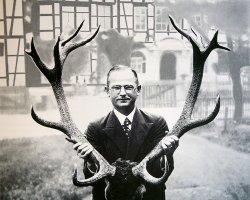 Hans-Jürgen Fritze (2003) tells: "Heinrich Krieghoff was an enthusiastic hunter." At the Dolmar, the old mountain of the Celts, he owned a hunting lodge with a hunting ground. Here Heinrich and his brother Ludwig pursued their passion. Deer made their home in the dense western part of his hunting ground, which bordered the village of Rappelsdorf. They came to graze on the farmland north of the Nahe. Therefore he had a high stand erected there. During a late stalk in 1935, a huge stag's head suddenly appeared about 20 meters away, framed by blackberry vines in the full moonlight, a truly magnificent sight. 
Now Krieghoff calmed his conscience that it could not matter to the stag who would bring him down. He did not hesitate, took his Neptune Drilling in 8x57 R, of course, and wanted to shoot. Since this happened in the highest excitement, he made a mistake and grazed with his scope on the wood of the hatch. The soft sound scared off the capital stag. St. Hubert had saved him "from sin".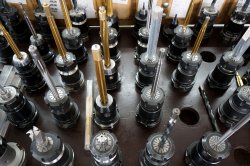 Two days later, from 6:00 p.m. to 11:00 p.m., he sat up again, determined to shoot. There came out of the high forest, about 80 meters to his right, two or three pieces of game and then "his stag". This time everything went smoothly: set up the gun, take aim, shoot, hit. All the game fled into the woods, he couldn't see if the capital stag was there, too. Waiting, endless waiting. Did he miss it? After a good half hour, he got off the high seat and searched the field with the glass – nothing. Now he saw a branch sticking out of the potato field in the scope. How did it get into the field? With the drilling ready to fire and reloaded, he walked slowly toward it. There! Immediately he saw the huge antlers of "his deer" sticking up, lying there dead. Radiant moonlight. Silence and amazement. It was an odd 18-point capital stag.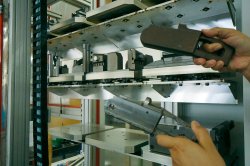 The antlers were shown at many exhibitions, were considered the strongest stag of 1935 and made even Reichsjägermeister Göring jealous when he saw them at the "Berlin Green Week". In the turmoil of war, the antlers remained in Suhl. In 1960, a gunsmith from West Germany found them again during a visit and on his next trip took a cheap pair of deer antlers in the trunk of his car, which he had entered in the border papers. He exchanged the two antlers, and the customs officers did not notice anything on the return trip. Today the antlers hang in the stairwell of the factory next to other magnificent trophies.

Krieghoff today: current status in gun manufacturing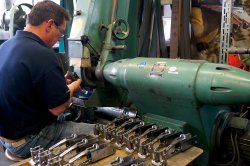 Today, Krieghoff in Ulm manufactures about 2,000 guns per year, with an average of 60% shotguns and 40% hunting rifles. It is part of the company's philosophy to rely on craftsmen who have mostly been trained in-house – be it gunsmiths, toolmakers, stock makers or engravers. They have a strong bond with the company, which guarantees a long partnership between employer and employee.

Ralf Müller, procurator and commercial manager, told us: "Our employees are our capital, most of them are also trained here. We all have a good relationship with each other, with the aim of offering our customers a good product. I realize that sounds a bit trite in the age of emotional marketing, but here it is."

At the Ulm plant, they practice a balanced mix between modern, computer-aided parts manufacturing and classic craftsmanship. This is the only way to manufacture economically in line with the market today. Based on this philosophy, a mature product range exists, led by the sporting shotgun models of the K-80 series. In the rifle sector, the combination models Optima (drilling, from 6,306 euro), Ultra (over-and-under rifle or over-and-under rifle/shotgun, from 3,979 euro) and Classic (double rifle, from 5,824 euro) as well as the Hubertus (break-action rifle, from 3,729 euro) are available. Krieghoff occasionally manufactures special models in small numbers for collectors and enthusiasts, such as the now sold-out old-style Pistol 08 (limited to 200 pieces, from 12,495 euros) or the Essencia side-by-side shotgun (limited to 20 pieces a year, from 29,403 euros). The latest addition to the product range is the innovative Semprio straight-pull repeating rifle (from 2,892 euros).

Krieghoff: tradition, passion and modern technology in harmony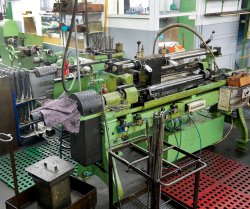 While the main building and the factory halls may exude the charm of the 1960s and could possibly use a refreshing according to new management/kaizen standards, one quickly senses that all employees in the company are indeed passionate about their work. This ambitious mentality is just as noticeable in the machine room with eight CNC milling machines (two state-of-the-art examples can change up to 143 tool heads independently) as it is in the stock workshop, polishing workshop or in the rooms where the barrels are brazed, straightened and blued. Krieghoff uses its modern milling centers to produce many small parts, such as safety slides, front sight bases or assembly parts. They are not bought, as many other manufacturers do. But these gun components also have to be polished and the surfaces finished. This in turn is done by other departments, where several dozen employees carry out these operations by hand, just as was the custom a hundred years ago. Nothing has changed, except for the transmission drive of the machinery, which is now powered by electric motors for safety reasons.

Krieghoff's surface coaters and the process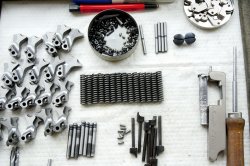 You can also hear passion when you talk to the craftsmen. Like Dietmar Krüger, the "lifeguard" who takes care of surface coatings. Krieghoff offers five processes for this: Color-case hardened, chemically nickel-plated, nitrided, and brushed- or dip-blued. Color case hardening is carried out off-site, everything else at the Ulm plant in a special room with permanent air exchange. Chemical nickel plating of the receiver and small parts in particular requires a great deal of experience in order to apply the nickel-phosphorus alloy evenly and attractively in terms of color and also as an effective corrosion protection. The gun parts to be nickel plated are immersed in special electrolytes and without applying any electrical voltage, a nickel coating is deposited on the surface of the items. This process is characterized by a uniform coating thickness – even on complicated parts and on internal surfaces. They can still be soldered afterwards and are not ferromagnetic. The much simpler electroplated nickel plating, in which current is used for deposition, has not proved as successful. Although one can work faster and the baths can be used much longer, it is not ideal in practice. When it comes to bluing, as always, the old question arises, "Which is better?" and Krieghoff offers both processes. Basically, hard-soldered parts are dip-blued and soft-soldered parts are brushed-blued. Both, if done by a professional, can fully serve their purpose and look just as good. The latter is also a matter of taste, with most being of the opinion that a very good bluing should always have a slight blue tint and not go 100% black.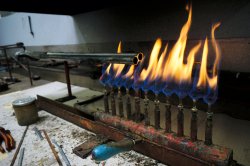 Dietmar Krüger: "In the brushed bluing process, the polished, degreased barrels are evenly and repeatedly brushed with the stain, which consists of ferric chloride, copper sulfate and alcohol. Usually a hand sponge is used for this purpose. This requires some practice so that it is even in all places and there is no dripping. Then it must dry for 10 to 12 hours, but the process can also be shortened by half in time by means of a steam chamber. After boiling in pure water, the barrels dry again by their own heat." To ensure that the passion can also be measured and put into usable figures, there is an employee who is exclusively responsible for quality assurance (QA). In his separate little workshop, he takes random samples of the materials supplied to see whether they meet the requirements or have defects in advance. He checks the machinery to see if the adjustments are correct, supervises the final inspection and, of course, tests individual guns in theory and practice before they leave the factory. An important institution that does not exist in this professional form at all manufacturers.
Krieghoff tradition: engraving for the customized gun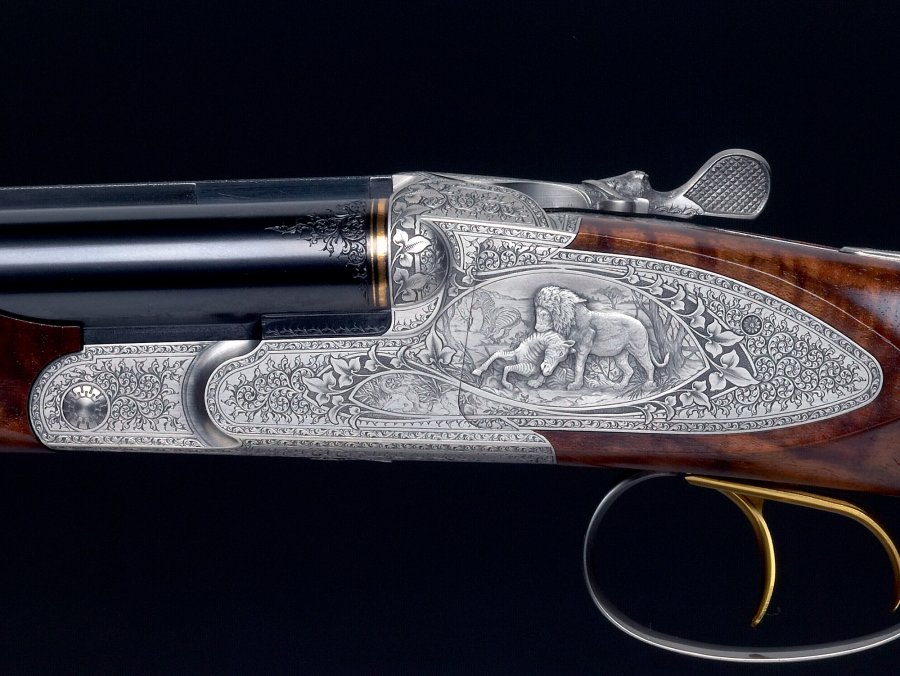 Another example of in-house operational competence is Annemarie Mack. She is a permanently employed engraver and has also been a hunter for many years, which is rare in this combination. Her engravings are expressive; you can tell from many details that she knows the animal, its peculiarities such as muscle tension, body proportions and direction of gaze. Krieghoff works with five permanently employed engravers who work in-house or at home. They are artists and should be treated as such. For special commissions, there is also a nationwide network of freelancers. As early as the 1930s, they advertised: "Photograph the corner of your hunting ground that you particularly love, or the mountain ranges where you love to hunt, or your hunting lodge, your dog, and give us these pictures for our engraving department. Then your rifle will no longer be just a shooting tool for you, but you will enjoy it even when you look at it without firing it. Admittedly, engraving and beautifully grained stock wood are not the most important things about a gun, but it pains us to send a drilling or shotgun out sober and naked like a military rifle."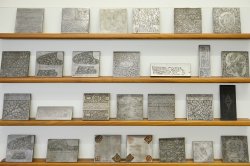 Even today, you can send in a photo and have special motifs put together. Or the specialists put together the selection, drawing on an in-house collection that includes classics such as Brehm's Animal Life or the works of Kuhnert. "Hunting guns have always been more than mere utilitarian objects. In addition to their first of all important functionality in hunting use, they were and are also in their external design always an expression of style, status and personality. This is more true today than ever before: in our world, which is characterized by DIN standards and standardized production methods, it is the ancient craft of the gun engraver that refines and individualizes. With artistic sensitivity, attention to detail and a lot of patience, an expert in his field can give your hunting weapon a special charm of its own. An individually designed engraving, handcrafted in consultation with you, enhances your hunting gun into a work of art, both in an idealistic way and in terms of value retention and appreciation."
---
Click here for the first part of the Krieghoff history.
This series on the corporate history of Krieghoff hunting and sporting guns will continue here at all4shooters.com.
---
Photos: Dr. Frank B. Metzner, Manufacturer Archives