The character of flat engraving is relatively simple. It is not worked so much in depth, yet complex motifs with ornaments or animal scenes can be worked out well. With this technique, which is suitable for almost any motif, at most the spaces in between are worked out flat and matted to increase contrast. This looks excellent and can be very appealing, yet it is still comparatively "simple and inexpensive" because "only" two planes are worked. Typical ornaments for this are leaf arabesques, oak leaves or the so-called basic English. The well-known and, in comparison to these ornaments, more finely applied "English Scroll" gets by without an engraved background.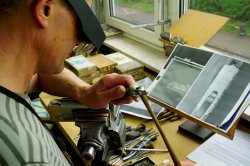 The depth effect is achieved only by the somewhat stronger print engraving and the shading of the engraving. Krieghoff engraver Uwe Spindler told us in conversation: "I use only the simplest tools for my job, but I have been using them for decades, so I know each of their peculiarities. Everything is created purely by hand without the use of machines. After a design has been agreed and approved in detail with the customer, the work begins with transferring the design to the workpiece, which I clamp in a special rotating vice for this purpose. I do this the old-fashioned way, using a scriber and steel compass. The actual engraving is done with a light hammer and gravers, which I use depending on the shape. These are fine chisels with wooden handles in different cutting edge thicknesses and shapes. The hand graver I need for the very fine shading is guided without the drive of a hammer. Again, I need it only when I need to penetrate deeper into the material. To darken the background evenly, for example in leaf arabesques, I use so-called punches. They look something like nails, but have an engraved shape on the hardened tip that is hammered into the workpiece. In addition, I still use files in various degrees of cut and in a wide variety of shapes, as well as sandpaper in various grits."
Relief engraving, on the other hand, is a three-dimensional work. Ornaments and hunting scenes are much more emphasized, modeled and designed. For a visually high-quality result, it is recommended to create the engraving in different levels: the background is chiseled out significantly deeper – this can be as much as 2.5 millimeters – than the motif, an animal for example, so that it stands out plastically. In the background of such a relief engraving, it can be combined with bulino engraving to integrate even finer representations. Relief engraving is also suitable for inlay work with other materials such as gold or silver, but in exceptional cases – for the rich entrepreneur who already has everything – also for mammoth ivory or precious stones.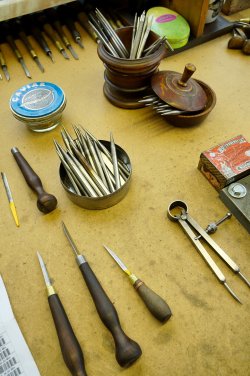 "Bulino" engraving is considered to be probably the noblest craft technique among all engraving styles. "Bulino" is Italian for the English "burin". It has become famous in Italy and England, and in recent years it has also found more and more followers. Bulino, as used in Italy, is an ultra-fine, almost depthless and chipless indentation of a hard steel engraving or diamond point into the workpiece using a microscope. Similar to pointilism in painting, engraved lines are resolved into individual dots. The contrast effect is created by varying the density of dots per unit area for the photorealistic representation of motifs. Photographs are often converted one-to-one or even enhanced. For example, an elephant with 70 pounds of tusks now becomes a pachyderm that cracks the magic 100 limit. 
The gauzy, precisely placed dots, only a few hundredths of a millimeter deep, create images of hunting scenes and landscapes in the highest level of detail. The dynamics of light and shadow make the motif look exceptionally natural. The micro Bulino in particular makes it possible, for example, to depict mountain ranges rising out of the morning haze or thinning clouds of fog, which here and there, with the finest of transitions, provide a clear view of a landscape. 
The owner of such a masterful engraving will often enjoy it. Depending on the position of the sun, it also has a different effect; one also speaks of a "living engraving". Like the relief engraving, this form of representation is very time-consuming: a single animal can take three days of work and cost over 1,000 euros.
Pure craftsmanship: Krieghoff offers not only stocks made to measure but also custom engravings according to customer requirements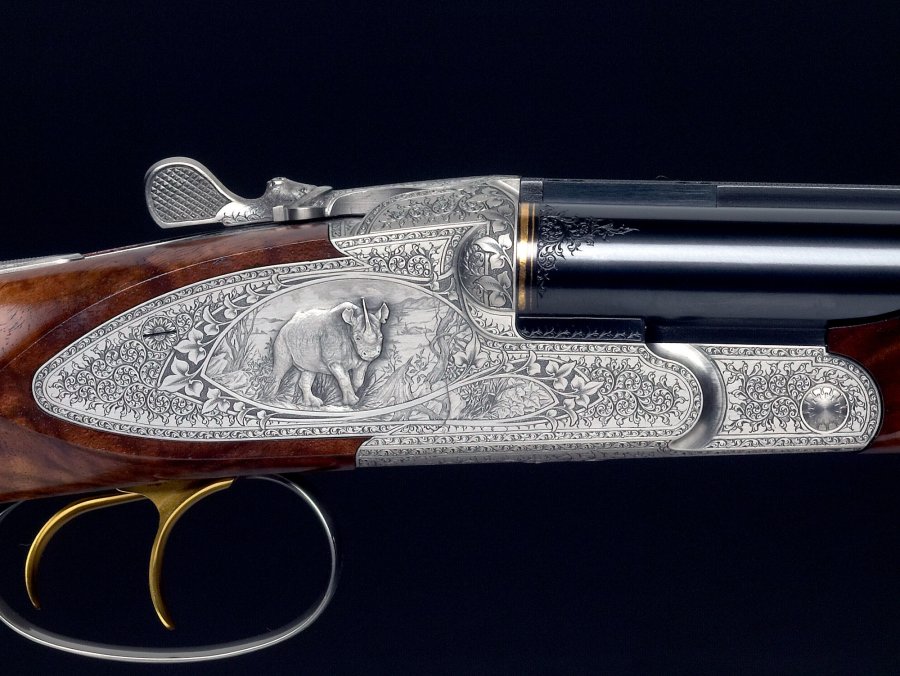 You can spend a lot of money for engravings, but also for the stock. If you want to invest a little more money in your gun and don't want the standard solution, then you are first advised to buy a custom stock. This investment pays off immediately through better shooting results, gained confidence in yourself and the gun. This is especially true for instinctive shooting, such as shotgun shooting or firing at moving game. What few people know is that the famous saying "The barrels shoot, but the stock hits" goes back to Krieghoff Sr.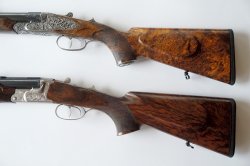 An advertising statement (about 1920) claims: "If all the hares, fowls, ducks, foxes that are missed every year got together once, there would be a sorry parade. Certainly, misses are inevitable and a reliable dog makes up for many a mistake. But that can't excuse reckless shooting. There are no long-range shotguns that will bring down the fowl with certainty at 60 yards or even farther. Statements to the contrary are self-delusions or deceptive advertising. But long range shooting is not the only cause of bad shooting. Many hunters carry guns that may shoot excellently and be very valuable, but the stock simply does not fit and therefore impedes safe aiming. Missed shots are the result, and bled game the victim. Try this: point your rifle repeatedly quickly and casually, just as you would when hunting, but with your eyes closed. Do not change the aiming position afterwards. Now open your eyes. How and where do you see the front sight now? On the left edge of the rib? Then your shots will pass to the left. Or has the front sight disappeared completely? A short shot would be the result. And if you see too much of the rib, you will overshoot the fowl. You may now understand what it means when we say 'the barrels shoot, the stock hits'. Have your gun stocked by us to your measurements. This small additional expense will increase your hunting pleasure". There is nothing to add to that even a good 100 years later.
Krieghoff-Schäfter Ralf Sommer: "We no longer work with try guns today. That is often just for show. Our stock makers have decades of experience as well as the feedback of thousands of customers who hit well with them. Together with our modern, computer-aided calculation process, we achieve perfect results. Our competition teams and their successes confirm that." A standard Krieghoff hunting gun stock is 37.0 inches long, measured from the center of the buttplate to the center of the trigger. Drop and cast vary depending on the model and gauge. Everything is good, European average and fits an average slim man, around 1,8 m tall and without anomalies like longer arms, shorter neck or eye defects. But only then. Of course, the old adage "Any gun will do, if you will do" applies here as well. But we're hunters, not tactical shooters, and a little individuality is desirable. It is no longer a secret that the stock must be longer for longer arms, that it must be adapted for a broad skull and thick cheeks, or that the drop at the point of contact must be different for a long neck. Krieghoff offers a 24-hour service for stock measurement that is very popular, with customers staying in town for as long as they need and combining their stay with a short vacation. Other configurations can be customized as well, be it trigger pull weight, scope distance or barrel length. There are in-house specialists for this as well, especially since it is easier to determine. 
Training as a gunsmith: the training workshop at Krieghoff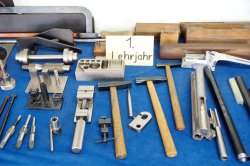 Another novelty at Krieghoff is the training workshop. As soon as you enter the room, it is clear that a holistic concept is used here to train the young people. Boards with important design principles, display cases and every Krieghoff rifle as a cutaway model facilitate the presentation. Here, too, the credo of passion for the profession, which has already been mentioned several times, applies. This is exemplified by the motivated training manager Johannes Kleen, who serves as a role model for the junior staff. He is more of a mentor and shirt-sleeved, fatherly friend than a whimsical master with a stand-up collar and gray coat. Kleen is a good shot and a gifted craftsman who can perform any work technique himself. He shows the young people, who are at the beginning of their careers, the necessary basics such as safety at work and gun handling, as well as the finer points of materials and tools. This is then put into practice immediately, because in the first year of the apprenticeship, the prospective gunsmith makes his/her own tools. From the hammer to the saw and the pliers, he makes everything with his own hands and then uses it later to build the guns. Since 1985, the profession of gunsmith has been composed of three specializations: barrel maker, action maker and stock maker. There is hardly any other profession that requires so much technical expertise and practical skills. And this with the two major materials, wood and metal, first individually and then in combination. Gunsmithing is a recognized profession in Germany with a three-year training period. According to the state training regulations, the curriculum includes the techniques of metal, wood and polymer processing as well as gun technology, ballistics, optics and legal principles. Training takes place in a combination of a master craftsman's workshop and a vocational school. There is currently a vocational school for gunsmiths in Baden-Württemberg (Ehingen) and a vocational school for gunsmiths in Thuringia (Suhl), although Krieghoff's apprentices naturally go to Ehingen. 
Johannes Kleen from Krieghoff puts it this way: "Nowadays, school-based training takes place in block lessons, with materials technology, technical mathematics and communication, computer science, hydraulics, pneumatics, PLC and CNC technology, but of course also hunting guns, ballistics and shooting being taught alongside general subjects. Here at the plant, on the other hand, we do more of the practical things, which my students also implement very well. I can't confirm at all the statement often made by other master craftsmen, 'The young people are all no good anymore'. All of them are very committed to their work and many of them go to great lengths to learn their dream job here. It's not just young men, young ladies have also gone through their apprenticeship years here and passed their exams at the vocational school with excellent results.
Unfortunately, some of these then moved on to other professions. Krieghoff currently has six young men aged around 18 in training, who can then also be taken on after passing their gunsmithing exams if they so wish." 

---
Here you can find the first and second part of the Krieghoff history.

This series on the company history of Krieghoff hunting and sporting rifles will be continued here at all4shooters.com.
Photos: Dr. Frank B. Metzner, Manufacturer's Archive