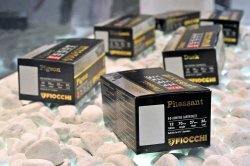 Established by Giulio Fiocchi in Lecco in 1876, Fiocchi, a world leader in the sector, is celebrating its 140th birthday in the production of sports, civilian and military ammunition. 
Fiocchi's philosophy on the sport of hunting in particular has been developed and promoted by the company from Lecco on the basis of a passion for the sport and long-standing tradition, which has continued to evolve with the greatest respect for both nature and wildlife. 
Fiocchi welcomes this splendid chance at the Vicenza HIT show to present hunters with its latest cartridges. Some are classics that have been revisited in terms of materials and packaging with a new photographic style, such as the PL 34 and HP; others like the Excellence line are completely new.
This line is designed for important game such as woodcock, pheasant, wood pigeon, duck or boar. The cartridges are made with meticulous attention to detail, also in aesthetic terms, to offer the very best performance in all the hunting scenarios one might find when hunting this type of game in its natural habitat. 
One of the common characteristics found throughout this line is the nickel-plated shot, guaranteeing greater hardness and stability. The 12-gauge Woodcock cartridge contains 38 grams of lead and a felt spreader wad, ideal for producing a well-distributed spread in the woods. A 20-gauge, 28 g cartridge is also available.
The Pigeon 12-gauge, 37 g high-velocity cartridge is designed specifically for wood pigeon. The Duck is a 40 g, 12-gauge cartridge for hunting waterfowl, and the steel N-EX-S (New Expansion Slug) is for boar hunting.