The irresistible challenge represented by woodcock is guaranteed to enthral the hunter as he's bewitched by the atmosphere and thrills that hunting this game is sure to bring. Authentic, elusive and challenging game for both man and dog. From a tiring long day's march to the conclusive action of a shot in the woods, everything in this sort of hunt depends on three essential factors: method, sacrifice and experience. 
On the theme of woodcock hunting, we have to say that depending on the place, the vegetation and the time of year, circumstances can change considerably. In any case, it's best not to risk missing your chance once you get it, so it's important to put your trust in a cartridge that combines a high muzzle velocity with perfect spread distribution for the short to medium range shots you'll be taking when hunting this particular game. 
Fiocchi designed the Woodcock cartridge specifically for Scolopacidae species. Its spreader feature, characterised by a generous load of lead and a felt wad, guarantees effective and precise shots.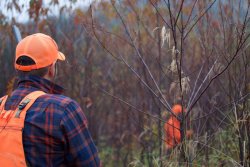 The 12-gauge Woodcock cartridge contains 38 grams of lead shot in a variety of sizes (10/9/8/7) so the hunter can choose from a range of different solutions for his first or second barrel. 
The shot is nickel-plated, which increases its hardness and penetrating power. 
The 70 mm plastic case with a star crimp has a 27 mm head. It's decorated with a gold-coloured woodcock that immediately gives you a clear idea of its intended use. 
The cartridges are available in packs of 10, with the packaging once again clearly denoting the intended game.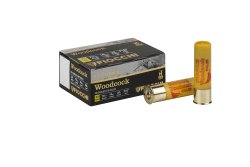 This type of hunting is mostly done with gun dogs at quite close ranges, usually within 15 to 30 metres at the most. 
The 38-gram load of the Fiocchi Woodcock cartridge, dispersed by the felt wad and spreader, gives the hunter that added advantage that could make all the difference when hunting this elusive game, which often remains all but invisible in the dense vegetation and can fly out of range in a few quick wingbeats. 
The shot therefore has to penetrate the barrier represented by this vegetation while maintaining an effective and lethal effect in the woods. The 20-gauge Fiocchi Woodcock cartridge has a 28 gram lead load, and this bore size is often the preferred choice for hunters who want a lightweight gun that's fast and easy to aim for walked-up hunting. 
Also in this case, the cartridge contains a variety of shot sizes: 10/9/8/7. The muzzle velocity of the Fiocchi Woodcock is 380 m/s for the 12-gauge and 405 m/s for the 20-gauge.