I carried the 20 gauge Fausti Class SLX 20 over/under over several days of hunting with pointing dogs, appreciating its performance from the outset. My goals were the wood and woodcock hunting, however, and there I expected to get confirmation of its versatility and to be able to tell about it. In addition to its pleasant look, this is a shotgun that allows for a swift and precise swing. The well-distributed weight that does not exceed 5.7 lb / 2.6 kg in 20 gauge and doesn't take a toll on the legs of the hunter who, behind his dogs, is walking miles on often rough terrain. 
Fausti Class SLX: details and features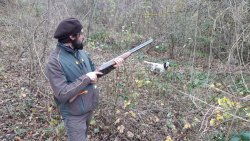 Designed for walked-up hunting and instinctive shots, this over/under is built in 12, 16, 20, 28, 32 gauge and .410 bore with scaled receivers, machined from solid steel blocks and finished with gold engravings on the color case-hardened surface of the long side plates. The subjects  are two woodcocks in flight on both folders and a woodcock on the receiver bottom. As usual, Fausti gives hunters the possibility to order guns that are tailor-made and adapted to different types of hunting and environments. Barrel length is very variable, starting from 23.6"/ 60 cm up to 30"/ 76 cm, through the intermediate 63.5/65/ 67.5/ 71 and 73 cm lengths. Chokes can be fixed or internal and interchangeable.
In our case we opted for intermediate 4-star fixed chokes in the first barrel and 2-star chokes in the second barrel. Also in this hunting model we find the patented Fausti Four Locks locking system that ensures strength and durability to their guns thanks to its 4 locking  points. Versatility obviously includes the select walnut and oil-finished stock too, which can be pistol grip or Prince of Wales type, combined with an English or Schnabel forend. Selective single trigger or double trigger are available, with automatic or manual case ejectors of your choice. What we have just summed up are the technical features of the Fausti Class SLX over/under. We'll leave you with the video and the images of the field test in the woods of the Fiordimonte Valley, where our expectations became reality.
Video: woodcock hunting with the Fausti Class SLX
This video has been hidden because of an external service (YouTube) that could potentially collect personal data.Allow video services for the duration of the visitAllow video servicesStop allowing video services