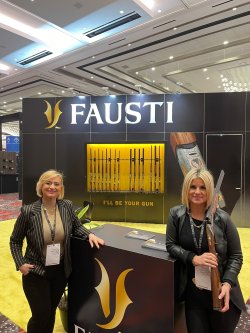 It was the year 1948 when Cav. Stefano Fausti decided to establish in Val Trompia – the Italian gunmaking district of excellence – a company that would manufacture hunting and competition side-by-side and over-and-under shotguns under his name. Like many other industrial realities of the immediate postwar period, the company's first embodiment was a small workshop where many processes were still carried out by relying on craftsmen's hands. The passion and technique of the manufacturer, combined with the tenacity and farsightedness of a businessman, made Fausti grow steadily, in size as well as in notoriety and appreciation among hunters and sport shooters all over the world, with the comopany always remaining firmly in the hands of the family. In the 1990s, in fact, it was the turn of the second generation, represented by Stefano's daughters Elena, Giovanna and Barbara, to give further impetus to the company, leading it to grow to the level of a small/medium-sized enterprise operating internationally.
The commitment to foreign markets takes shape even more concretely in 2009 with the establishment of Fausti USA, based in Fredericksburg, Virginia: 800 square meters of exhibition space, sales offices and warehouse. This represented an important element for the development of Fausti's sales network on the U.S. territory, a stage of absolute prominence in the sporting and hunting firearms sector and a market that is not easy, characterized by strong competition as well as by a demanding and averagely well-prepared clientele. Fausti's success in the States is therefore further proof not only of entrepreneurial skills but also of the quality of their products. In 2018 Stafano Fausti – who would pass away the following year at the age of 90 – saw the third generation of his family join the business, with which the company is reshaped around a steering committee with a clear and structured vision. This is the reality of the company that is celebrating its 75th birthday in this 2023. Certainly not a point of arrival, but a stage – albeit an important and noteworthy one – in a journey that intends to be long and fruitful still.
Fausti gun range: two lines, Core and Boutique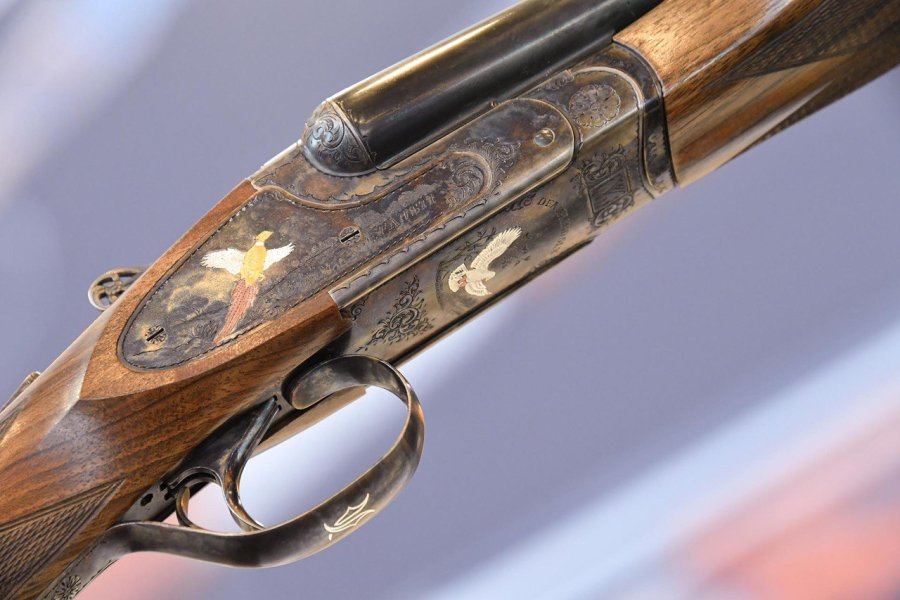 With its feet firmly planted in tradition and its gaze constantly turned toward innovation, Fausti makes guns that combine quality and beauty, technology and craftsmanship, even through a digital transition with a view to Industry 4.0, investing in new technologies and sophisticated machinery in order to improve construction quality and thus make products more reliable and durable over time. Even the company's logo, which was revamped during the Covid period, almost a wish of rebirth and return to normal life, expresses this concept of modernity faithful to the usual values of all time and well embodies the company's philosophy of innovating without distorting. A clean and modern monogram consisting of a stylized letter "F" with sinuous shapes, mirrored and interlaced as in noble coats of arms, recalls a European deer's antler, already present in the first company logo. Owning a beautiful gun does not have to be a luxury for the few: besed on this philosophy, Fausti wants to give enthusiasts the opportunity to choose from basic models, already an expression and synthesis of high quality standards, to the most refined ones.
The company has now developed a unique product line-up for the whole world, divided into two product lines, Core and Boutique. A complete line-up capable of satisfying a wide customer base. The Core line, the brand's entry level, is characterized above all by simplicity - not to be confused with ease or improvisation – without sacrificing quality and reliability. The distinguishing features of the Boutique line's sides-by-sides and over-and-unders are: superior finishes, signature engravings, superior stocks. Here levels of excellence are achieved that can gratify even the most demanding customers.
Construction features of Fausti guns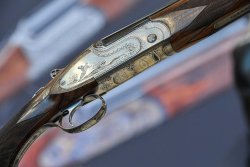 Let us take a closer look at the main construction features of Fausti guns. Let's start with side-by-sides, a classic among classics that does not allow for errors or uncertainties in their construction. Their strengths are first of all the choice of the modified Anson & Deeley-type action. Developed in 1875, even today this action is an undisputed symbol of high quality construction and reliable operation thanks to its simplicity and robustness. The concentration of weights in the middle of the gun ensures a fast and balanced shouldering. Over the years this action has undergone adaptations and simplifications, for example with the use of coil springs for better industrial processing, but in Fausti everything of that ingenious intuition has been retained, starting with the leaf springs that operate the hammer. It is a system where the high construction quality of individual components, machined from solid billet through CNC machines, is further enhanced by the final checks by experienced specialized personnel. Around it we find a scaled receiver. A constructive "complication" in times of ever-increasing simplification and optimization that, however, pays off with greater elegance, better ballistic performance and comfort of use provided by less weight and greater balance. 
Components machined from billet and a scaled receivers are strengths also common to the family of Fausti's over-and-unders, which boast the exclusive Four Locks system: four locking points that work together to create a rock-solid lock up, which not only allows thousands of rounds to be fired without any problem, even with the most powerful ammo, but also improves accuracy by countering the forces that would tend to push the barrels along the vertical and horizontal axes with respect to the receiver when firing. Micrometric movements, perfectly normal and physiological in any gun but which Fausti, in his constant search for "the best," decided to counter. To this end, to the usual pair of lugs machined into the block of the barrels, a second pair is added, fitted to the internal sides of the receiver, which provides even lateral lock up and full mechanical robustness. Guns that ensure greater reliability and durability even when subjected to intense and prolonged use on the shooting range or in special hunts such as duck or driven hunting.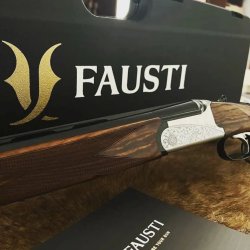 Behind every Fausti product, whether a side-by-side or a over-and-under, we find a thorough and complete design phase: from the choice of materials to the study of shapes, from the internal ballistics of the barrels, drilled with the utmost attention to profiles and chokes to guarantee the best patterns with any cartridge fired; from the choice of the best wood for a final result of both quality and aesthetics of maximum satisfaction, up to the careful definition of the moving parts – locking systems, extractors, locks, safety mechanisms - for a smooth, harmonious but above all safe and consistent operation over time.
The same applies to the care paid to the balance of the various parts, which is fundamental to the aesthetic performance of the gun, but even more so in its practical use, transforming into proper balance, easy shoundering, and quick and steady aiming. Nothing is left to chance, but is the result of an overall assessment that stems in equal measure from experience and the continuous search for functional innovation. The Fausti story shows a strong belief in relationships, both internal to achieve the best production results, and external. Currently, the company relies on the cooperation of about 40 people employed according to a development plan structured in three areas: administration, production and sales. Production is around 4,500 to 5,000 guns per year, making use of a well-established network consisting of a number of internal and external collaborators mainly on the European and U.S. territory. The customer who buys a Fausti side-by-side or over-and-under is a mature hunter or shooter: not in terms of age, but in terms of awareness of what he or she wants, which is perhaps why the company's payoff aptly reads "I'll be your gun", where "your" expresses not just ownership, but something specific that you have really sought in a gun.